Our Woodland Wander soap is a luxurious blend of British rapeseed oil, mango butter, hemp oil, giving you a natural and satisfying wash. The cedarwood, patchouli and spearmint essential oil blend add a delightful scent, leaving your skin feeling refreshed and fragrant! Complimenting the woody-fresh scent is a moss green spinach swirl. Take a calming woodland stroll with every use!
Min 100g bar
Regular price
Sale price
£5.50
Unit price
per
Sale
Sold out
Woody, fresh scent with cedarwood, spearmint and earthy patchouli
Key Ingredients

Rapeseed Oil is one of the few oils that is grown and extracted in Britain, making it a great local choice. The oil is rich in fatty acids including oleic acid and linoleic acid. In soap it provides proteins and moisturising qualities.

Hemp Seed Oil is known as 'nature's most perfectly balanced oil' due to its broad range of fatty acids including omega-6 and omega-3 which are necessary for soothing and healing dry skin and replenishing moisture.

Cedarwood Essential oil is great for relieving stress and tension.

Patchouli Essential oil is an unmistakable essential oil; with its rich, earthy, woody scent it is helpful for regulating oily skin and acne.
Why You'll Love Woodland Wander soap

100% Natural Woodland Wander soap contains no synthetic colours or fragrances. It is 100% natural.

Vegan Formula is suitable for people that avoid using any animal products.

Cruelty Free Rest assured, all our products are cruelty free. We only test products on ourselves and other willing humans! We are very careful to check that none of our ingredients are tested on animals either.

Natural Fragrance Woodland Wander soap is scented with essential oils.

Palm oil free Lots of soaps contain palm oil - look out for Sodium Palmate on the label - our products are proudly free from palm oil.

Plastic free Packaged in greaseproof paper and a recycled cardboard sleeve.
Full Ingredients - English

Rapeseed Oil, Coconut Oil, Shea Butter, Aqua, Glycerine, Sodium Hydroxide, Castor Oil, Hemp seed Oil, Spinach Leaf Powder, Patchouli Leaf Oil, Cedarwood Oil, Spearmint Leaf Oil
Full Ingredients - INCI

Sodium Rapeseedate (Rapeseed Oil), Sodium Cocoate (Coconut Oil), Sodium Sheabutterate (Shea Butter), Aqua, Glycerine, Sodium Castorate (Castor Oil), Sodium Hempseedate (Hemp seed Oil), Spinacia Oleracea (Spinach) Leaf Powder, Pogostemon Cablin (Patchouli) Leaf Oil, Cedrus Deodara (Cedar) Wood Oil, Mentha Viridis (Spearmint) Leaf Oil, Limonene*

*Naturally occurring in our Woodland Wander essential oil blend.
Share
View full details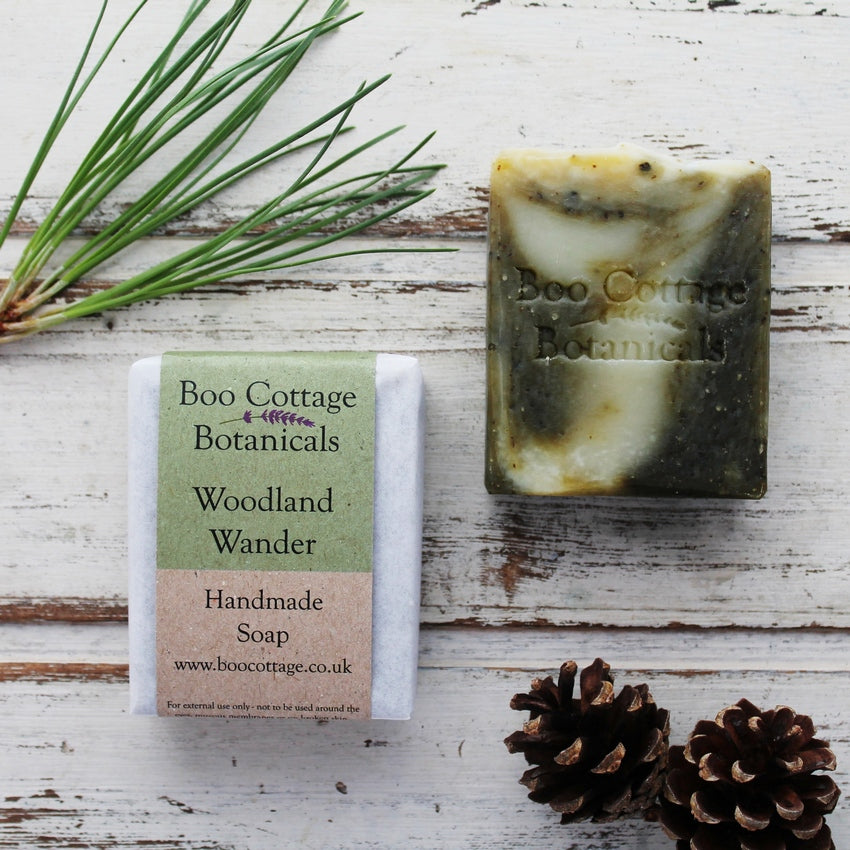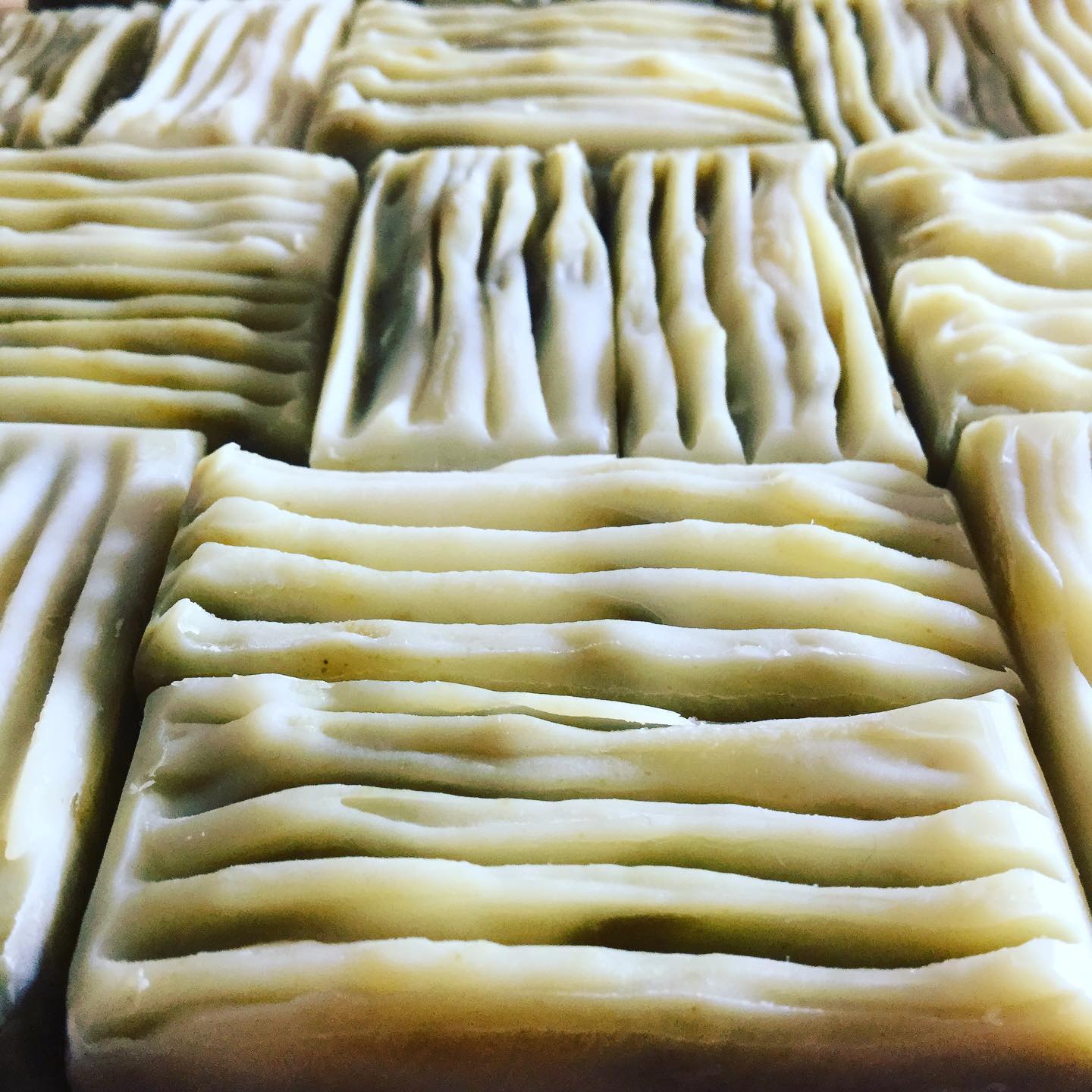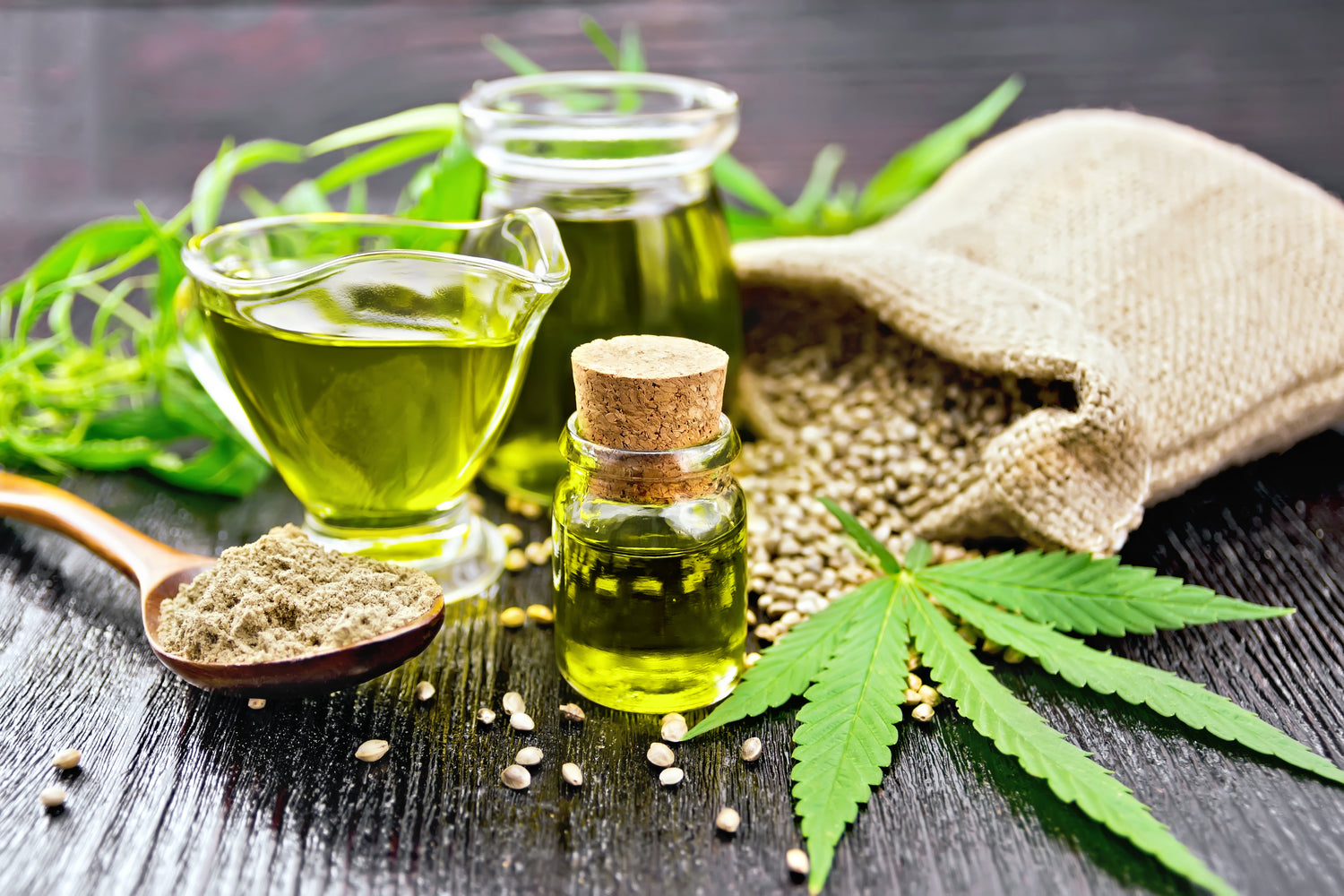 What is soap made from?
Traditional cold process soap is made from a mixture of fatty acids - in our case plant oils and butters - mixed with an alkaline solution. In a bar of solid soap, the alkali used is sodium hydroxide, which turns the fatty acids into sodium salts, or soap!
You can tell what the starting oils are in a soap by their Latin name. For example Sodium Olivate is the soap that is formed from Olive Oil, Sodium Hempseedate is from Hemp Oil and so on.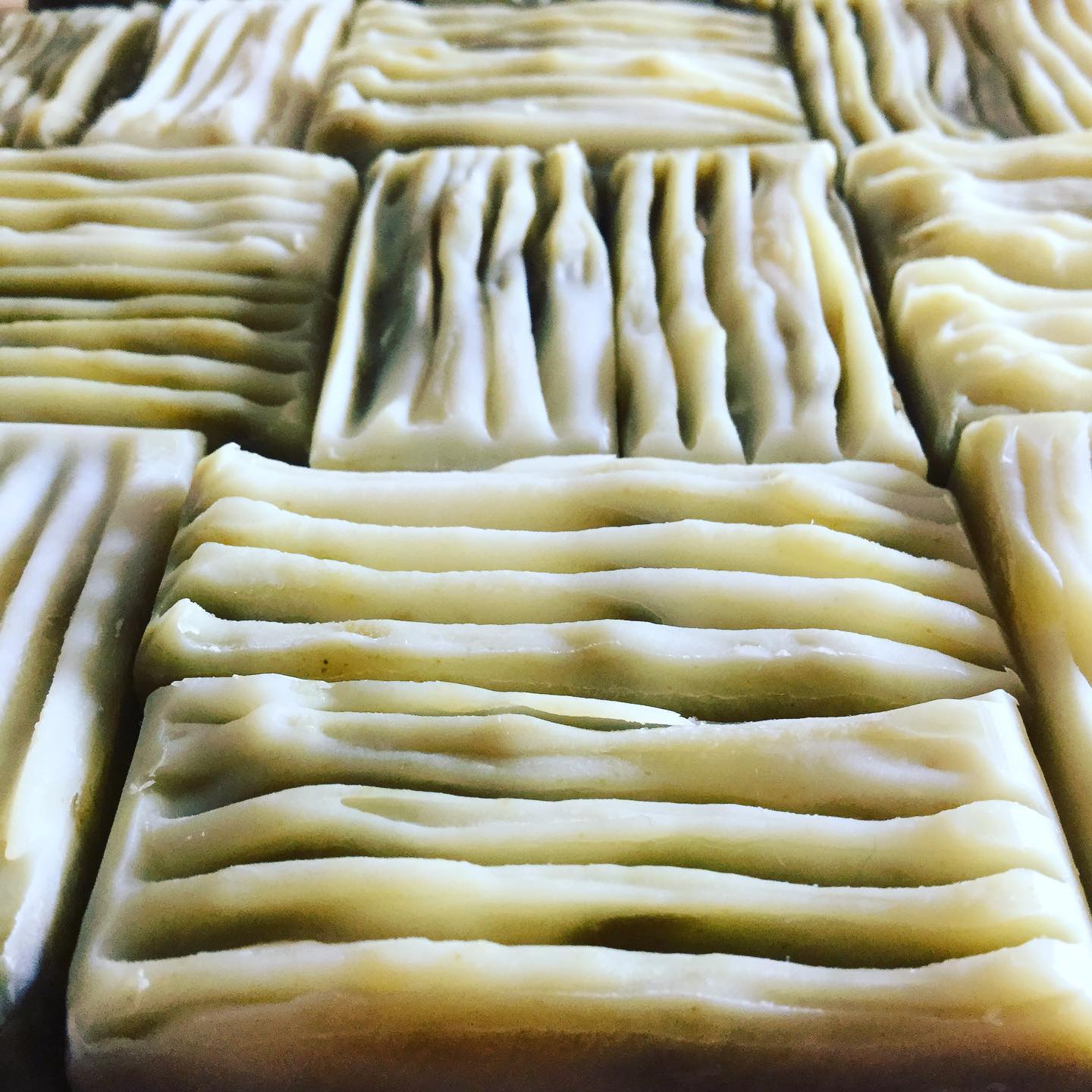 Top tips for looking after my soap
No-one likes a soggy soap... or one that disappears too quickly! Here's our top tips
1. Store your unopened soap in a cool, dry place.
2. Use your soap with a soap dish so it's not constantly sat in a puddle of water.
3. Stand the bar upright for as long as possible to allow the air to get round the sides.
4. Have 2 bars on the go at the same time, so you can alternate if one is feeling a bit soggy.
Check out more