Sunny Days juniper soap, made with a blend of nourishing oils and butters and rosehip powder, offers a softly exfoliating experience and a rich, creamy lather. British rapeseed oil, shea butter and grapeseed oil add essential moisturising benefits to this gentle yet effective soap. With grapefruit, juniper and patchouli essential oils for a spa-like scent to brighten your day. What will your Sunny Days bring?
Min 100g bar
Regular price
Sale price
£5.50
Unit price
per
Sale
Sold out
Deep burgundy colour with soft exfoliation. Fragrance notes of wood, earth and citrus.
Key Ingredients

Rapeseed oil is one of the few oils that is grown and extracted in Britain. The oil is rich in oleic acid, linoleic acid and other essential fatty acids. It is readily absorbed and has a very light skin feel similar to sweet almond oil. It provides proteins and a moisturising addition in soap.

Shea Butter is rich in vitamins, plant sterols, minerals and other nourishing compounds for the skin. The butter softens, protects against drying, and nourishes. High in vitamins E and A, shea butter locks in moisture, increases elasticity and evens out skin tone.

Grapeseed Oil is especially high in omega-6, making it a light oil that penetrates layers of the skin. The oil has astringent properties for tightening and toning, and is high in vitamin E.

Patchouli Essential oil is an unmistakable essential oil; with its rich, earthy, woody scent it is helpful for regulating oily skin and acne.

Pink Grapefruit Essential Oil is a wonderfully uplifting, energising oil. It has a pleasant sweet, tangy aroma.
Why You'll Love Sunny Days soap

100% Natural Sunny Days soap contains no synthetic colours or fragrances. It is 100% natural.

Vegan Formula is suitable for people trying to avoid animal products.

Cruelty Free Rest assured, all our products are cruelty free. We only test products on ourselves and other willing humans! We are very careful to check that none of our ingredients are tested on animals either.

Natural Fragrance Sunny Days soap is scented with essential oils.

Palm oil free Lots of soaps contain palm oil - look out for Sodium Palmate on soap labels - our products are proudly free from palm oil.

Plastic free Packaged in greaseproof paper and a recycled cardboard sleeve.
Full Ingredients - English

Rapeseed Oil, Coconut Oil, Shea Butter, Aqua, Glycerine, Sodium Hydroxide, Castor Oil, Grapeseed Oil, Rosehip Fruit Powder, Grapefruit Peel Oil, Patchouli Leaf oil, Juniper Oil
Full Ingredients - INCI

Sodium Rapeseedate (Rapeseed Oil), Sodium Cocoate (Coconut Oil), Sodium Sheabutterate (Shea Butter), Aqua, Glycerine, Sodium Castorate (Castor Oil), Sodium Grapeseedate (Grapeseed Oil), Rosa Canina (Rosehip) Fruit Powder, Citrus Paradisi (Grapefruit) Peel Oil, Pogostemon Cablin (Patchouli) Leaf oil, Juniperus Communis (Juniper) Oil, Limonene*

*Naturally occurring in our Sunny Days essential oil blend.
Share
View full details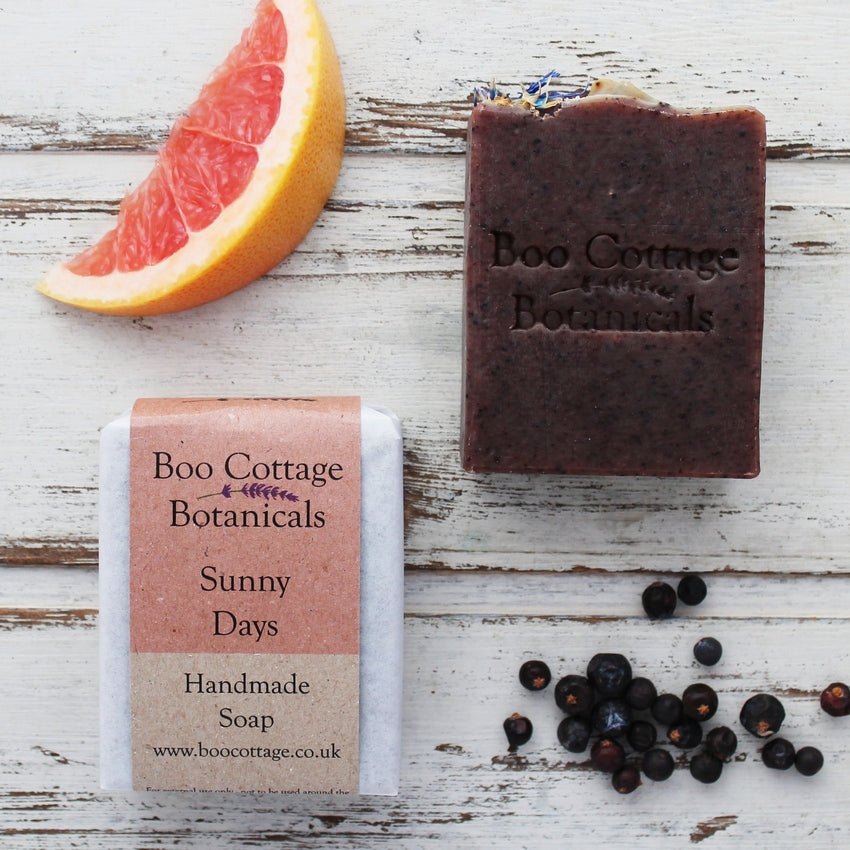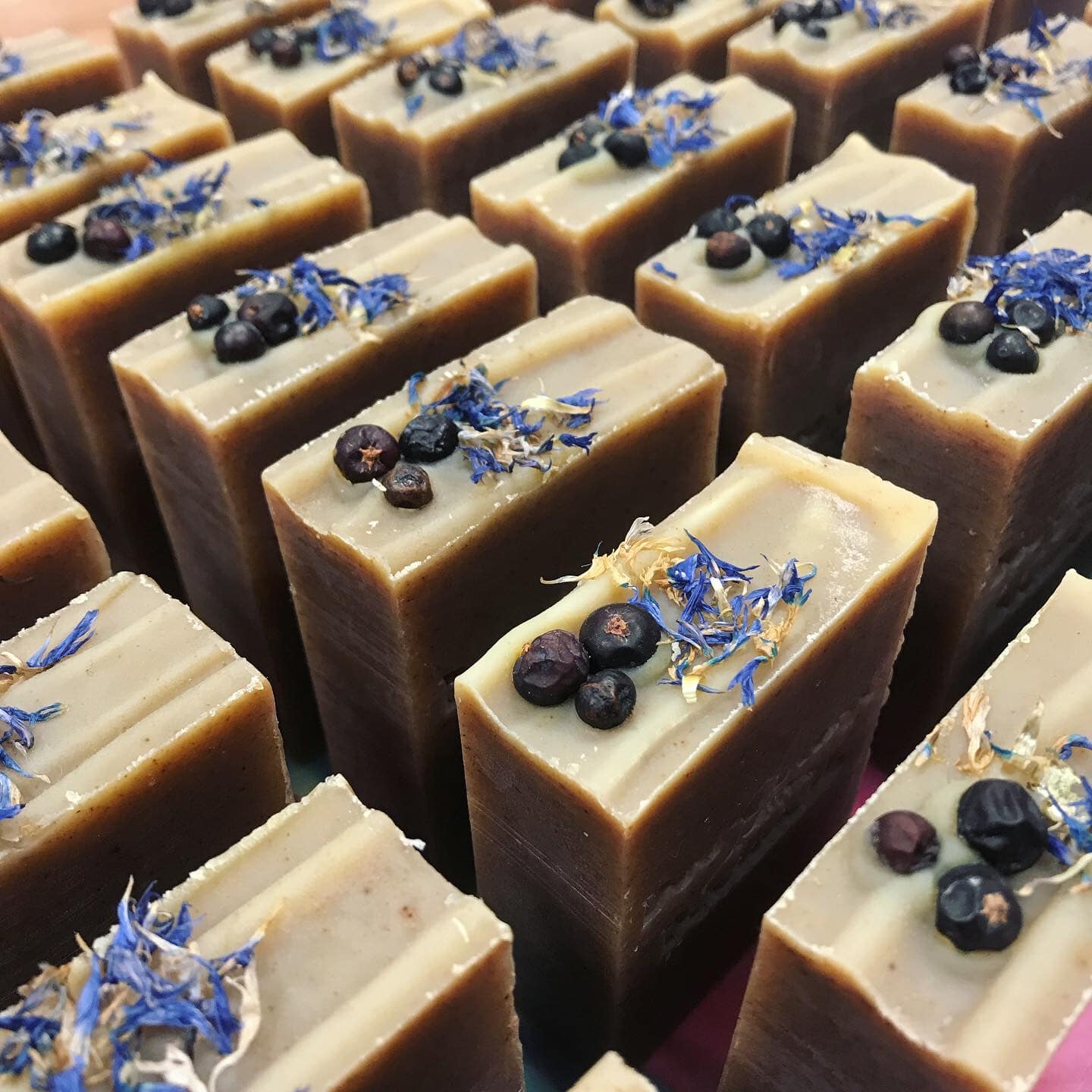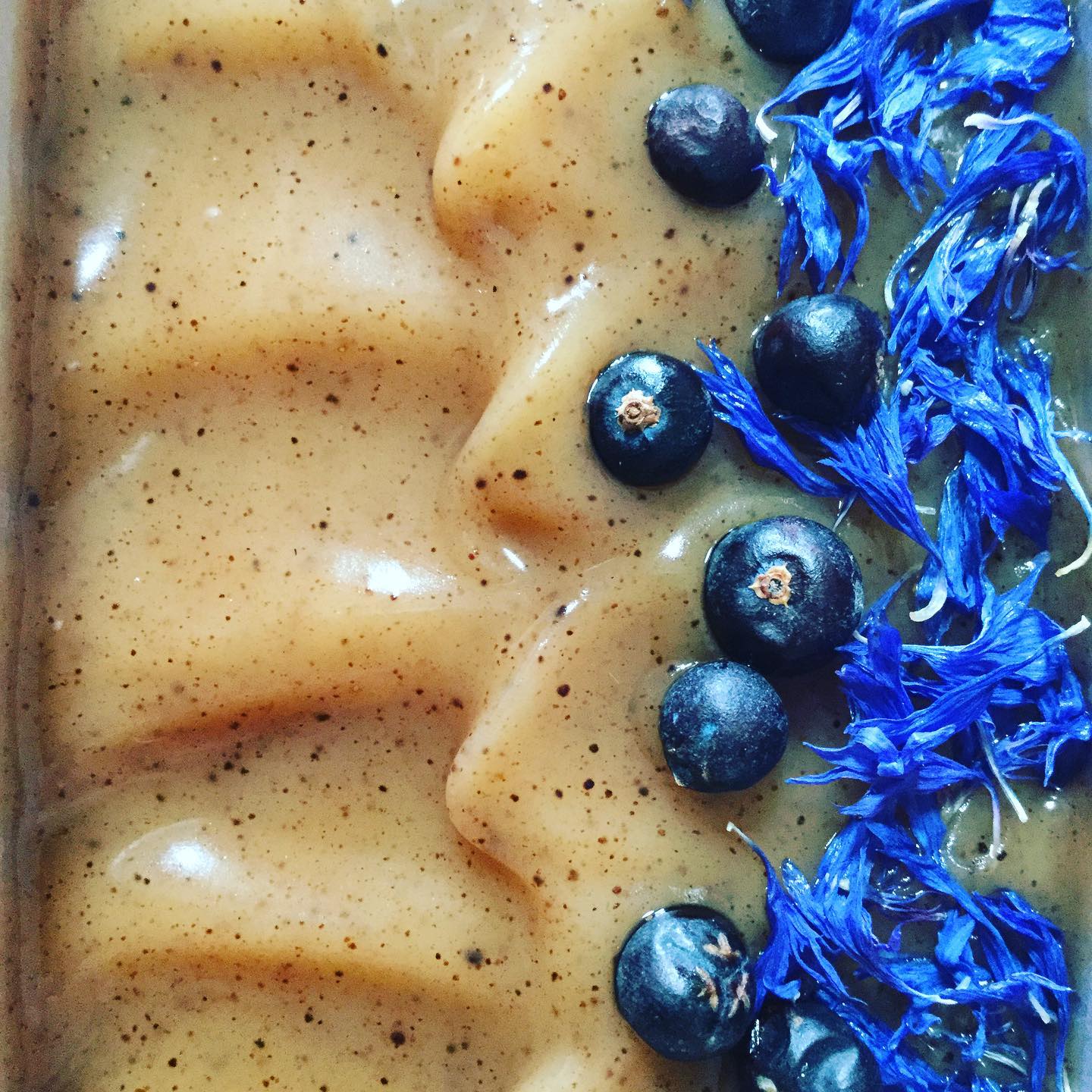 What is soap made from?
Traditional cold process soap is made from a mixture of fatty acids - in our case plant oils and butters - mixed with an alkaline solution. In a bar of solid soap, the alkali used is sodium hydroxide, which turns the fatty acids into sodium salts, or soap!
You can tell what the starting oils are in a soap by their Latin name. For example Sodium Olivate is the soap that is formed from Olive Oil, Sodium Rapeseedate is from Rapeseed Oil and so on.
Top tips to help look after my soap
Store your new bars in a dry, dark place
Stand your bar upright in use so it can get the air round the biggest sides
Sit your soap on a drainer - a dish with holes big enough that it's not constantly sat in a puddle of water
Find out more top tips