Wrap yourself in the cosy warmth of our Spiced Orange Soap! Made with warming spicy and citrus essential oils of orange, clove and cinnamon. Rich in mango butter and boasting a creamy lather, this soap will leave you feeling relaxed and refreshed with its cosy, comforting, yet invigorating fragrance.
Min 100g bar
Regular price
Sale price
£5.50
Unit price
per
Sale
Sold out
Warming spices of clove and cinnamon paired with zesty orange and lemongrass.
Key Ingredients

Mango butter is extracted by pressing the large flat seed inside the mango fruit. The butter is full of natural antioxidants, has anti-fungal and anti-inflammatory properties to help heal irritated skin. It is able to moisturise, repair and revitalise skin layers, rejuvenating and healing.

Cinnamon oil is warming and energizing and was traditionally used as an aromatic foot massage by the ancient Egyptians. It has antiseptic properties and can help to boost circulation, especially if you are feeling chilly. We use the oil from the leaves as the oil from the bark is too strong for use in skincare.

Castor oil alongside olive oil has been used for millennia for many traditional healing practices. Its thick viscous texture would make you believe it isn't a nice oil for skincare, however it absorbs into the skin surprisingly quickly, is soothing and can help minimise scarring if used in treating cuts and scrapes.
Why You'll Love Spiced Orange soap

100% Natural Spiced Orange soap contains no synthetic colours or fragrances. It is 100% natural.

Vegetarian Formula is suitable for people trying to avoid animal products. We use a beeswax to help harden this soap.

Cruelty Free Rest assured, all our products are cruelty free. We only test products on ourselves and other willing humans! We are very careful to check that none of our ingredients are tested on animals either.

Natural Fragrance Spiced Orange soap is scented with essential oils.

Palm oil free Lots of soaps contain palm oil - look out for Sodium Palmate - our products are proudly free from palm oil.

Plastic free Packaged in greaseproof paper and a recycled cardboard sleeve.
Full Ingredients - English

Extra Virgin Olive Oil, Rice Bran Oil, Coconut Oil, Glycerine, Aqua, Sodium Hydroxide, Cocoa Butter, Castor Oil, Beeswax, Mango Butter, Orange Oil, Cinnamon Leaf Oil, Clove Oil, Lemongrass Oil, Paprika Extract, Nutmeg
Full Ingredients - INCI

Sodium olivate (Olive oil), Sodium ricebranate (Ricebran oil), Sodium cocoate (Coconut oil), Glycerine, Aqua, Sodium cocoabutterate (Cocoa butter), Sodium castorate (Castor oil), Sodium beeswax (Beeswax), Sodium mangobutterate (Mango butter), Citrus sinensis (Orange) oil, Cinnamomum zeylanicum (Cinnamon) leaf oil, Syzygium aromaticum (Clove) oil, Cymbopogon flexulosus (Lemongrass) oil, Capsicum annum (Paprika) extract, Myristica fragrans (Nutmeg), Eugenol*, Limonene*, Citral*, Linalool*, Benzyl Benzoate*, Cinnamal*, Geraniol*, Cinnamyl alcohol*, Isoeugenol*, Coumarin*, Citranellol*

*Naturally occurring in our Spiced Orange essential oil blend.
Share
View full details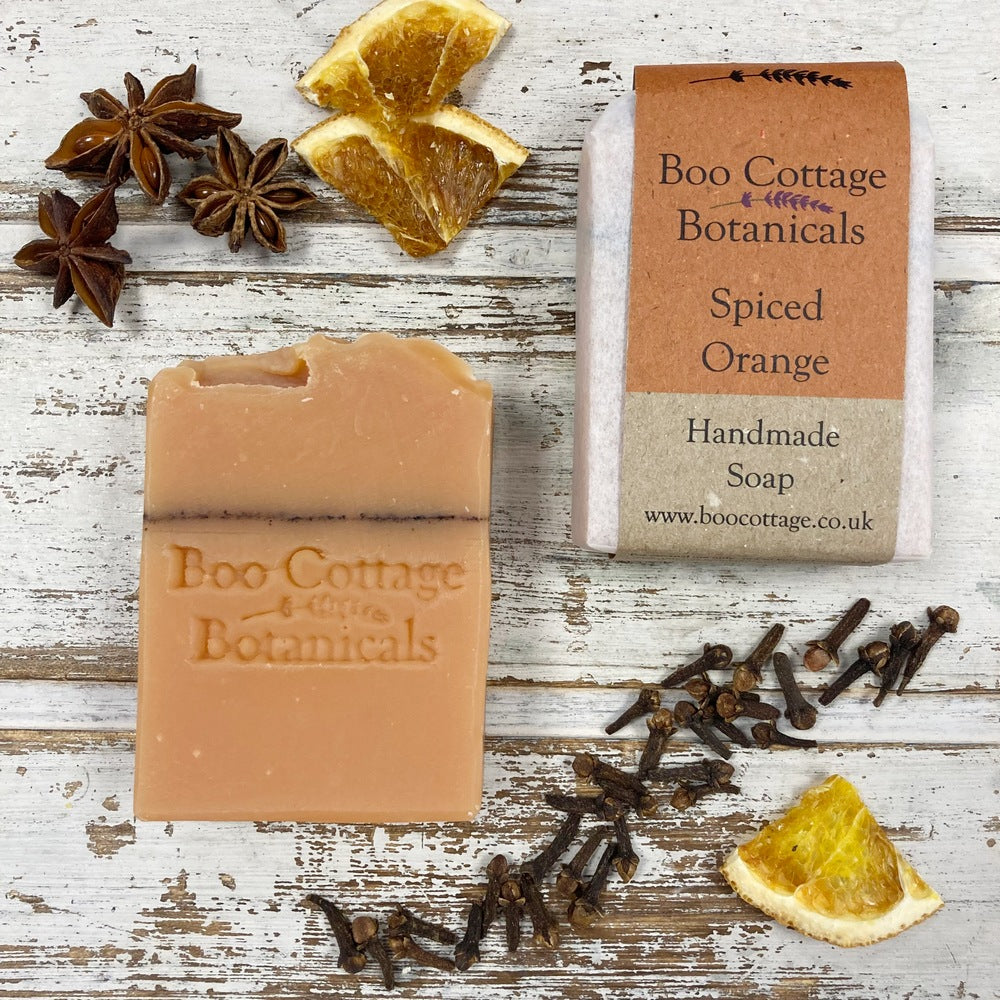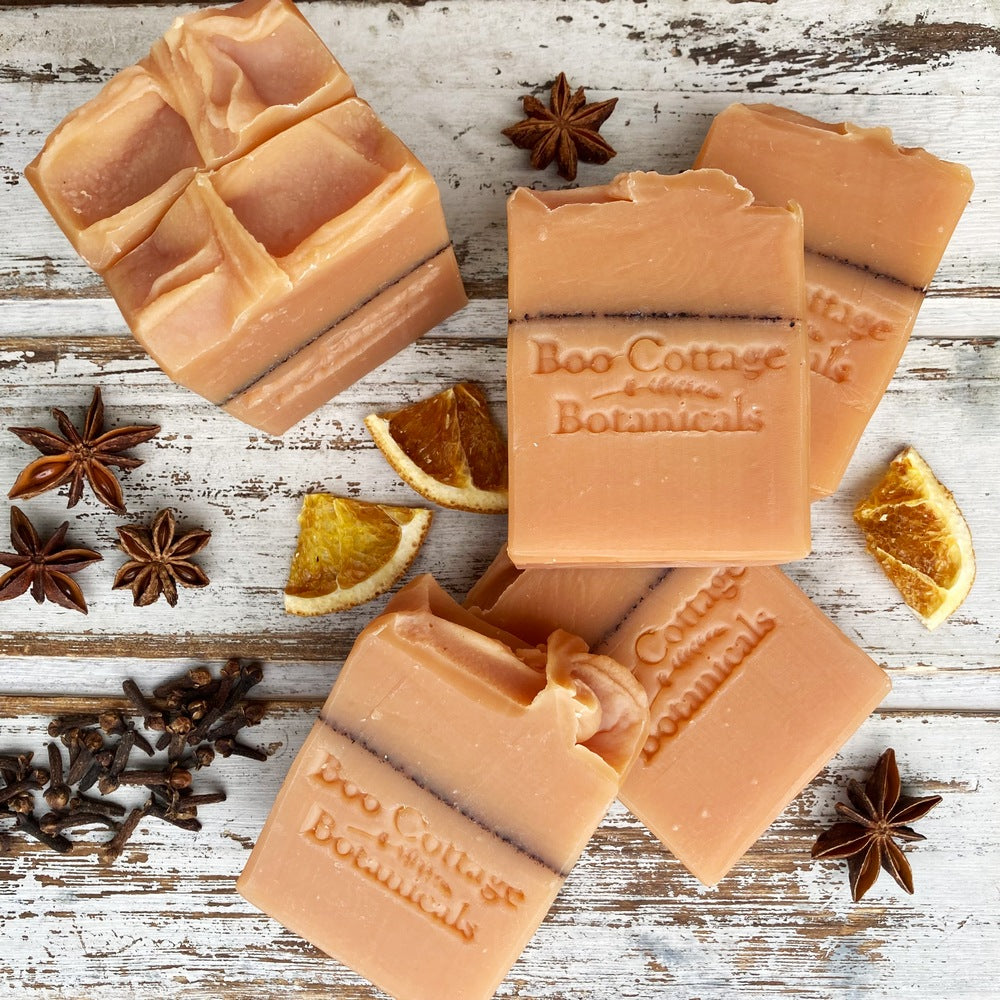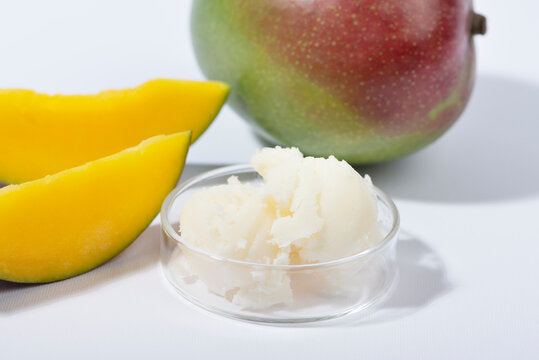 What is soap made from?
Traditional cold process soap is made from a mixture of fatty acids - in our case plant oils and butters - mixed with an alkaline solution. In a bar of solid soap, the alkali used is sodium hydroxide, which turns the fatty acids into sodium salts, or soap!
You can tell what the starting oils are in a soap by their Latin name. For example Sodium Olivate is the soap that is formed from Olive Oil, Sodium Mangobutterate is from Mango Butter and so on.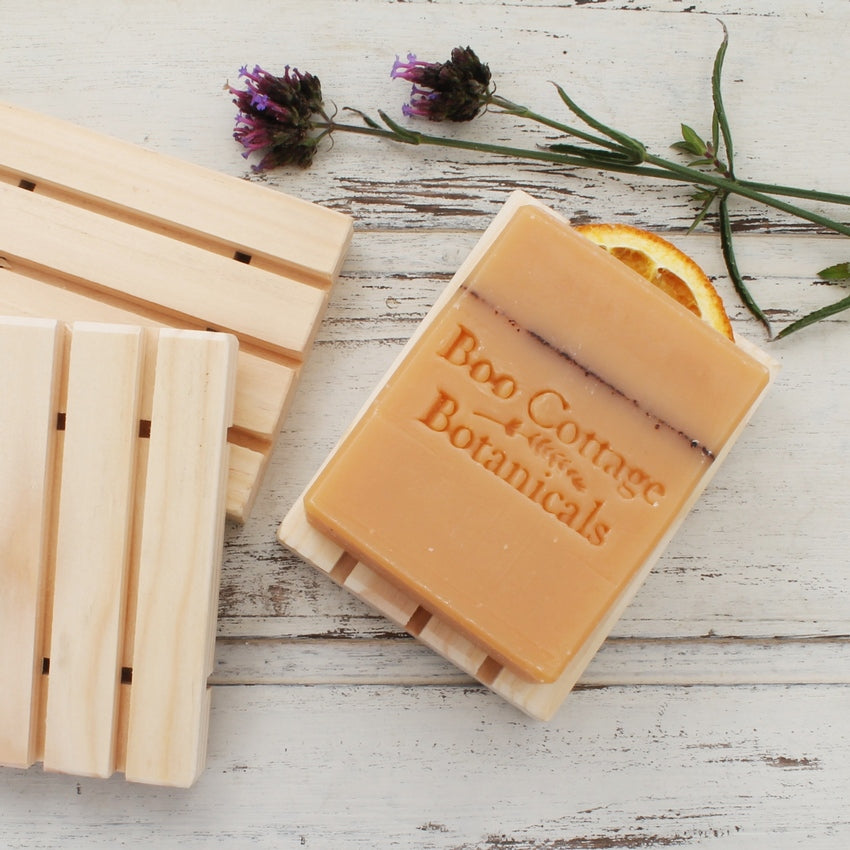 Top tips to make my soap last a long time
Store your soap in a dry place
Use your soap with a good soap dish. Don't let it sit in a puddle of water.
Stand your bar up on the soap dish for as long as possible to let the air get round it.
Stick your old slither of soap onto the front of your next bar so you don't waste any!
Read more top tips