Experience the skin-loving, nourishing power of nature with our award-winning Soothing Botanical Balm. Our vegan-friendly formula blends shea butter, rosehip oil and 5 powerful botanicals – lavender, calendula, chamomile, comfrey and plantain – to create a thick, rich balm that is protective, repairing and perfect for sensitive skin. Unfragranced, it's our hero product for the whole family.
Regular price
Sale price
£10.95
Unit price
per
Sale
Sold out
With no colour or fragrance added, it is suitable for all ages and skin types and even for the most sensitive and troublesome skin… as proven by the silver award it won in the 'problem skin' category at a prestigious European wide competition in 2020.
Key Ingredients

Shea Butter is rich in vitamins, plant sterols, minerals and other nourishing compounds for the skin. The butter softens, protects against drying, and nourishes the skin. High in vitamins E and A, shea butter locks in moisture, increases elasticity and evens out skin tone.

Rosehip Oil is regenerative and nourishing. With high levels of alpha-Linolenic and linoleic acids, vitamin A increases skin elastin and promotes collagen formation. Its tannin content adds to the astringent nature of the oil,
creating a nourishing, yet dry non greasy feel. Rosehip oil has been known to help with wrinkles, age spots, UV damage, scar tissue, blemishes and difficult skin conditions. An absolute powerhouse!

Calendula has been known for generations as an anti-inflammatory, anti-bacterial and soothing herb that can help alleviate a range of skin conditions.

Chamomile has been used in skincare for years, it is anti-inflammatory, antibacterial, anti-fungal and antiseptic. Chamomile also adds a
calming, earthy floral fragrance to our balm, to soothe your senses as well as your skin.

Plantain extract contains polysaccharides, lipids, flavonoids and organic acids. It has been used to treat mosquito bites and accelerate wound healing.  The extract is anti-inflammatory, antioxidant, antibiotic and analgesic.
Why You'll Love Botanical Balm

100% Natural Soothing Botanical Balm contains no synthetic ingredients. It is 100% natural.


Vegan Formula contains no beeswax or animal products. Suitable for vegans, vegetarians and people trying to avoid animal products. We use a plant wax to thicken our balm.

Cruelty Free Rest assured, we never test on animals. All our products are cruelty free. We only test products on ourselves and other willing humans! We are very careful to check that none of our ingredients are tested on animals either.

Fragrance Free Botanical Balm doesn't contain any essential oils as we wanted it to be truly multipurpose. It has a natural scent that comes from the unrefined shea butter, carnauba wax and botanicals. It's warm and earthy, free from added fragrance.

Palm oil free All of our products are proudly free from palm oil.

Plastic free Packaged in an amber glass jar with an aluminium lid, free from plastic packaging. We chose glass jars as it's easily returnable (we can reuse them to package more balms), reusable at home or you can recycle them.

Free From Skincare Awards 2020 Winner We're very proud that our soothing Botanical Balm picked up a Silver Award in the 'Problem Skin' category in 2020's Free From Skincare Awards.
Full Ingredients - English

Olive oil, Shea butter, Carnauba wax, Rosehip oil, Calendula extract, Lavender extract, Chamomile extract, Plantain extract, Comfrey extract, Vitamin E in Wheatgerm oil
Full Ingredients - INCI

Olea Europea (Olive) fruit oil, Butyrospermum Parkii (Shea) butter, Copernicia Cerifera (Carnauba) wax, Rosa Rubignosa (Rosehip) oil, Calendula Officinalis (Calendula) extract, Lavandula Angustifolia (Lavender) extract, Chamomilla Recutita (Chamomile) extract, Plantago Lanceolata (Plantain) extract, Symphytum Officinale (Comfrey) extract, Triticum Vulgare (Wheatgerm) oil & Tocopherol (Vitamin E)
Share
View full details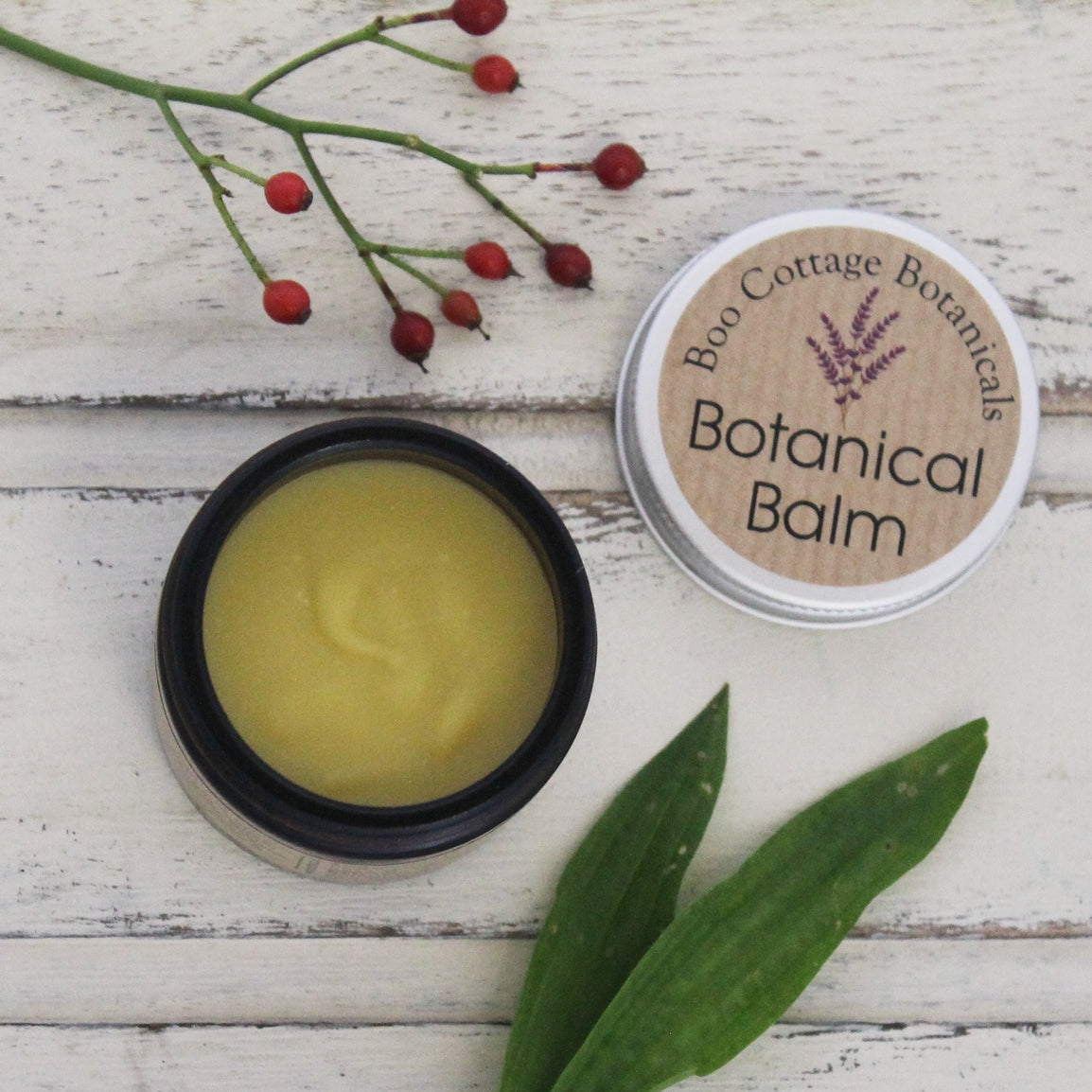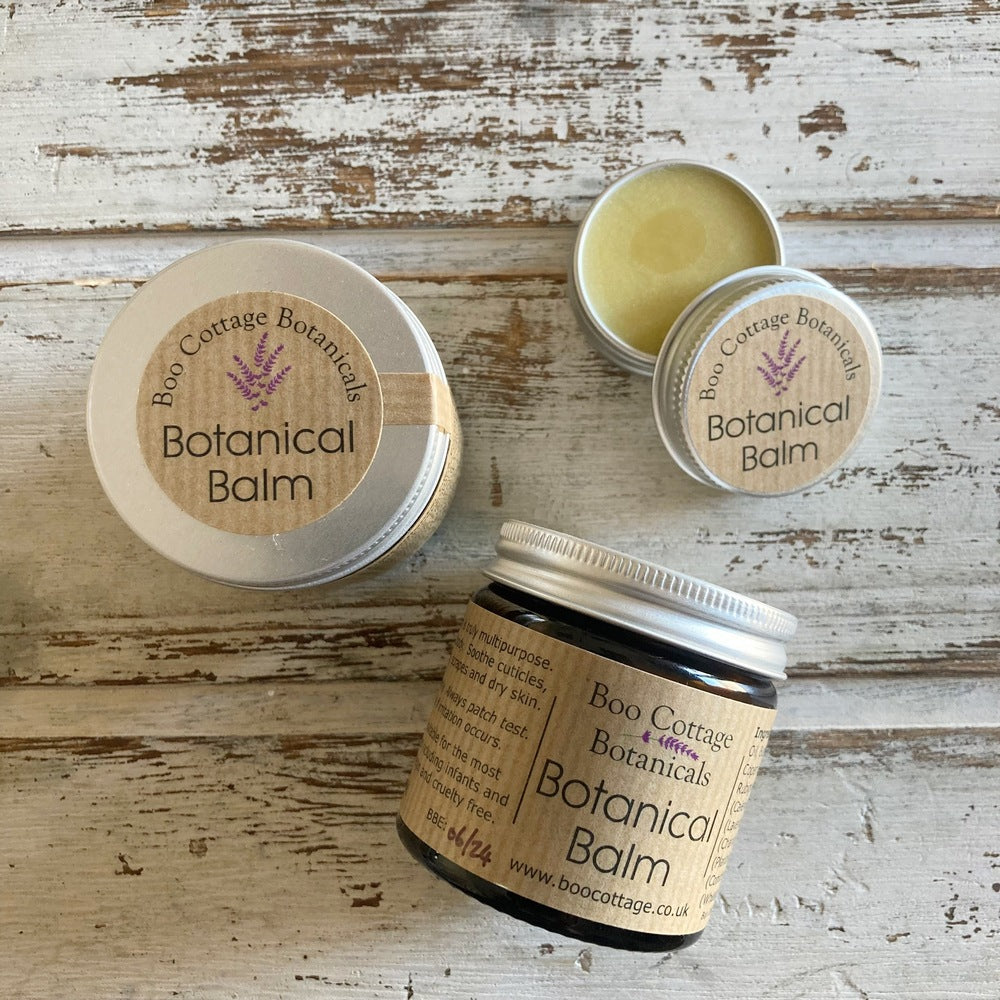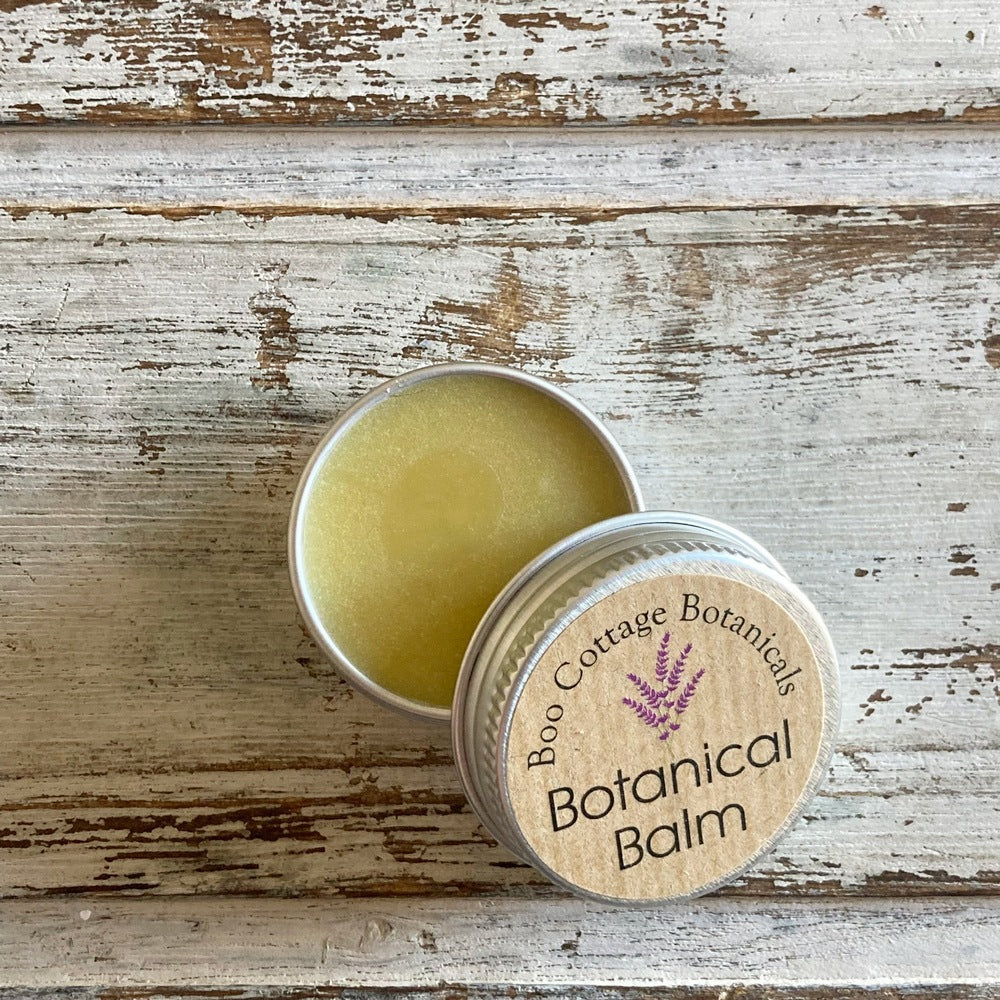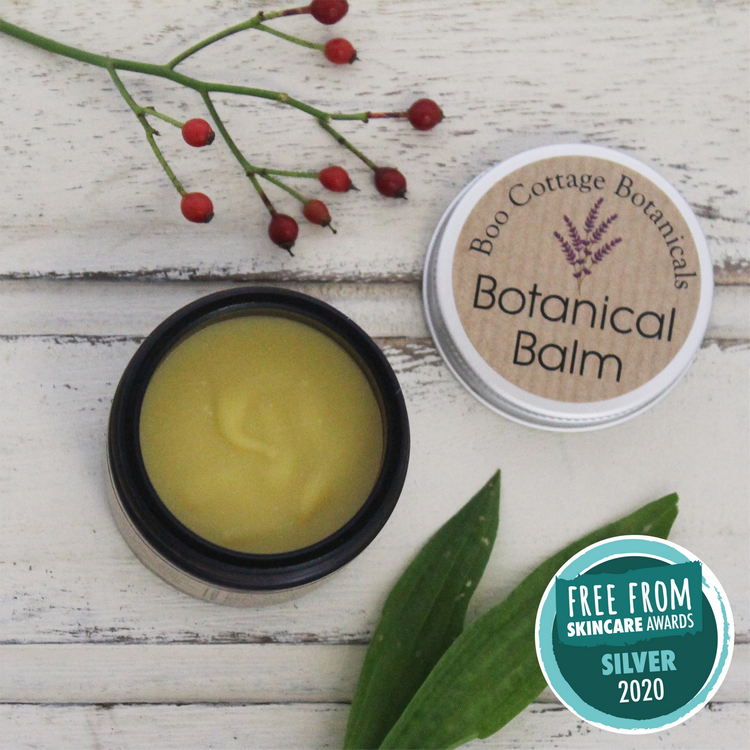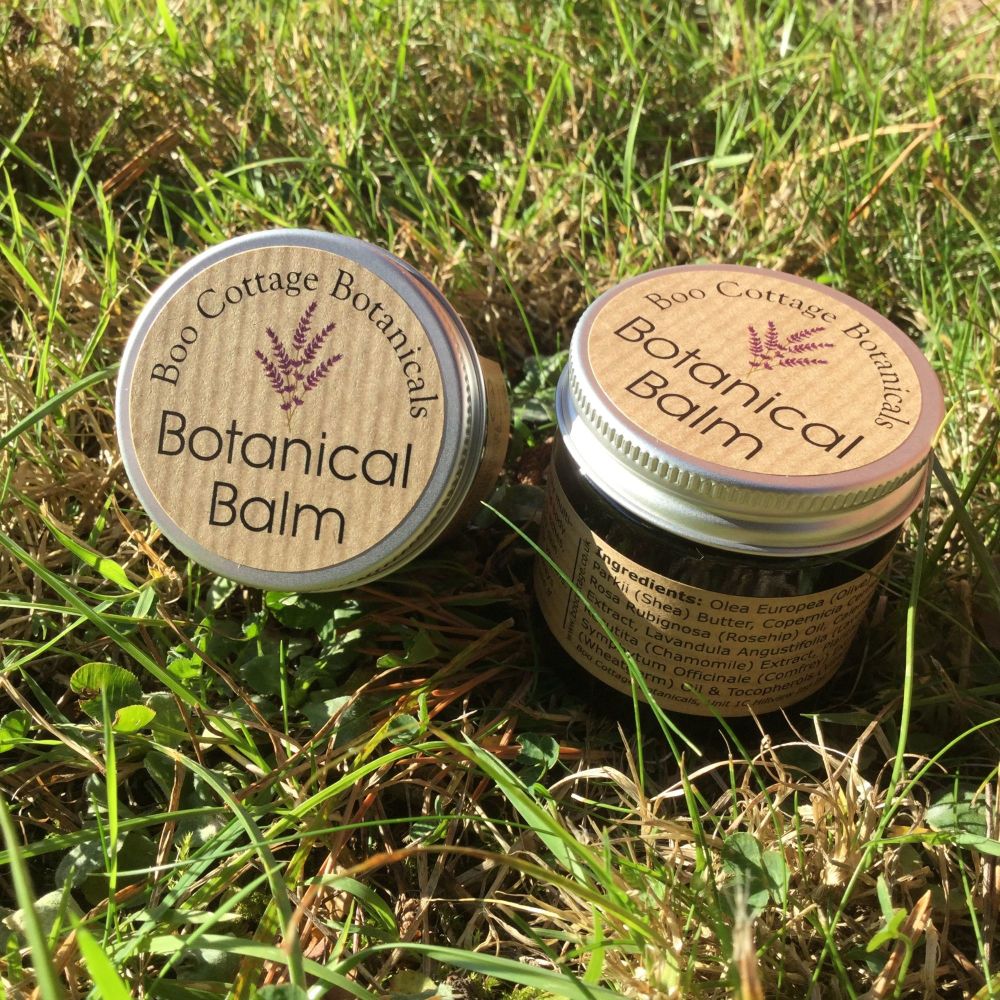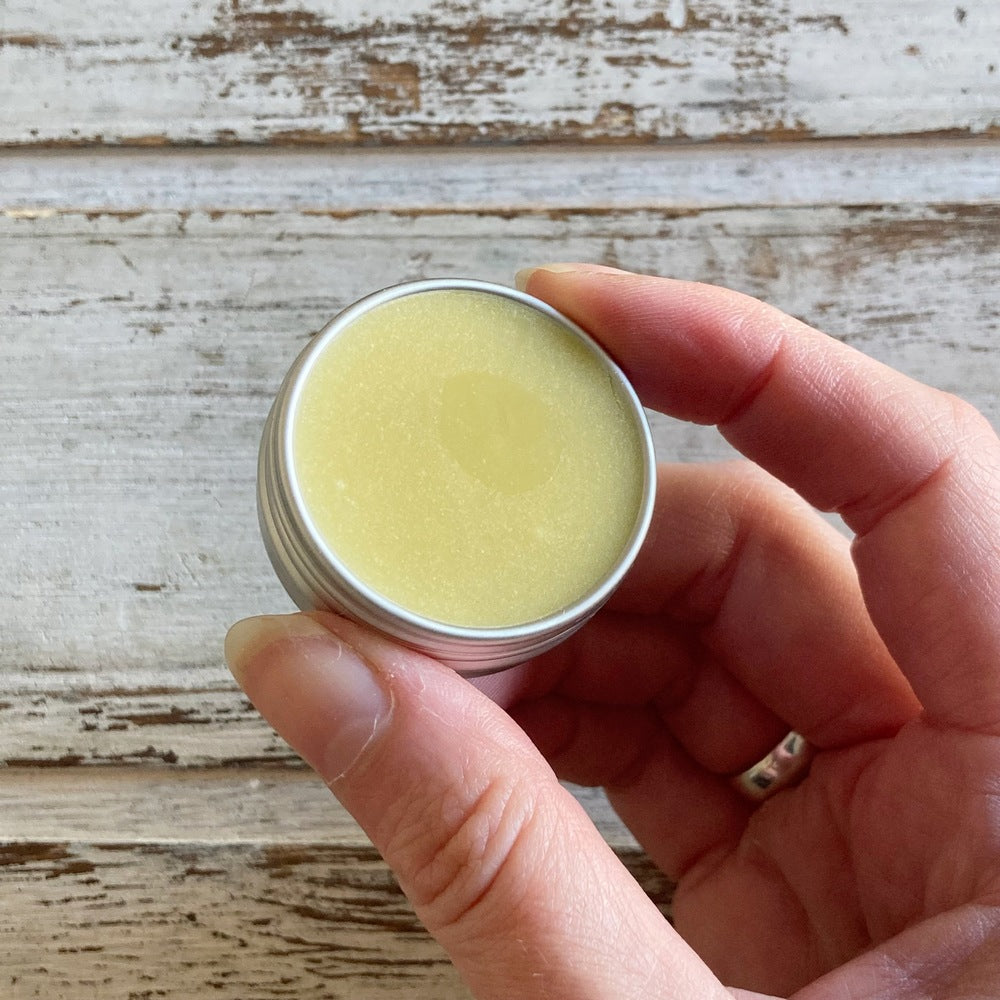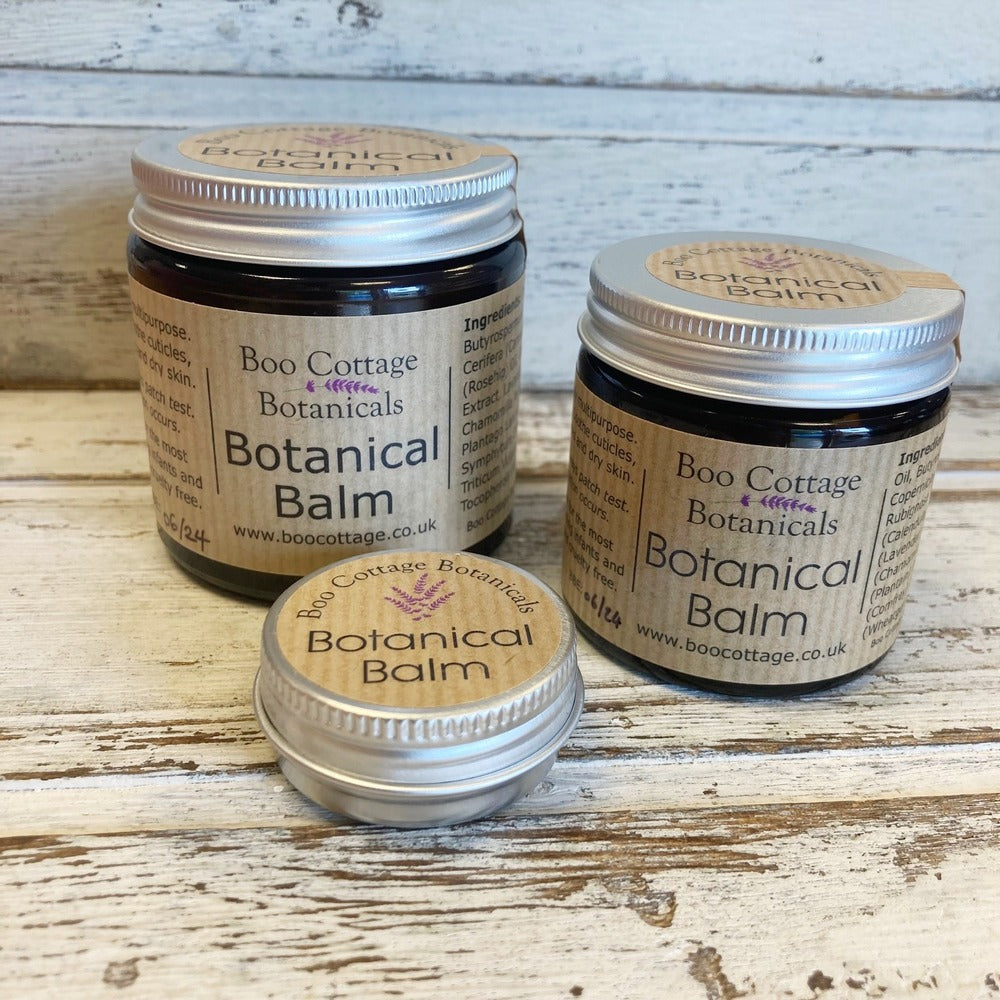 What can Botanical Balm be used for?
Botanical Balm is extremely versatile and can be used on your face, hands and body.
Use for targeted relief of the following:
Dry skin | Itchy skin | Rough skin | Cracked skin | Dry lips | Dry cheekbones | Scuffed, scraped, irritated skin | Dry cuticles and cracked fingers.
You can even use Botanical Balm to tame unruly beards!
Who is Soothing Botanical Balm suitable for?
Vegans
Eczema sufferers
Psoriasis sufferers
Sensitive skin
Fragrance Allergy sufferers
Dry skin
Damaged skin
Normal skin
Adults, children, infants and babies alike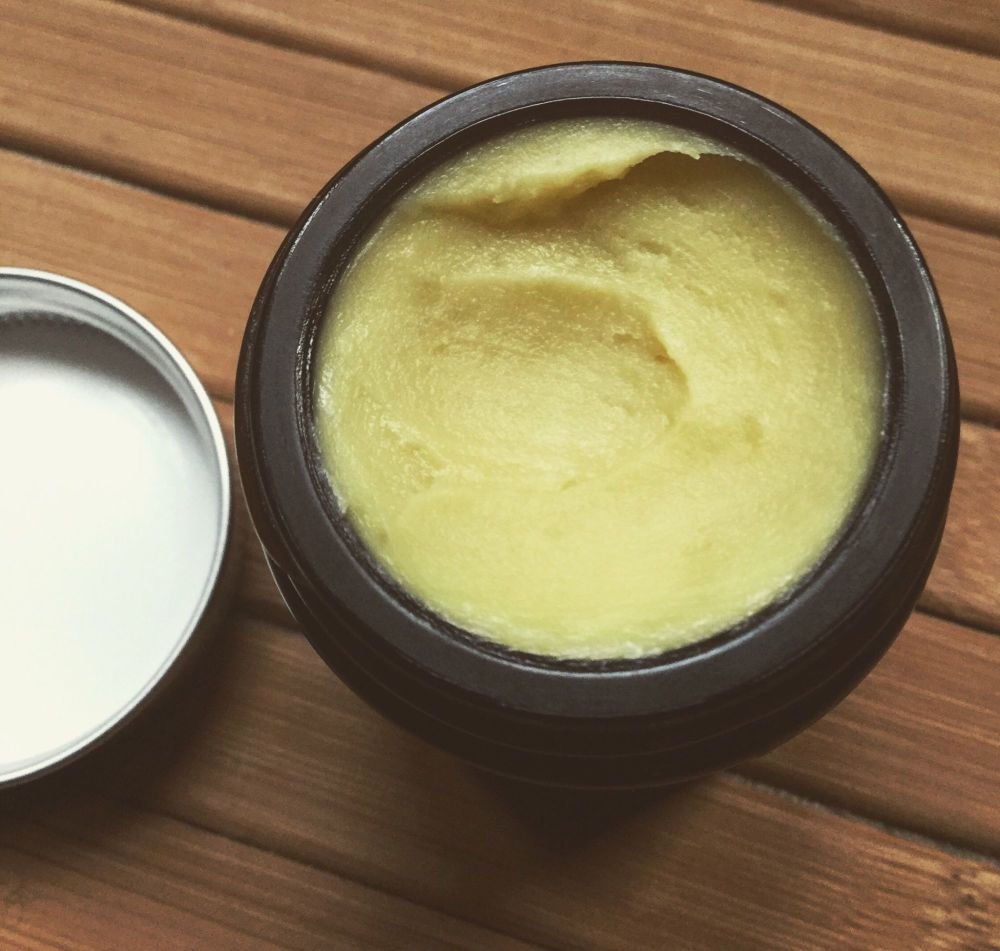 How do I apply Botanical Balm?
The texture is rich and thick. Feel the immediate soothing and protective effects when you apply.
1. Scoop a small amount of soothing Botanical Balm out of the jar with a finger or small spoon.
2. Warm it in your finger tips to allow it to soften slightly.
3. Smooth the softened balm onto affected patch of skin and massage in gently.
4. Reapply as and when needed.
You can use it as an overnight cracked heel or hand balm. Apply Botanical Balm liberally to the affected area before popping on socks or gloves. Allow balm to sink in, soften and repair overnight.
Absolutely fantastic
An excellent balm! My husband has suffered from red, sore skin on his hands that wasn't getting better with hand cream. He started using the balm and it helped his hands heal in a few days. It's not smelly, which he liked. It's more paste-like than a cream, and you don't need much for each application. Definitely worth it!
Fantastic product!!
I absolutely love this balm, I use as my daily moisturiser and it is glorious. It goes on easily and feels amazing. I recommend you give it a try.
It is also important to me that it is made in this country and that it is in a glass pot.
Cleared up the spots in no time!
I recently noticed some red spots around my toddlers' mouth (I think caused from her dribbling too much!) I decided to use this Botanical balm as I didn't want any harsh chemicals on her face. The spots cleared up within 24hrs after only a few uses!! This balm is magical, I wish I'd taken a before/after picture!! I'd definitely recommend it for use on your little ones as it's so mild and soothing.
Amazing product
I've been using this as facial moisturiser everyday for about 2 years and I love it. It makes my skin feel soft, smooth and hydrated and it smells lovely.
Best Balm in whole Uk
I'm using Boo cottage Botanicals soaps for quite some time and I love them.But this balm blow my mind.I have a problem with dry cracking skin on my feet.I try a lot of different products but this product is miles away from anything I ever try.I highly recommend this product.Boo Cottage Botanical thank you for all your hard work