Discover ultimate luxury with this beautiful body oil, crafted from an exquisite blend of the finest British ingredients. Our unique blend of evening primrose oil, borage oil, and chamomile and lavender essential oils can help you to achieve softer, smoother skin and an overall feeling of wellbeing.
Regular price
Sale price
£12.95
Unit price
per
Sale
Sold out
Our Evening Primrose & Chamomile Body Oil is made with 100% British-grown ingredients to provide deep nourishment and relaxation.
Key Ingredients

Evening Primrose Oil was one of the first vegetable oils discovered to contain gamma linolenic acid (GLA). This essential fatty acid can reduce inflammation and help maintain healthy skin, nails and hair. The oil feels light on the skin due to its tannin content, and is able to deliver nourishment into the layers of the skin.

Camelina Oil is grown and pressed in North Yorkshire, where it has traditionally been an important food source as a substitute for flax oil. High in omegas 3 and 6 and vitamin E it also makes a fabulous oil for skincare. The oil is quickly and easily absorbed, helping to keep your skin moisturised and elastic.

Borage Oil is one of our favourites here at Boo due to its lovely skin feel, nourishing properties and low carbon footprint! Borage oil has a high GLA content – in fact the highest levels in any known oil – which helps to regenerate, firm and rejuvenate the skin's barrier function and maintain skin elasticity. Ferulic acid aids skin repair and soothes inflammation, tannins create a dry feeling oil, whilst calming redness, and ellagic acid helps produce collagen and regenerate skin cells.

English Lavender Essential Oil has the most wonderfully complex floral scent – definitely not your average musty lavender scent – sweetly floral, with green and woody notes. Known for its ability to calm and relax, lavender essential oil is a popular oil to keep at home. In skincare it has anti-inflammatory and anti-bacterial properties, which have the ability to soothe and rejuvenate inflamed, irritated skin.  Our lavender oil is grown in Norfolk.

Chamomile Essential Oil has a mild, sweet scent reminiscent of hay meadows. Chamomile oil is popular thanks to its ability to calm and tone, with strong anti-inflammatory properties to soothe and repair skin conditions such as eczema and psoriasis. The scent is extremely relaxing, and will help to calm anxiety and promote a restful night sleep. Our chamomile oil is grown in Norfolk.
Why You'll Love Evening Primrose & Chamomile Body Oil

100% British Every ingredient in our British Range is grown and harvested in the UK.

100% Natural Evening Primrose & Chamomile Body Oil contains no synthetic ingredients. It is 100% natural.

Vegan Formula contains no animal products. Suitable for vegans, vegetarians and people trying to avoid animal products.

Cruelty Free All our products are cruelty free. We only test products on ourselves and other willing humans! We are very careful to check that none of our ingredients are tested on animals either.

Natural Fragrance All of our fragrances are blended in house by our team from wonderfully aromatic essential oils.

Palm oil free Proudly free from palm oil.

Plastic free Packaged in a glass bottle with an aluminium lid. We chose glass bottles as it's easily returnable (we can reuse them to package more body oil), reusable at home or you can recycle them.
Full Ingredients - English

Rapeseed Oil, Camelina Seed Oil, Evening Primrose Oil, Borage Seed Oil, Lavender Oil, Chamomile Flower Oil
Full Ingredients - INCI

Brassica Campestris (Rapeseed) Oil, Camelina Sativa (Camelina) Seed Oil, Oenothera Biennis (Evening Primrose) Oil, Borago Officinalis (Borage) Seed Oil, Lavandula Angustifolia (Lavender) Oil, Anthemis Nobilis (Chamomile) Flower Oil, Linalool*, Geraniol*

*Naturally occurring in our Evening Primrose & Chamomile Body Oil essential oil blend
Share
View full details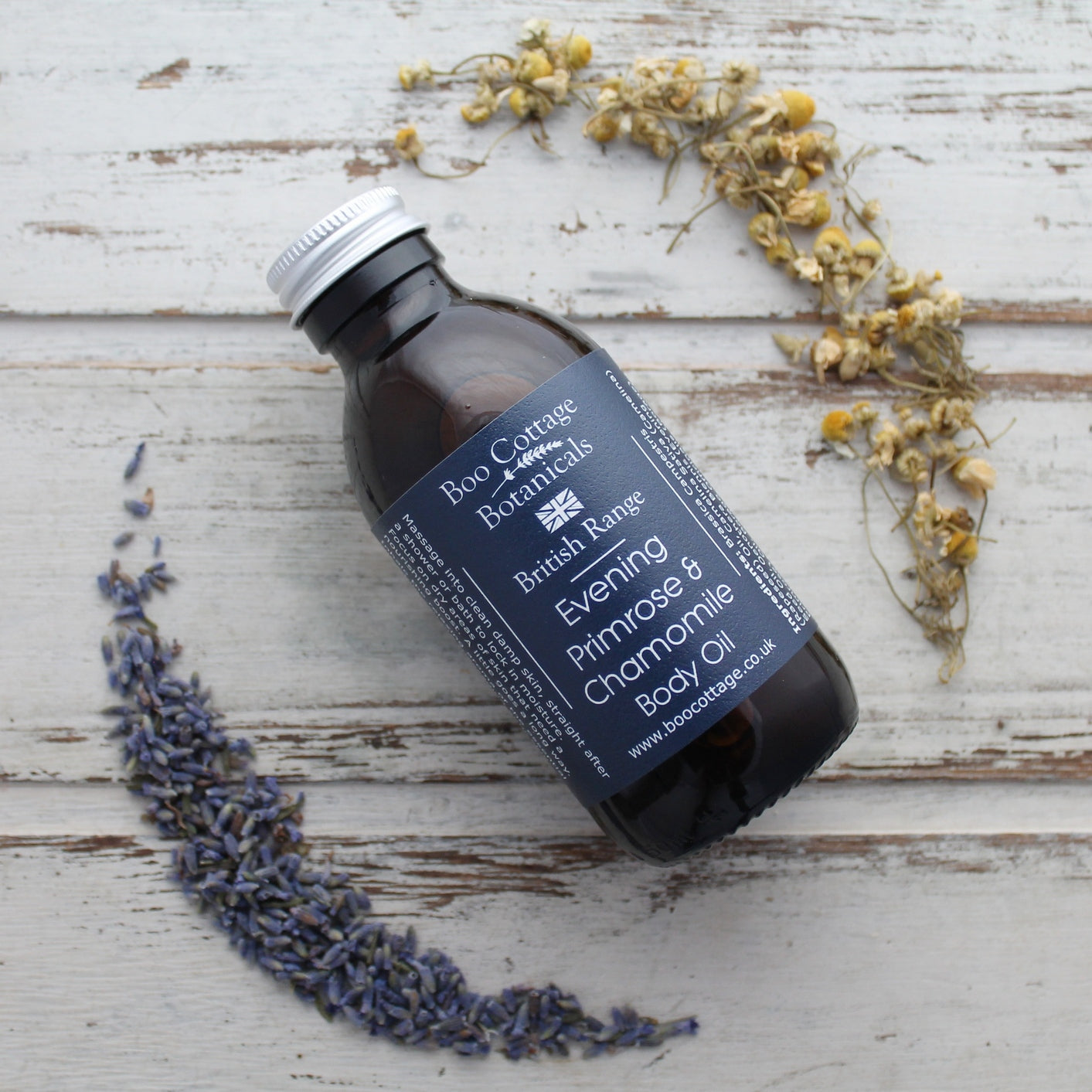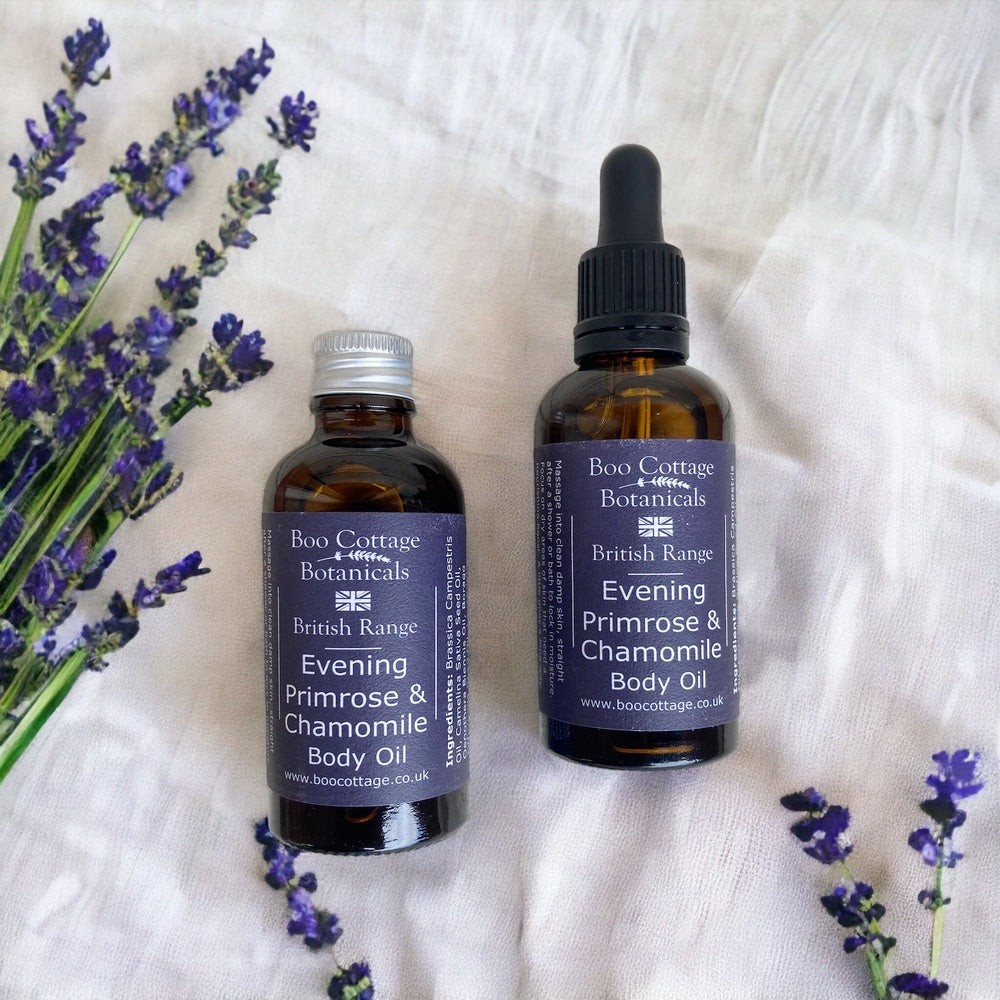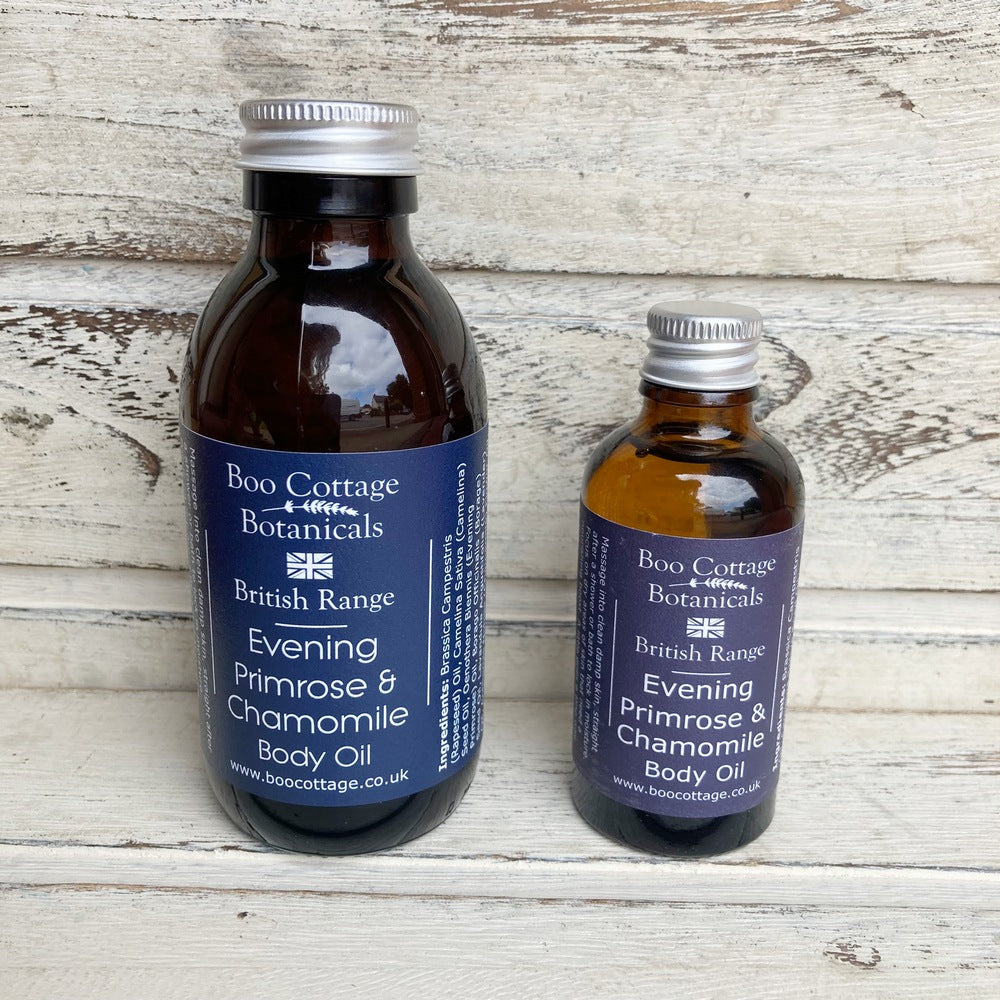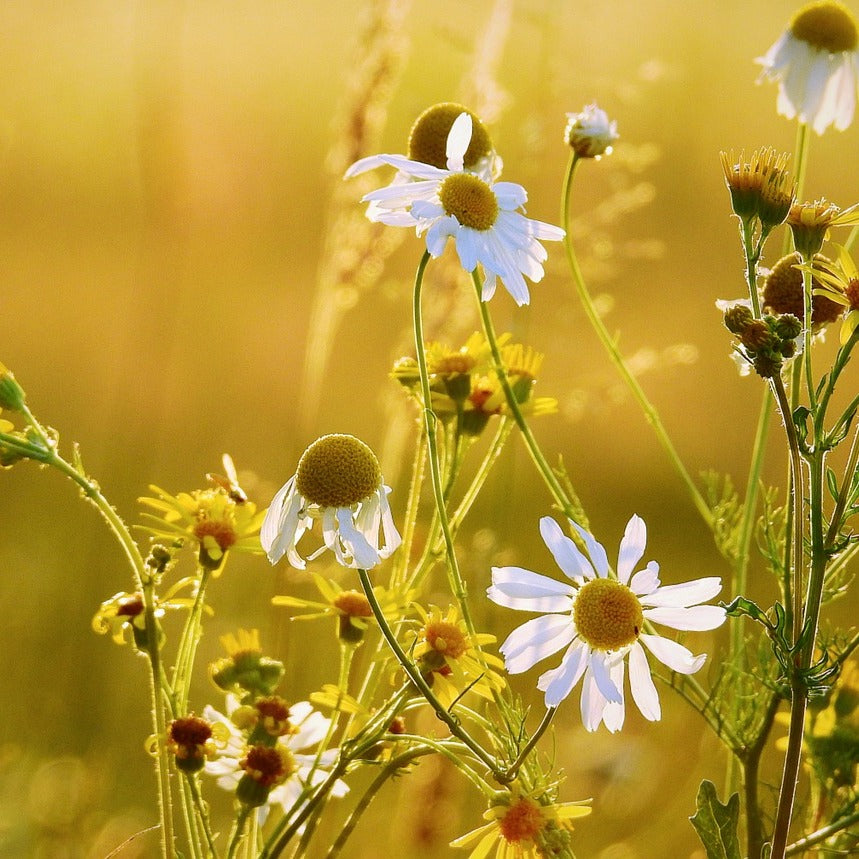 Who is Chamomile Body Oil suitable for?
Vegans
Dry skin
Normal skin
Eco conscious consumers trying to reduce their carbon footprint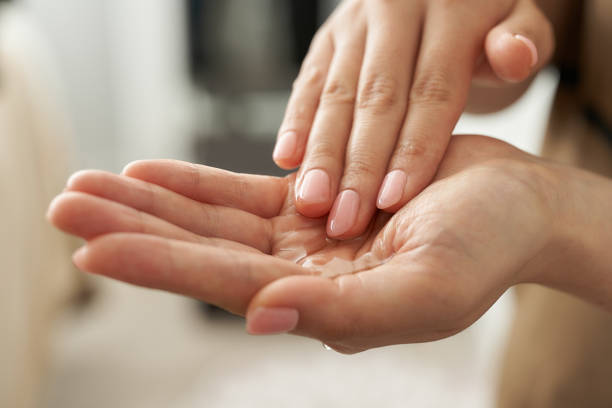 How do I use Body Oil?
1. Pour a spoonful of oil into the palm of your hand.
2. Rub hands together and gently massage into clean skin on your body, inhaling the gorgeous scent to relax your mind and lift your mood.
3. Give yourself or someone else a lovely relaxing massage by using the oil for an at home spa experience.
For the best results and to help lock in moisture, use straight after a shower or bath whilst your skin is still damp.
You can also use the oil in your bath – add a glug as you're running the water to give your skin an added nourishing boost.
Please take care when getting out as the bath surface may become slippery.