Soothe dry, sensitive skin with our nourishing face oil. Made with Rosehip and Evening Primrose oils, soothing Calendula extract, and a blend of Geranium, Lavender and Palmarosa essential oils. It's designed to provide a deeply hydrating and calming effect, to leave your skin feeling soothed and nourished.
30ml in amber glass bottle
Regular price
Sale price
£15.95
Unit price
per
Sale
Sold out
Carefully selected soothing ingredients. Plant oils and botanicals that work with your skin, rather than trying to fight it. You can find relief from your sensitive skin.
Key Ingredients

Rosehip Oil is one of our favourites here at Boo! It is regenerative and nourishing. Vitamin E helps delay the onset of skin aging, protecting the cells against oxidation. With high levels of alpha-Linolenic and linoleic acids, vitamin A increases skin elastin and promotes collagen formation. Rosehip oil contains tannins which adds to the astringent nature of the oil. It is a nourishing, yet dry, non-greasy feeling oil. Rosehip oil has been known to help with UV damage, scar tissue, blemishes and difficult skin conditions. Perfect for our Soothe Face Oil!

Evening Primrose Oil has high levels of GLA (Gamma Linoleic Acid) which helps reduce inflammation. It can also regenerate, firm and rejuvenate the skin's barrier function and maintain skin elasticity. Gallic acid speeds up healing and catechins are anti-bacterial. The tannins in the oil help it to feel light on the skin.  Evening primrose oil provides nourishing and conditioning properties that are taken up by the skin easily. 

Calendula is one of our favourites here at Boo! It can help heal wounds and calm itchy, dry, irritated skin. As such it can also help to alleviate a range of skin conditions, including eczema and psoriasis.

Palmarosa Essential oil has a fresh floral sweet scent. The palmarosa plant is related to lemongrass and is therefore not a traditional floral fragrance but a fruity one. The essential oil can be helpful for balancing dry skin types.

Rose Geranium Essential oil has a sweetly floral scent. It is astringent, balancing the skin's production of sebum. Emotionally the oil is uplifting, as it can help with anxiety and depression.

Lavender Essential oil has been used for hundreds of years as it has a multitude of benefits. It is antibacterial, anti-inflammatory, anti-fungal. It is thought to stimulate cell growth and therefore regeneration of the skin. Lavender calms down inflammation and speeds up wound healing.  The scent can help calm stress and anxiety and of course aids sleep.
Why You'll Love Nourish Face Oil

100% Natural Nourish Face Oil contains no synthetic ingredients. It is 100% natural.

Vegan All of our face oils are free from animal products. They are therefore suitable for vegans, vegetarians and other people trying to reduce their use of animal products.

Cruelty Free Rest assured that all of our products are cruelty free. We could never even contemplate testing on animals. Testing happens on ourselves and other willing humans! We carefully check that our ingredients haven't been tested on animals either.

Palm free Nourish face oil is palm oil free.

No single use plastics Our oils are packaged in glass bottles that are returnable, reusable or recyclable. The dropper pipettes do have a plastic screw collar to prevent leaks. Please retained your pipette to use for future bottles of face oil.

Refill option available Saving both unnecessary packaging and money! If you already have a dropper pipette from a previous order, opt for a refill bottle. These come with an aluminium cap.
Full Ingredients - English

Apricot Kernel Oil, Borage Seed Oil, Sunflower Seed Oil & Marshmallow Root Extract, Squalane, Wheat Germ Oil & Vitamin E, Bergamot Peel Oil, Grapefruit Peel Oil
Full Ingredients - INCI

Prunus Armeniaca (Apricot) Kernel Oil, Borago Officinalis (Borage) Seed Oil, Helianthus Annuus (Sunflower) Seed Oil & Althaea Officinalis (Marshmallow) Root Extract, Squalane, Triticum Vulgare (Wheat) Germ Oil & Tocopherol (Vitamin E), Citrus Aurantium Bergamia (Bergamot) Peel Oil, Citrus Grandis (Grapefruit) Peel Oil, Limonene*, Linalool*, Citral*

*Naturally occurring in our Nourish essential oil blend.
Share
View full details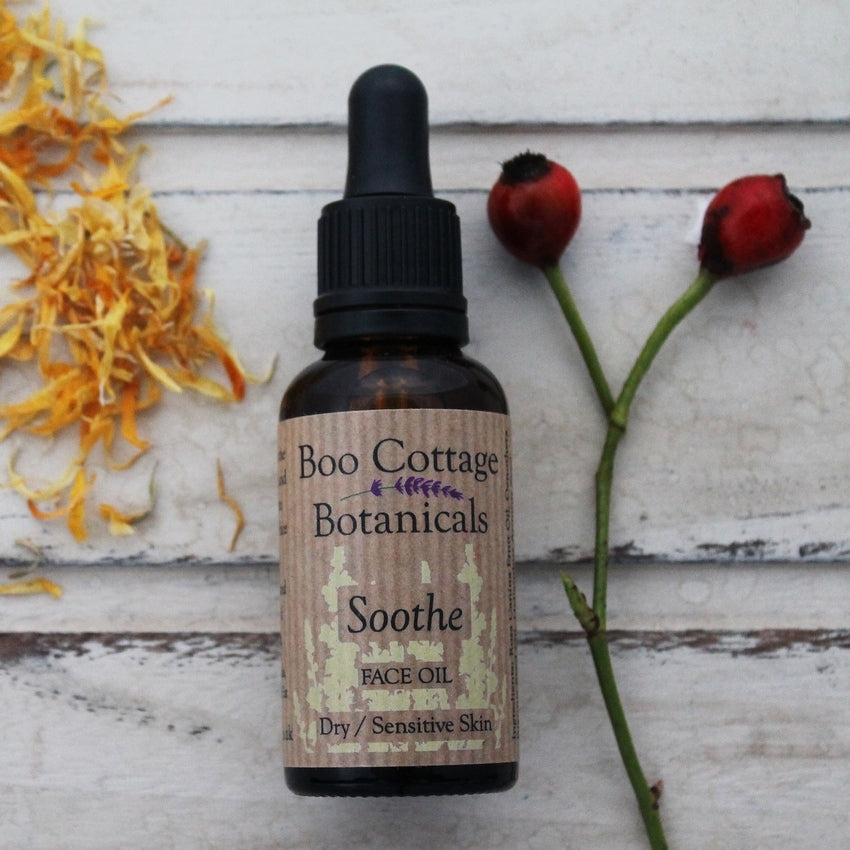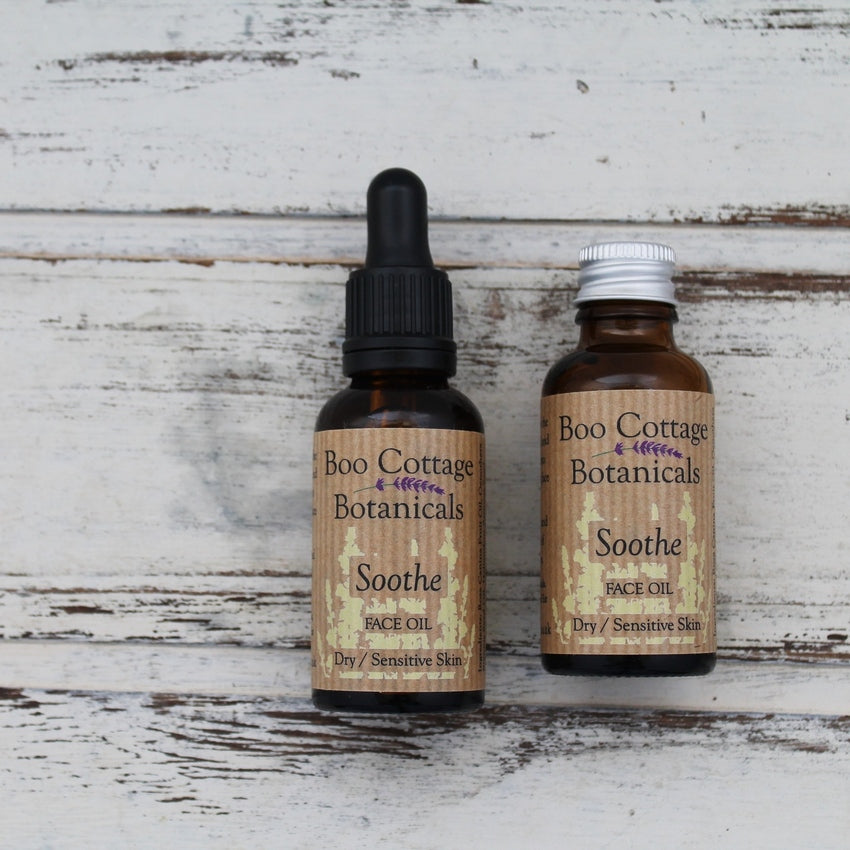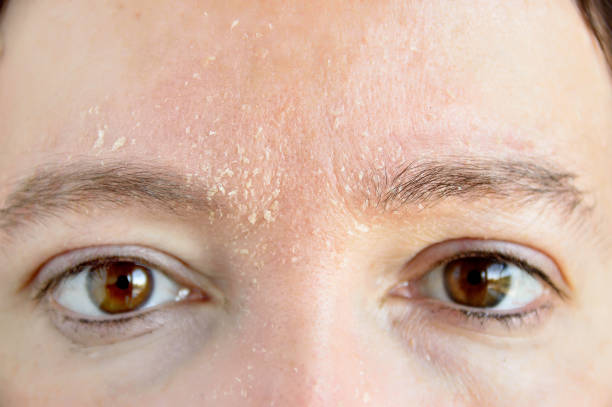 Who is Soothe Face Oil suitable for?
Vegans
Sensitive skin
Dry skin
Rosacea, Eczema and Psoriasis suffers
Sensitive Skin? We get it!
You've tried them all. The newest fix for sensitive skin. Yet no matter what you try your face is still inflamed, dry and itchy. You've spent ages trying to work out what triggers your sensitivities and it takes forever to choose a product. Looking at labels trying to avoid the ingredients you react to. Your skin becomes red and sore as soon as you try something new... and you're back to square one again!
Lots of people with sensitive skin react to synthetic fragrances, preservatives and fillers. Our products aren't like this. We carefully select naturally soothing ingredients. Plant oils and botanicals that work with your skin, rather than trying to fight it. By using the right combination of natural plant oils that compliment and work with your skin you can find relief…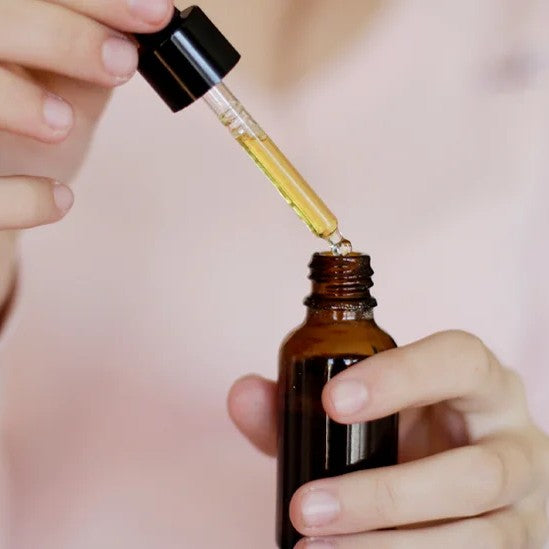 How do I apply Soothe Face Oil?
Can be used morning and evening. Apply instead of (or alongside) your usual moisturiser.
1. Apply 3-4 drops of Soothe Face oil to the palm of your hand.
2. Rub hands together and gently massage into clean skin on your face and neck, inhaling the aromatic scent to relax your mind and lift your mood.
Try mixing a few drops of oil with a dribble of water in your hand to lock in extra moisture. Or use the oil on your damp face after washing. Use the oil to give yourself a relaxing face massage.
If you would like to use both a moisturiser and a face oil: We'd recommend applying your moisturiser first and locking in the water it contains with your face oil on top.
Alternatively, you can add give your skin an added nourishing boost by adding a few drops to your favourite moisturiser or face mask as you use it.
Love it
Smells Devine! My skin is no longer dry, absolutely great for sensitive skin
Lovely product, sadly not for me ..
I am so disappointed, as I had such high hopes that this would be just what I was looking for. I do have sensitive skin (face) which reacts very quickly when angry. Within a short time of applying the oil, as suggested, my cheeks had become red and started to tingle. I persevered thinking it needed time to adjust but it just felt really uncomfortable. So I stopped applying the oil to my face. As I have said I'm very disappointed as it's a really lovely product and I am now using it, mixed with my usual body moisturiser, as an after shower massage. Thank you.
Thanks so much for your review Rubee! I'm sorry Soothe isn't for you. It sounds as though you might be reacting to one of the essential oils or one of the allergens naturally present in the essential oils. Have you managed to work out what it is your skin reacts to?
Our Berry & Bloom Face Oil is free from essential oils so may suit you better.
Simply soothing!
I've always suffered with red, easily irritated skin and the sooth face oil is my saviour! I use it after I was my face and it keeps my skin soft and calm all day.