Try SeaBreeze & Seaweed soap and transport yourself to the seaside with every wash! Carefully crafted with seaweed, detoxifying French green clay and nourishing Avocado oil for the most luxuriously creamy lather. With the refreshing scent of Rosemary, Peppermint and Lavender essential oils for an invigorating, yet calming sea-fresh fragrance.
Min 100g bar
Regular price
Sale price
£5.50
Unit price
per
Sale
Sold out
Refreshing, yet calming sea-fresh scent with notes of Rosemary, Peppermint and Lavender.
Key Ingredients

Virgin Avocado oil is one of the few oils extracted from the flesh of the fruit rather than the seed (olive oil is another example). Avocado oil contains vitamins A, B and E, proteins and amino acids, supporting collagen and skin elasticity. Great for those with sensitive or damaged skin, it will help to repair and soften skin, calming inflammation and protecting the skin's natural barrier function.

Bladderwrack is a brown seaweed found throughout the Northern Hemisphere, it has pairs of air filled bladders along the fronds to help it float to reach the sunlight. Naturally containing humectants to prevent the seaweed drying out, they impart that same quality to skincare, helping to moisturise your skin. Full of minerals like magnesium and zinc, seaweed can help improve skin redness.

French Green Clay contains lots of minerals such as illite, montmorillonite, calcites and oxides. It has been widely used in skincare to remove oils, bacteria and impurities from the skin, leaving your skin feeling clarified and cleansed, minimising the appearance of enlarged pores and removing congestion. Clays can nourish and replenish skin moisture and promote cell regeneration.
Why You'll Love SeaBreeze & Seaweed soap

100% Natural SeaBreeze & Seaweed soap contains no synthetic colours, additives or fragrances. It is 100% natural.

Natural Fragrance SeaBreeze & Seaweed soap is scented with natural essential oils, extracted from plants.

Vegetarian Formula is suitable for people trying to avoid animal products. We use a beeswax to help harden this soap.

Palm oil free Lots of soaps contain palm oil - look out for Sodium Palmate - our products are proudly free from palm oil.

Cruelty Free Rest assured, all our products are cruelty free. We only test products on ourselves and other willing humans! We are very careful to check that none of our ingredients are tested on animals either.

Plastic free Packaged in greaseproof paper and a recycled cardboard sleeve.
Full Ingredients - English

Extra Virgin Olive Oil, Rice Bran Oil, Coconut Oil, Glycerine, Aqua, Sodium Hydroxide, Cocoa Butter, Castor Oil, Beeswax, Avocado Oil, French Green Clay, Lavender Oil, Bladderwrack, Rosemary Oil, Peppermint Oil, Lemongrass Oil, Clary Sage Oil
Full Ingredients - INCI

Sodium olivate (Olive oil), Sodium ricebranate (Rice bran oil), Sodium cocoate (Coconut oil), Glycerine, Aqua, Sodium cocoabutterate (Cocoa butter), Sodium castorate (Castor oil), Sodium beeswax (Beeswax), Sodium vocadoate
(Avocado oil), Montmorillonite (French green clay), Lavandula angustifolia (Lavender) oil, Fucus vesiculosis (Bladderwrack), Rosemarinus officinalis (Rosemary) oil, Mentha arvensis (Peppermint) oil, Cymbopogon flexulosus (Lemongrass) oil, Salvia sclarea (Clary sage) oil, Linalool*, Citronellol*, Geraniol*, Limonene*, Citral*, Eugenol*

*Naturally occurring in our SeaBreeze & Seaweed essential oil blend.
Share
View full details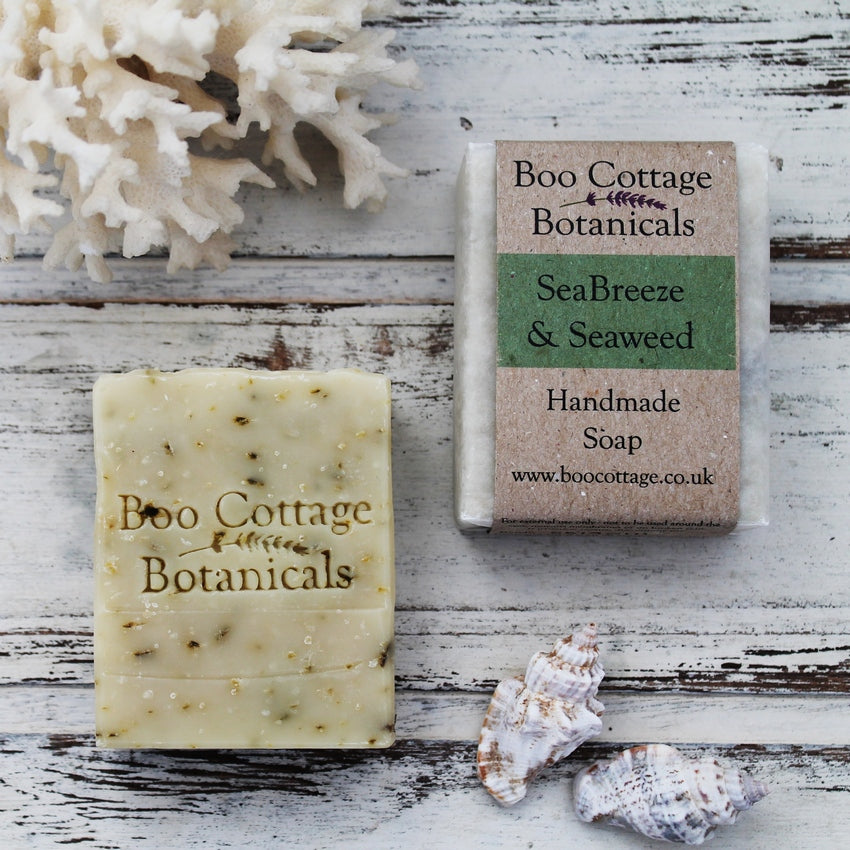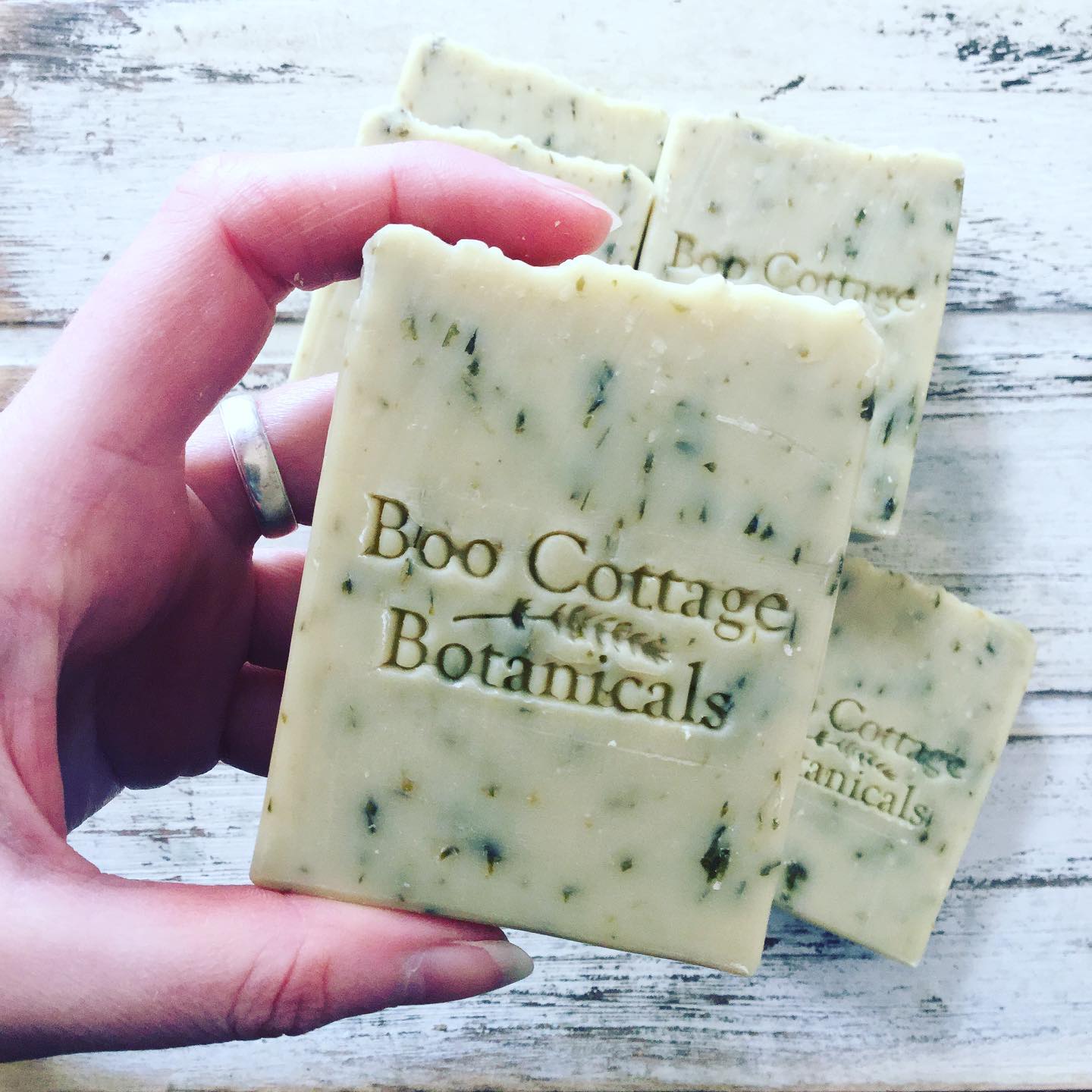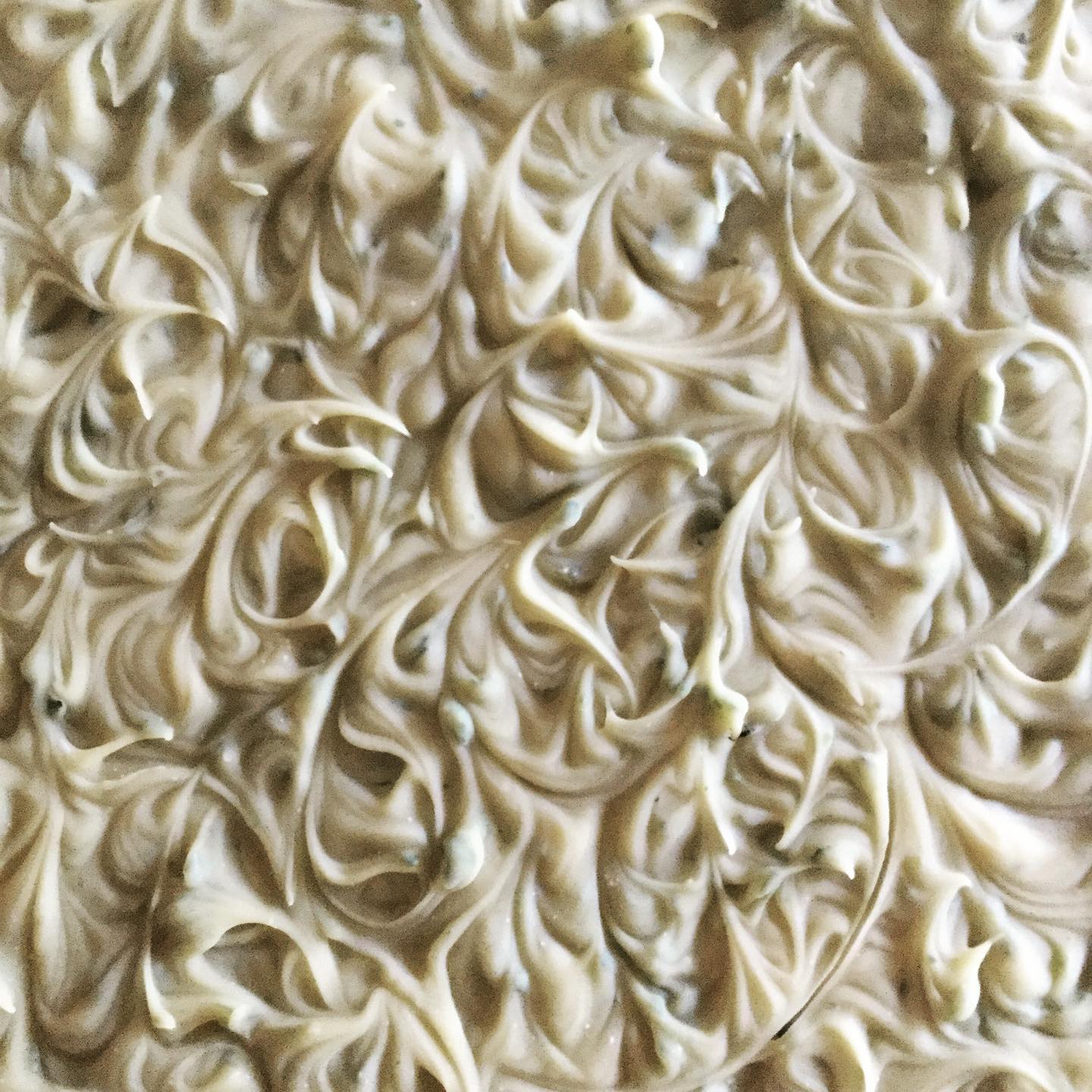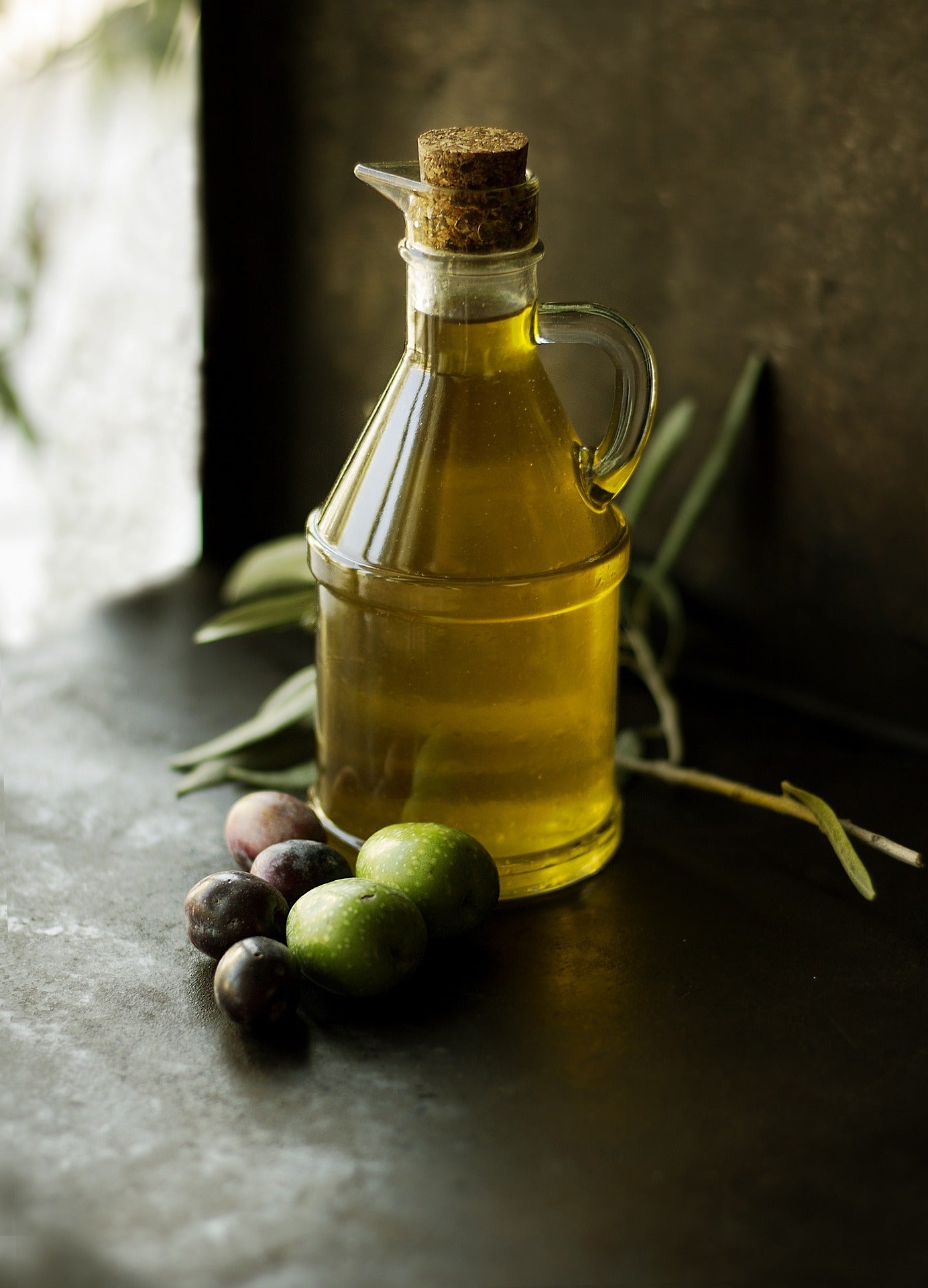 What is soap made from?
Traditional cold process soap is made from a mixture of fatty acids - in our case plant oils and butters - mixed with an alkaline solution. In a bar of solid soap, the alkali used is sodium hydroxide, which turns the fatty acids into sodium salts, or soap!
You can tell what the starting oils are in a soap by their Latin name. For example Sodium Olivate is the soap that is formed from Olive Oil, Sodium Avocadoate is from Avocado Oil and so on.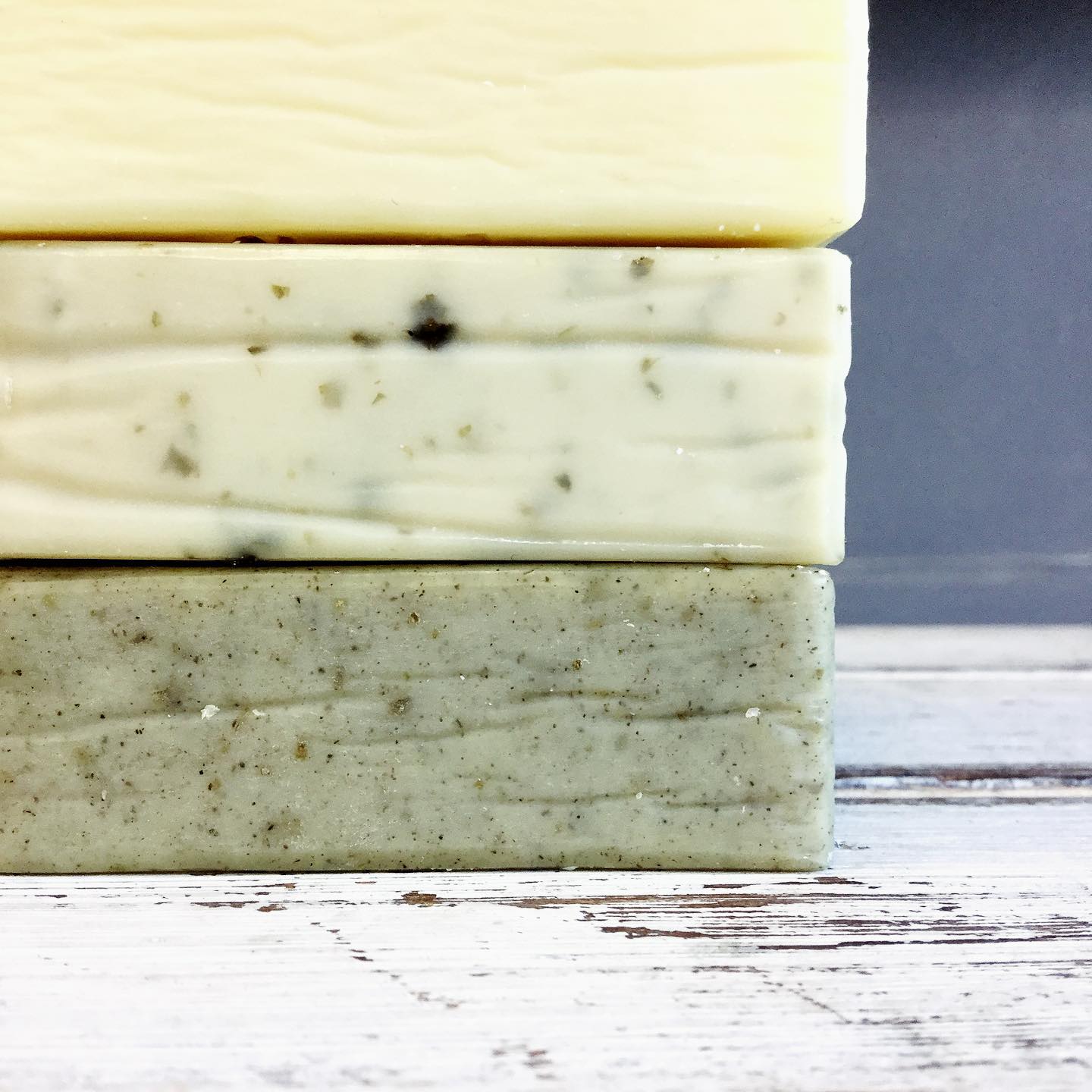 I love bars of soap but I find they go soggy, help!
When we start by selecting ingredients and a recipe we know is long lasting. We then take care to properly cure every bar for at least 6 weeks. This allows the bars to dry out and be long-lasting in use.
The best thing you can do to prolong the life of your soap (and stop it from going soggy) is to allow it to dry between uses. Don't let it sit in a puddle of water, but make sure you are using a soap dish that allows the water to drain away from the soap.
More helpful tips