Soak and relax your body with REVIVE Epsom Bath Salts! Our luxurious blend of Epsom salt, sea salt, French green clay, and essential oils supports rest and relaxation. Ease sore muscles and awaken your senses with the fresh peppermint, lemon, and litsea essential oil blend. Enjoy the uplifting, restoring benefits of REVIVE!
230g in glass bottle

Regular price
Sale price
£9.95
Unit price
per
Sale
Sold out
Handcrafted reviving bath soak with natural sea salt, Epsom salt, grapeseed oil and naturally fragranced with peppermint, lemon and litsea essential oils.
Key Ingredients

French Green Clay, Grapeseed Oil, Lemon Oil, Peppermint Oil, May Chang Oil

Epsom Salts are easily absorbed into the skin where the magnesium ions help to relieve stress by promoting the production of serotonin and reducing the effects of adrenaline. Because magnesium is absorbed by the skin, it can help to reduce inflammation in muscles and joints, being very useful for tired, achy muscles.

French Green Clay is sourced from the mud beside mineral springs or in the sea, so is deeply, naturally hydrating, and enriched with green marine flora like algae and chlorophyll. They also contain a variety of minerals, including zinc oxides, potassium, magnesium, and phosphorus.

Peppermint oil's main ingredient, menthol, is thought to have a relaxing effect on muscles. The oil is often applied topically for treating headaches, muscle aches and joint pain. It has cleansing, purifying and refreshing properties.

May Chang (Litsea cubeba) is steam distilled from the peppercorn shaped fruits that this tropical tree produces. It has been used in traditional Chinese medicine for centuries as natural remedies for muscular aches and pains, headaches and digestive problems. It can be used for muscular aches and pains as it can help improve circulation.
Why You'll Love REVIVE salts

100% Natural REVIVE Botanical Bath Soak contains no synthetic ingredients. It is 100% natural.

Vegan Formula contains no animal products. Suitable for vegans, vegetarians and people trying to avoid animal products.

Cruelty Free All our products are cruelty free. We only test products on ourselves and other willing humans! We are very careful to check that none of our ingredients are tested on animals either.

Natural Fragrance All of our fragrances are blended in house by our team from wonderfully aromatic essential oils.

Palm oil free Proudly free from palm oil.

Plastic free Packaged in a glass bottle with an aluminium lid. We chose glass bottles as it's easily returnable (we can reuse them to package more bath salts), reusable at home or you can recycle them.
Full Ingredients - English

Sea Salt, Epsom Salt, Kaolin Clay, French Green Clay, Grapeseed Oil, Lemon Oil, Peppermint Oil, May Chang Oil
Full Ingredients - INCI

Maris Sal (Sea Salt), Magnesium
Sulfate (Epsom Salt), Kaolin, Illite, Montmorillonite (French green clay), Vitis Vinifera (Grape) Seed Oil, Citrus Limon (Lemon) Peel Oil, Mentha Piperita (Peppermint) Oil, Litsea Cubeba (May Chang) Fruit Oil, Citral*, Citronellol*, Geraniol*, Limonene*, Linalool*

*Naturally occurring in our REVIVE essential oil blend
Share
View full details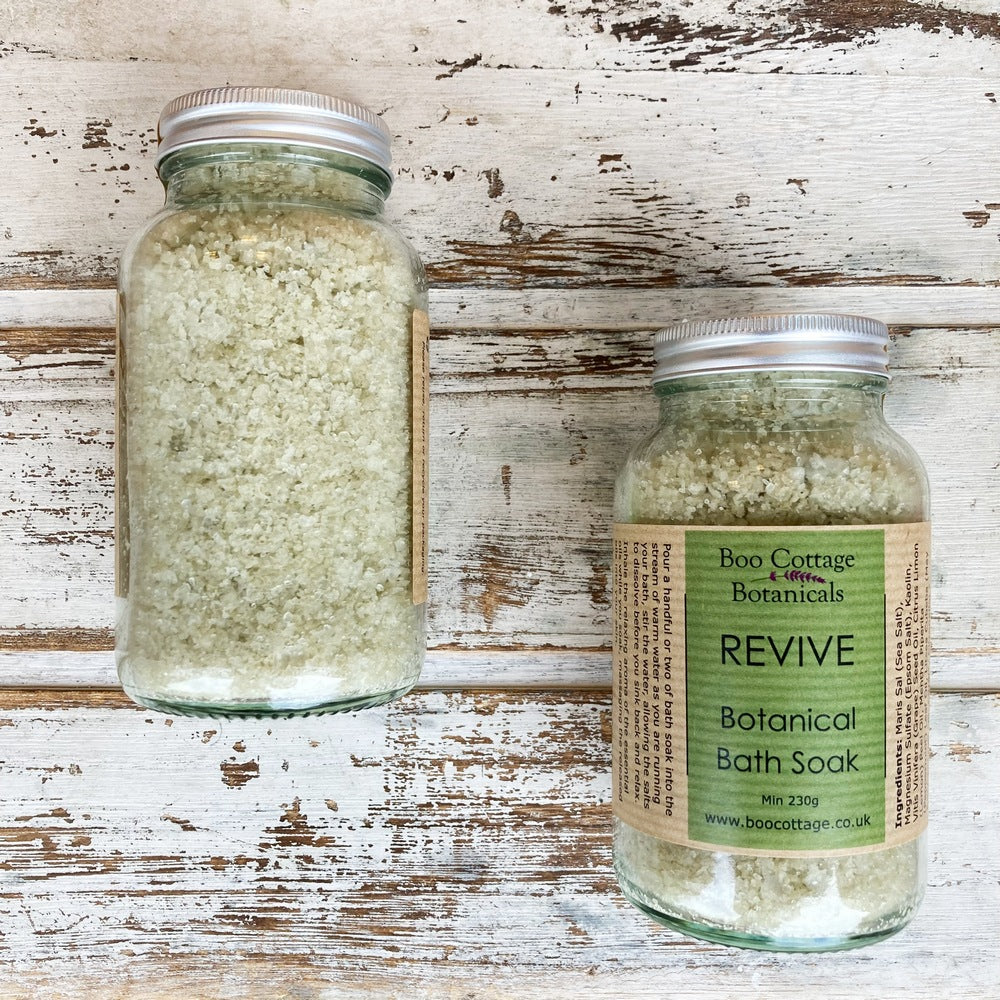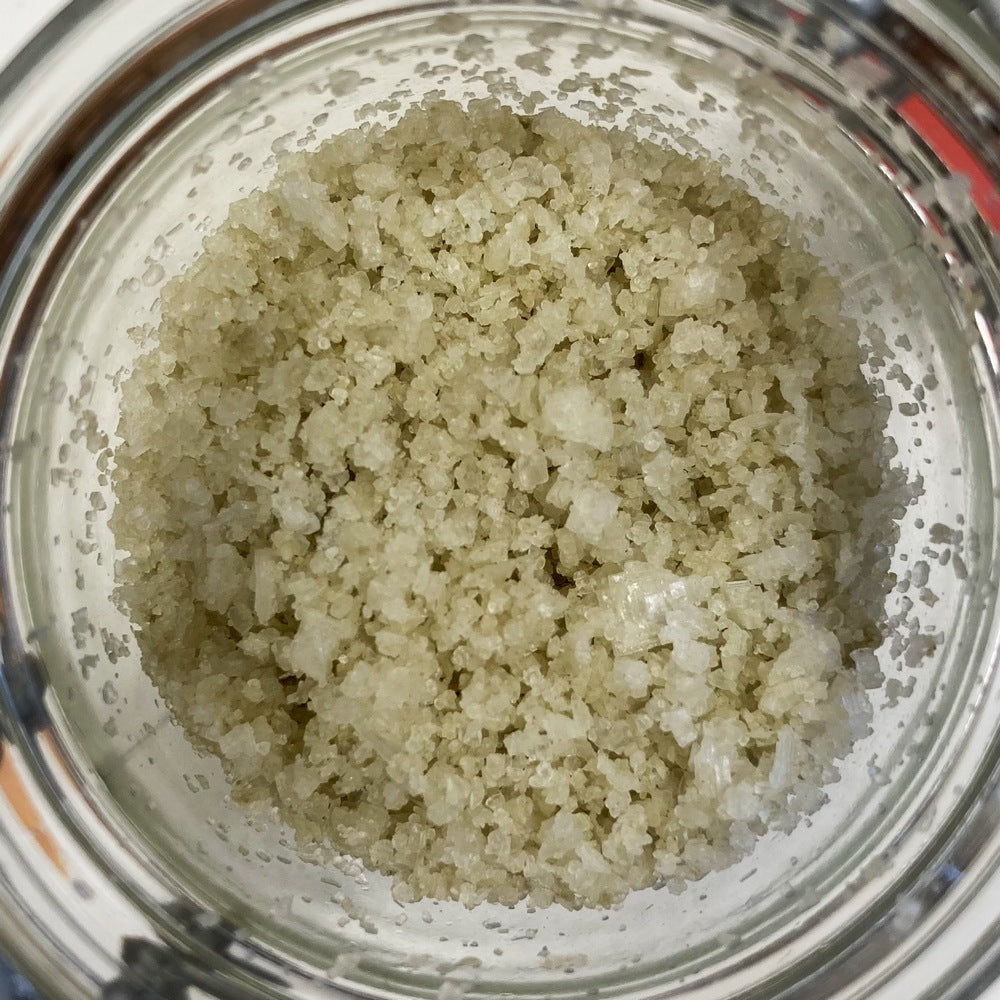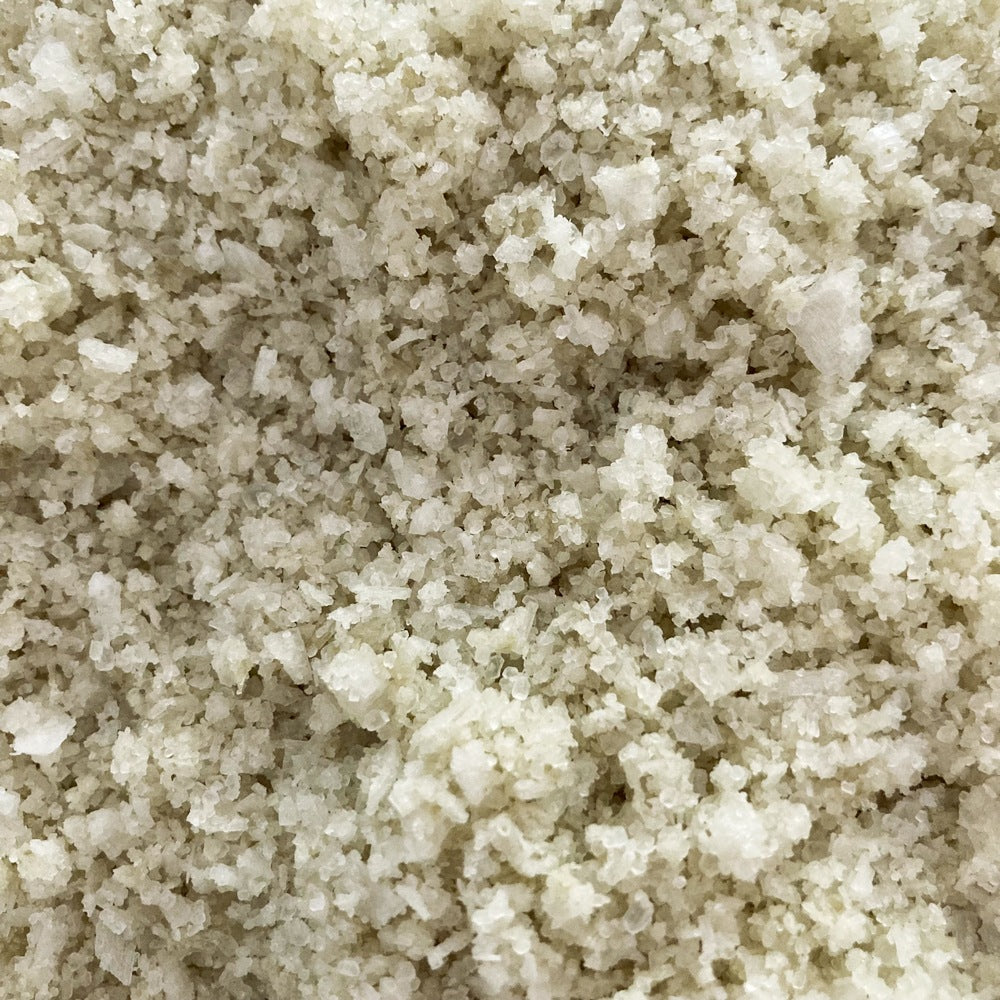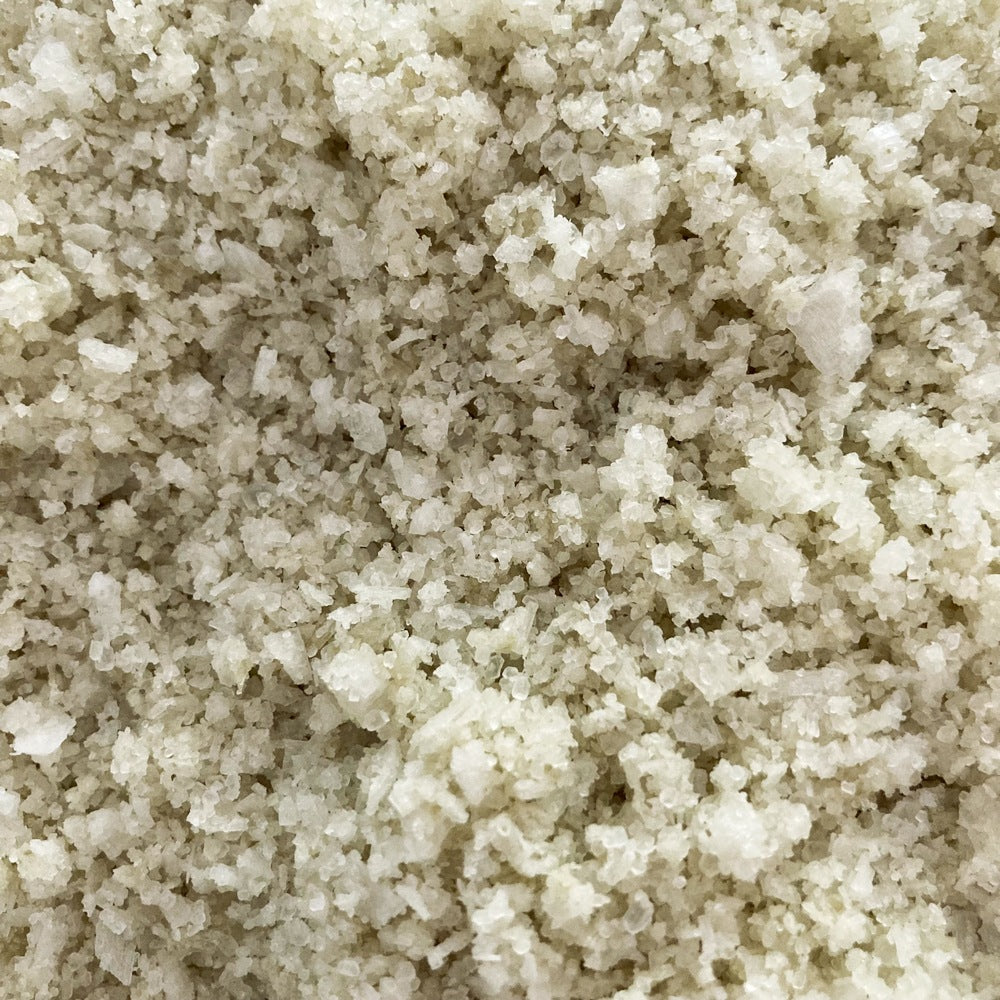 Who is REVIVE Bath Soak suitable for?
Vegans
Dry skin
Normal skin
Aching muscles
Stuffy noses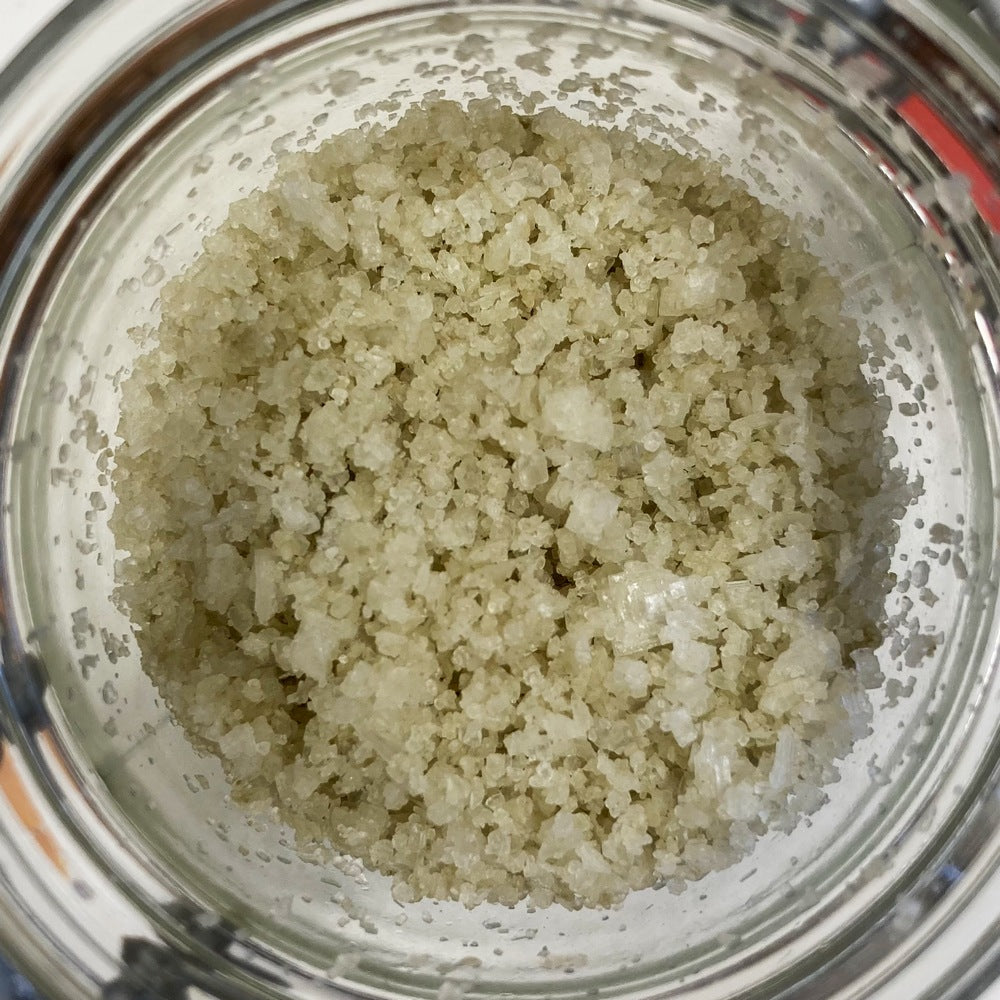 How do I use Bath Salts?
1. As you are running your bath, pour approximately one third to half the bottle into the stream of water.
2. Stir the warm water with your hands to help dissolve the salts.
3. Relax into your bath, breathing in the decadent scent, washing the water over you to get the full benefits before patting skin gently dry when you can bring yourself to finally get out.
Please take care when getting out as the bath surface may become slippery.
As bath salts are designed to dissolve in water, always recap the bottle straight away and store away from humidity.