Our Peaceful Patchouli soap is crafted with all-natural ingredients, including lavender and patchouli essential oils and avocado oil, to create a mild and earthy scent. The addition of cocoa butter ensures a gentle, creamy lather that soothes skin irritations and is perfect for sensitive and eczema-prone skin. Let this soap bring peace and serenity to your daily routine, leaving your skin feeling nourished and soft.
Min 100g bar
Regular price
Sale price
£5.50
Unit price
per
Sale
Sold out
Wonderfully creamy, mild yet earthy scent with lavender and patchouli. No added colours.
Key Ingredients

Virgin Avocado oil contains vitamins A, B and E, proteins and amino acids, supporting collagen and skin elasticity. Great for those with sensitive or damaged skin, it will help to repair and soften skin, calming inflammation and protecting the skin's natural barrier function.

Shea Butter is rich in vitamins, plant sterols, minerals and other nourishing
compounds for the skin. The butter softens, protects against drying, and nourishes. High in vitamins E and A, shea butter locks in moisture, increases elasticity and evens out skin tone.

Lavender Essential Oil has been used for hundreds of years as it has a multitude of benefits. It is antibacterial, can help calm stress and anxiety and of course aids sleep.

Patchouli Essential oil is an unmistakable essential oil; with its rich, earthy, woody scent it is helpful for regulating oily skin and acne.
Why You'll Love Peaceful Patchouli soap

100% Natural Peaceful Patchouli soap contains no synthetic colours or fragrances. It is 100% natural.

Vegetarian Formula is suitable for people trying to avoid animal products. We use a beeswax to help harden this soap.

Cruelty Free Rest assured, all our products are cruelty free. We only test products on ourselves and other willing humans! We are very careful to check that none of our ingredients are tested on animals either.

Natural Fragrance Peaceful Patchouli soap is scented with essential oils.

Palm oil free Lots of soaps contain palm oil - look out for Sodium Palmate - our products are proudly free from palm oil.

Plastic free Packaged in greaseproof paper and a recycled cardboard sleeve.
Full Ingredients - English

Cocoa Butter, Sunflower Oil, Shea Butter, Coconut Oil, Avocado Oil, Glycerine, Aqua, Sodium Hydroxide, Beeswax, Lavender Oil, Patchouli Oil
Full Ingredients - INCI

Sodium cocobutterate (Cocoa butter), Sodium sunflowerate (Sunflower oil), Sodium sheabutterate (Shea butter), Sodium cocoate (Coconut oil), Sodium avocadoate (Avocado oil), Glycerine, Aqua, Cera alba (Beeswax), Lavandula Angustifolia (Lavender) Oil, Pogostemon cablin (Patchouli) Leaf oil, Linalool*

*Naturally occurring in our Peaceful Patchouli essential oil blend.
Share
View full details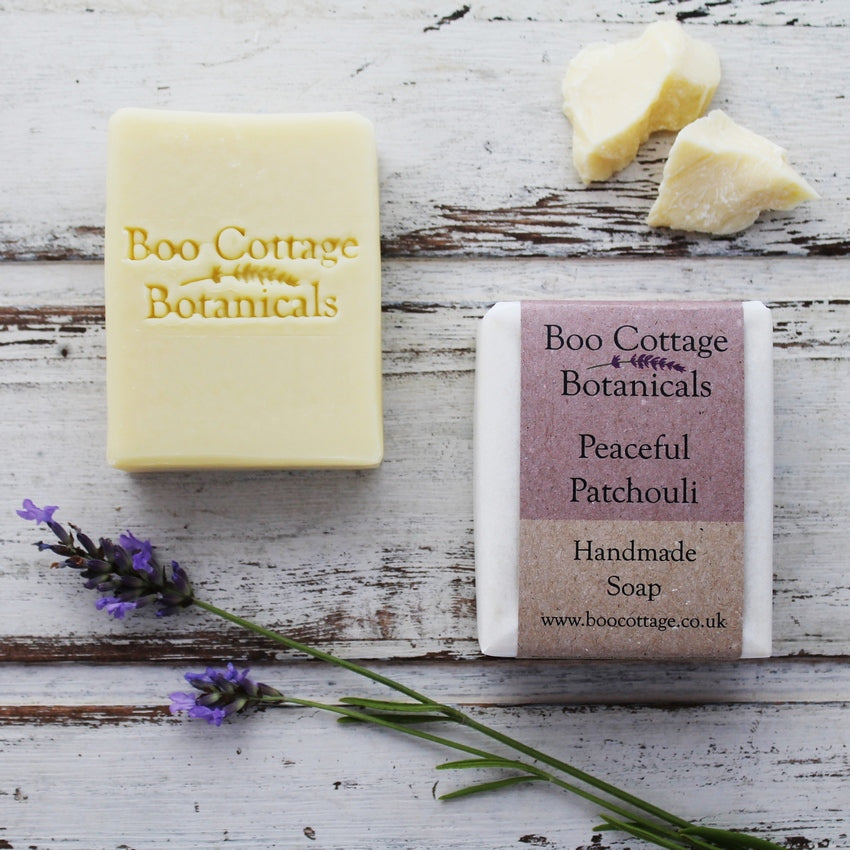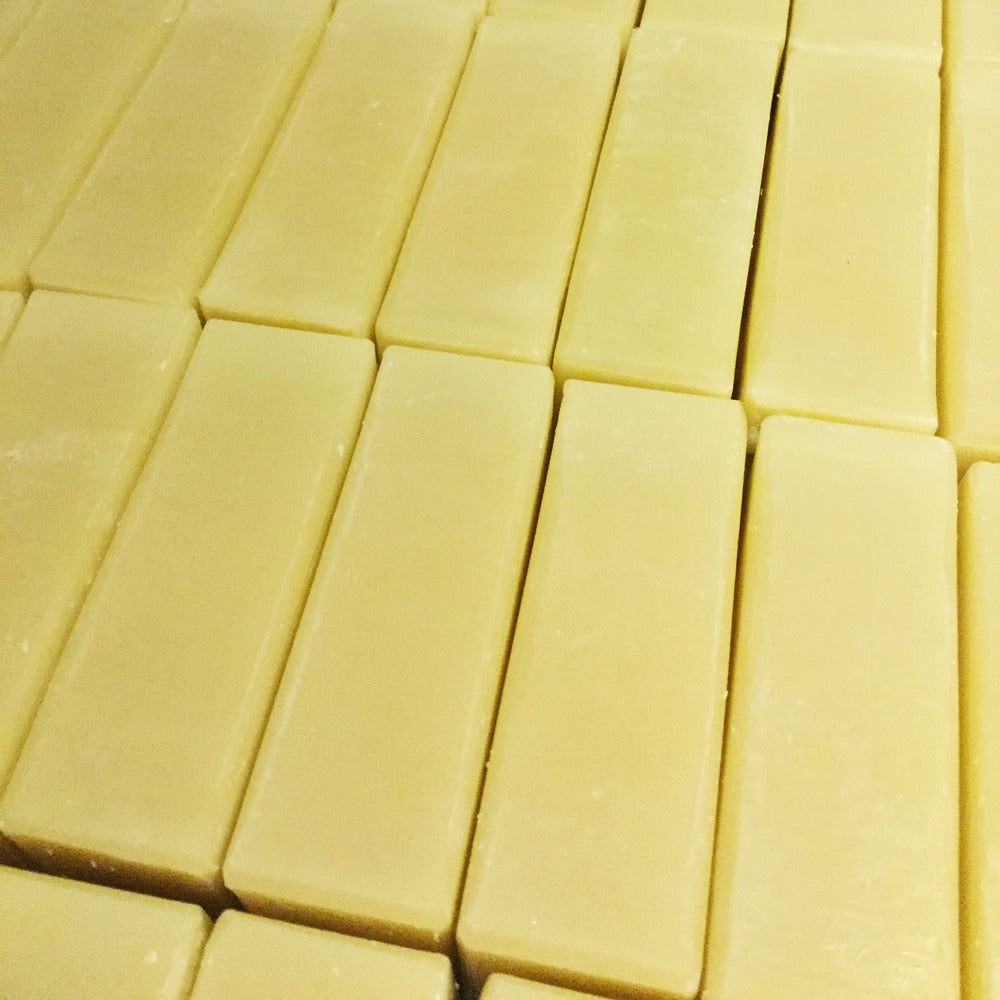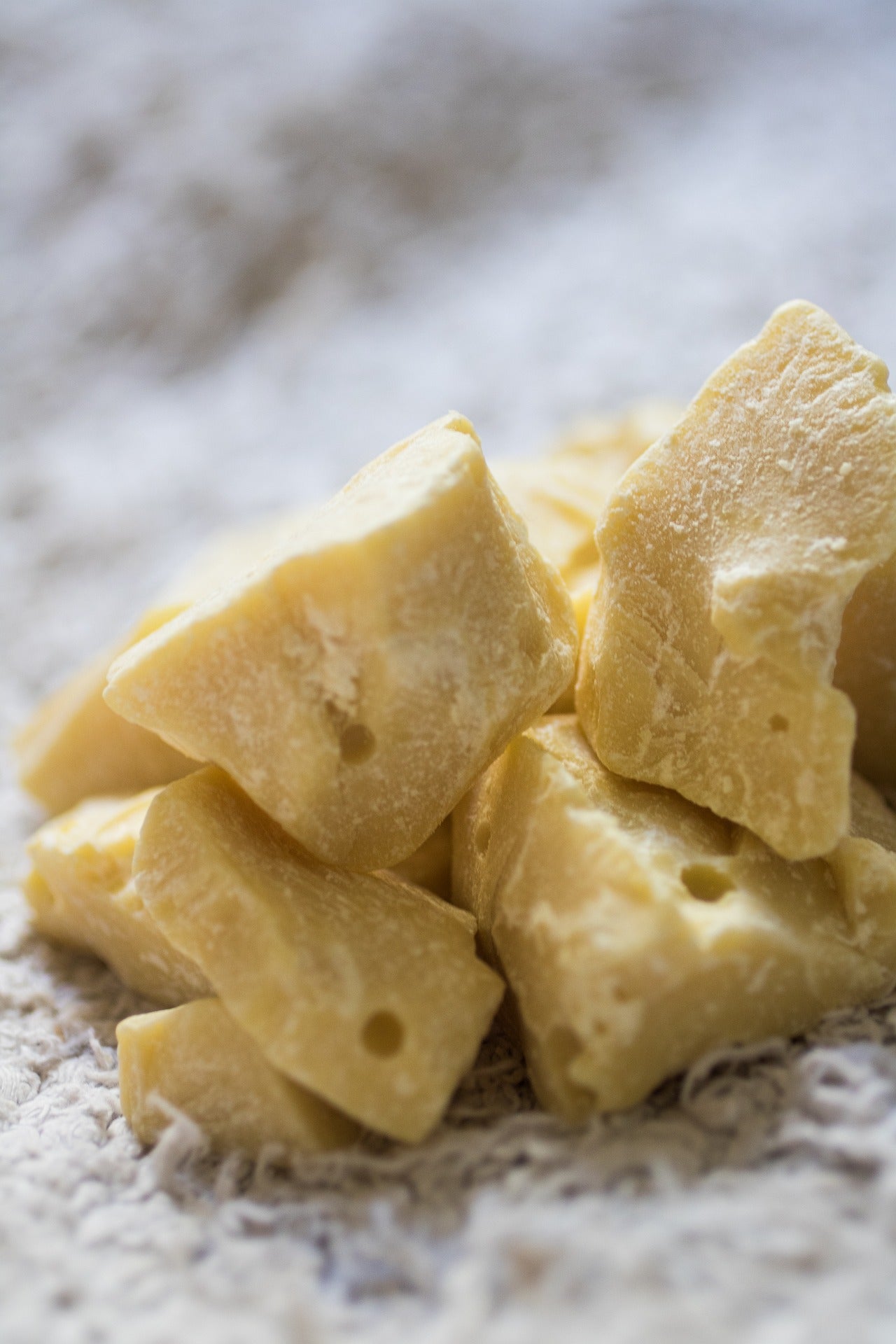 What is soap made from?
Traditional cold process soap is made from a mixture of fatty acids - in our case plant oils and butters - mixed with an alkaline solution. In a bar of solid soap, the alkali used is sodium hydroxide, which turns the fatty acids into sodium salts, or soap!
You can tell what the starting oils are in a soap by their Latin name. For example Sodium Olivate is the soap that is formed from Olive Oil, Sodium Cocoabutterate is from Cocoa Butter and so on.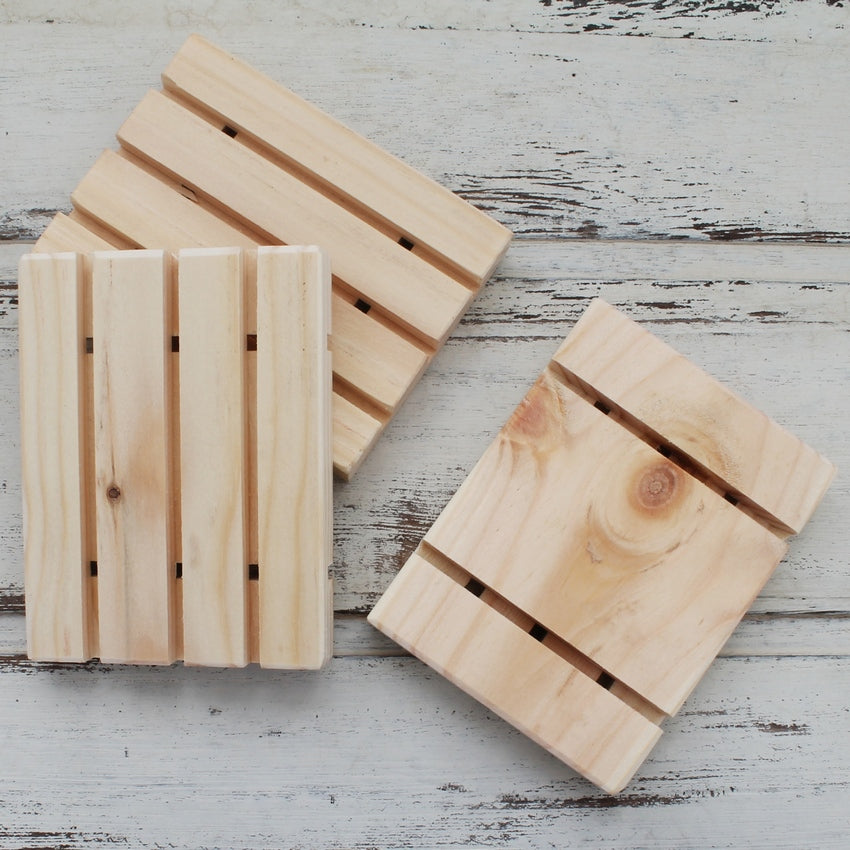 How do I stop my soap from going soggy?
Soft or hard soap starts right at the very beginning with the ingredients and the combination of soft oils or hard butters.
We select a combination of ingredients which helps to make a hard bar of soap.
We then cure every bar of soap to make sure it is dry and firm. All this hard work will be undone if you store your soap in a damp place, or leave it in a puddle of water while in use.
The best thing you can do for your soap is to let it dry between uses.
More Tips
Bought for a treat ...
Patchouli is my husband's particular favourite so thought I'd treat him. He was so pleased with this soap and impressed at how soft it leaves your skin. Perfect size not too big that you keep on dropping it in the shower! Happy husband. Thank you.