Our Cottage Garden shea butter soap is the perfect treat for your skin. Pamper yourself with gently cleansing pink clay, calming geranium and lavender essential oils, and moisturizing shea butter. Topped with delicate rose buds, its soft lather will leave your skin feeling refreshed and smelling like a summer garden.
Min 100g bar
Regular price
Sale price
£5.50
Unit price
per
Sale
Sold out
Traditionally floral scent with notes of geranium, lavender, citrus and herb.
Key Ingredients

Shea Butter is rich in vitamins, plant sterols, minerals and other nourishing compounds for the skin.  The butter softens, protects against drying, and nourishes.  High in vitamins E and A, shea butter locks in moisture, increases elasticity and evens out skin tone.

French Pink Clay contains a high number of useful minerals and ions including illite, montmorillionite and iron. Illite is useful as a natural cleanser, drawing dirt and other toxins out of the skin, helping to decongest pores and increase circulation to promote cell repair. French Pink Clay also gives our Cottage Garden soap a lovely salmon pink colour.

Lavender Essential Oil has been used for hundreds of years as it has a multitude of benefits. It is antibacterial, can help calm stress and anxiety and of course aids sleep.

Rose Geranium Essential Oil has a longstanding reputation as an essential oil particularly suited to women. It is supportive of the reproductive system and is also astringent, balancing the skin's production of sebum. Emotionally the oil is uplifting, as it can help with anxiety and depression.
Why You'll Love Cottage Garden soap

100% Natural Cottage Garden soap contains no synthetic colours or fragrances. It is 100% natural.

Vegetarian Formula is suitable for people trying to avoid animal products. We use a beeswax to help harden this soap.

Cruelty Free Rest assured, all our products are cruelty free. We only test products on ourselves and other willing humans! We are very careful to check that none of our ingredients are tested on animals either.

Natural Fragrance Cottage Garden soap is scented with essential oils.

Palm oil free Lots of soaps contain palm oil - look out for Sodium Palmate - our products are proudly free from palm oil.

Plastic free Packaged in greaseproof paper and a recycled cardboard sleeve.
Full Ingredients - English

Extra Virgin Olive Oil, Rice Bran Oil, Coconut Oil, Glycerine, Aqua, Sodium Hydroxide, Cocoa Butter, Castor Oil, Beeswax, Shea Butter, French Pink Clay, Lavender Oil, Geranium Oil, Lemongrass Oil, Clary Sage Oil
Full Ingredients - INCI

Sodium olivate (Olive oil), Sodium ricebranate (Rice bran oil), Sodium cocoate (Coconut oil), Glycerine, Aqua, Sodium cocoabutterate (Cocoa butter), Sodium castorate (Castor oil), Cera alba (Beeswax), Sodium sheabutterate (Shea butter), Kaolin illite (French pink clay), Lavandula Angustifolia (Lavender) Oil, Pelargonium Roseum (Geranium) Oil, Cymbopogon Flexuosus (Lemongrass) Oil, Salvia Sclarea (Clary Sage) Oil, Linalool*, Citronellol*, Geraniol*, Limonene*, Citral* and Eugenol*

*Naturally occurring in our Cottage Garden essential oil blend.
Share
View full details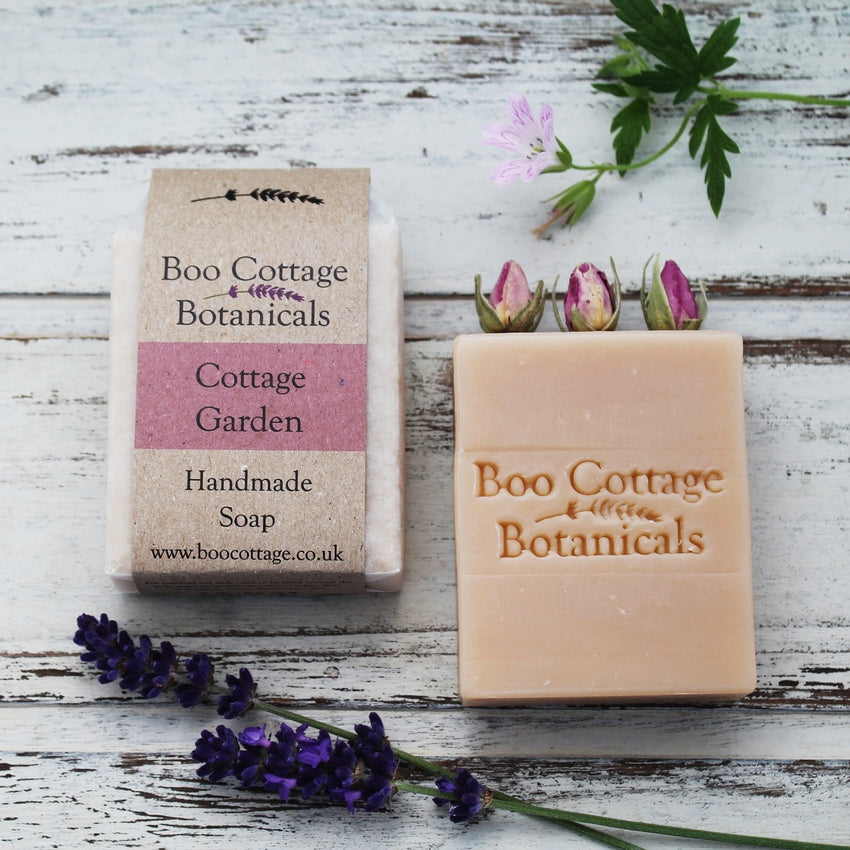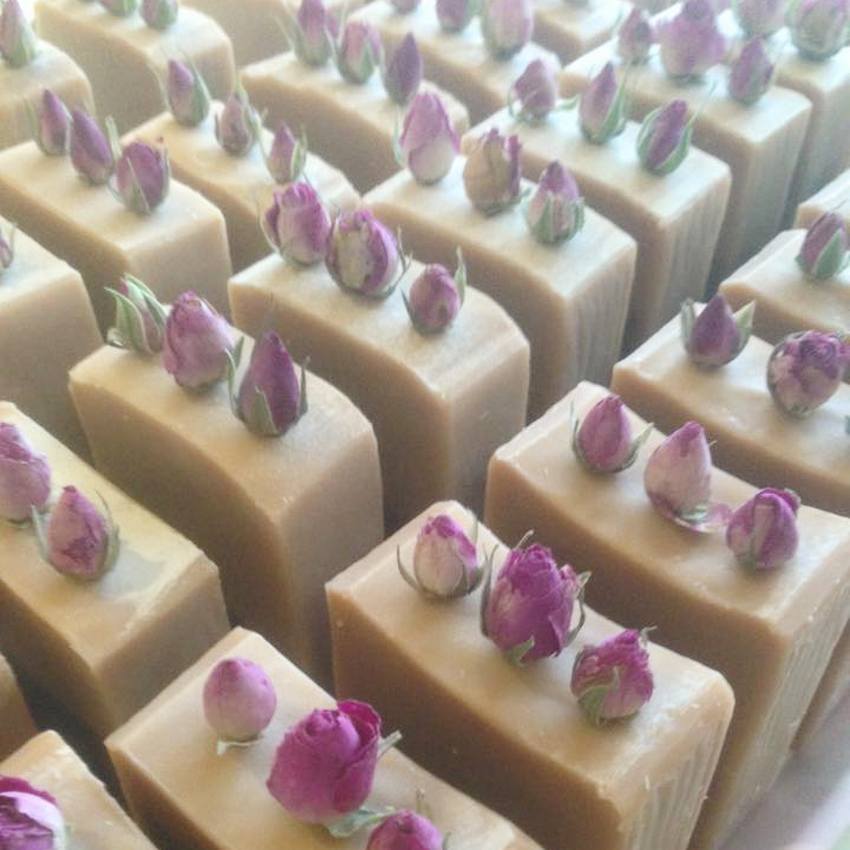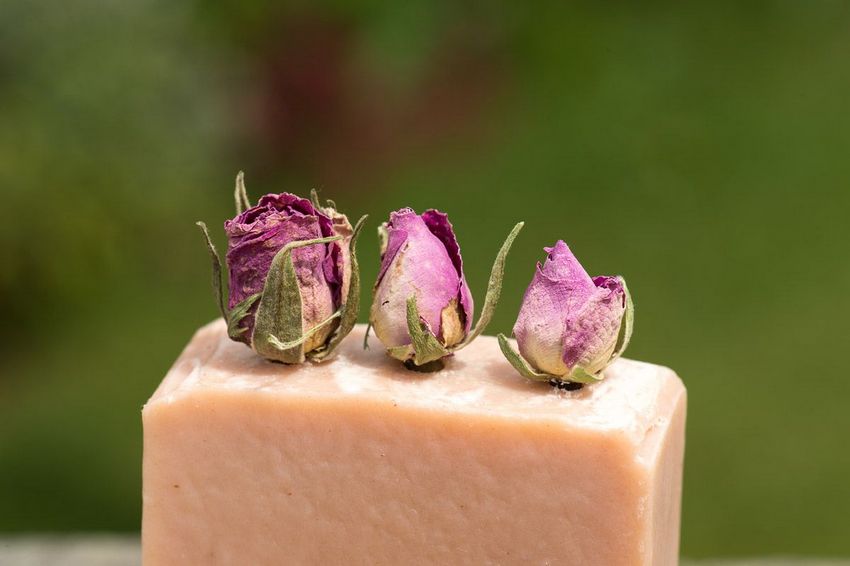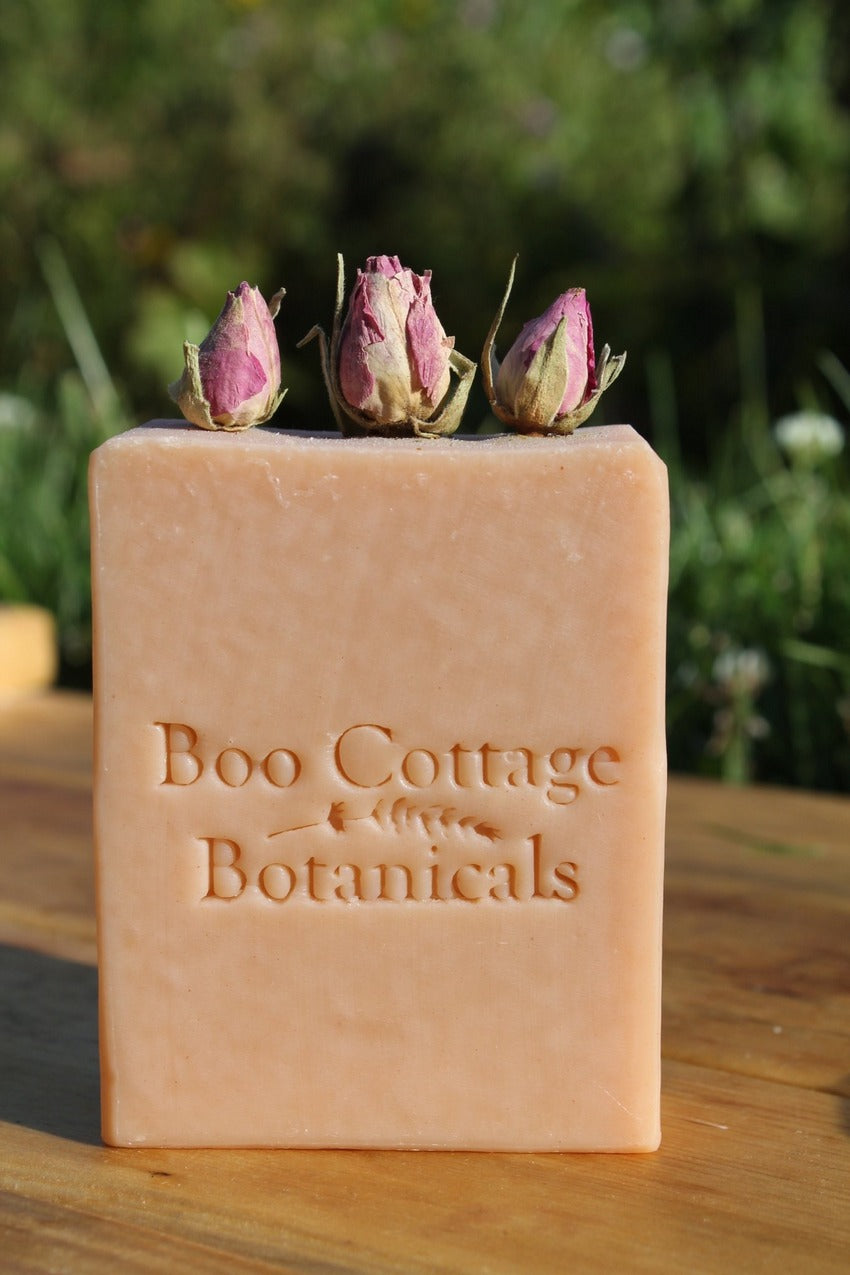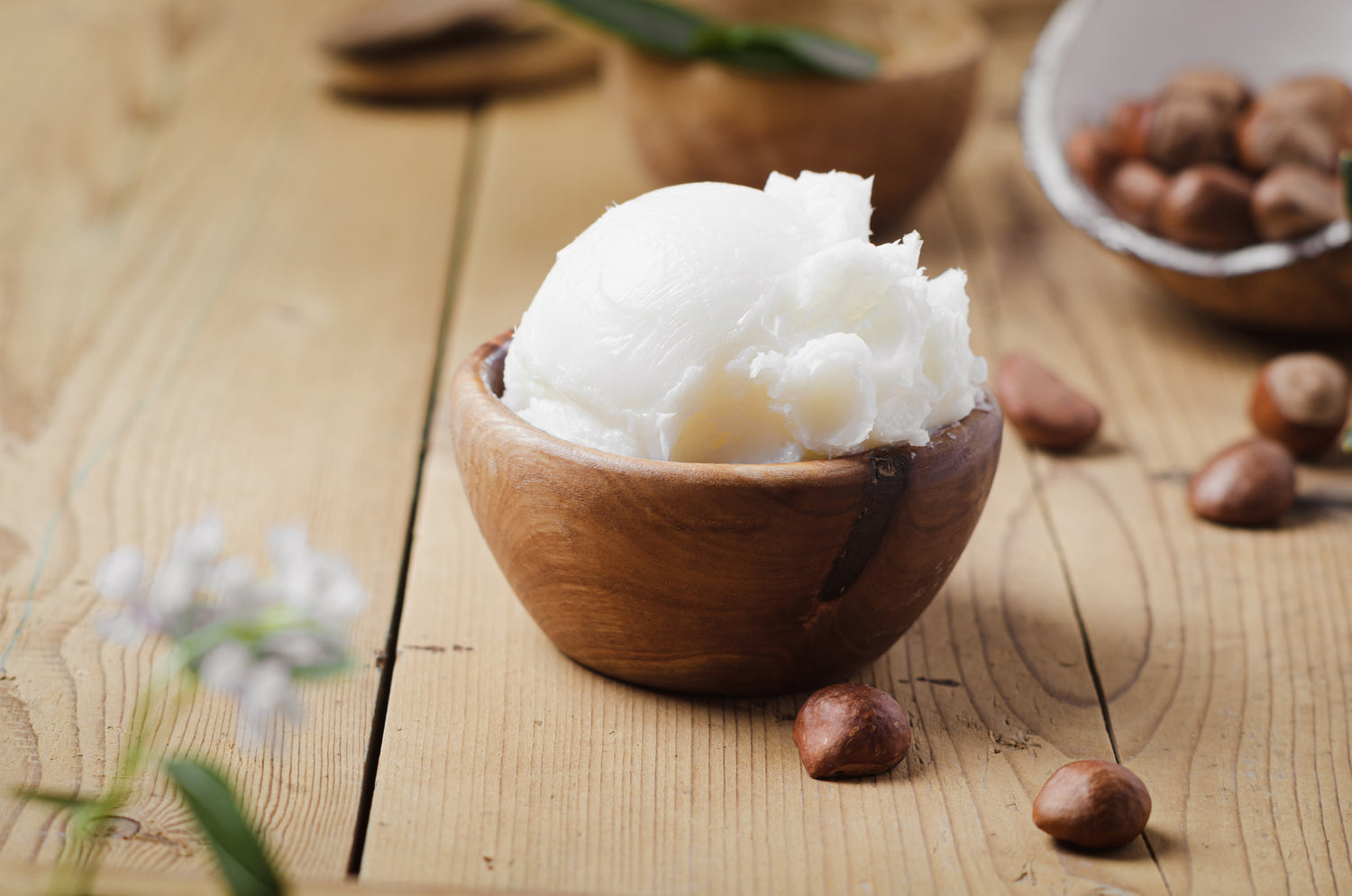 What is soap made from?
Traditional cold process soap is made from a mixture of fatty acids - in our case plant oils and butters - mixed with an alkaline solution. In a bar of solid soap, the alkali used is sodium hydroxide, which turns the fatty acids into sodium salts, or soap!
You can tell what the starting oils are in a soap by their Latin name. For example Sodium Olivate is the soap that is formed from Olive Oil, Sodium Sheabutterate is from Shea Butter and so on.
How long will my soap last?
It's very difficult to say exactly how long your bar will last as there are lots of variables; how often it gets used, if it's just used for hands or also as a body wash in the shower, if it is allowed to dry between uses, if it is stored somewhere damp...
When we make our soap we cure every bar for at least 6 weeks to allow the bars to dry out and be long-lasting in use. The best thing you can do to prolong the life of your soap is to allow it to dry between uses.
How do I look after my soap?
1. Always store your soap in a cool dry place. They will absorb water if you store them somewhere damp.
2. Invest in a freely draining soap dish to allow the soap to dry between uses.
3. Keep the bar standing upright for as long as possible to allow the air to get round the sides.
4. If your soap is starting to get a bit soggy from over use, start a new bar so the other one can have a break and dry out. We often have two bars on the go at the same time.
5. When your soap is getting really small, stick it onto the front of your next bar so you don't waste any!
More soap tips