Are you looking for a gentle cleanser suitable for sensitive skin? Chamomile Cleanser is exactly what you're looking for! A balm-to-milk formula that is mild and effective at removing make up, it will leave your skin feeling soft and refreshed. Nourish and cleanse your skin with Chamomile Cleanser!
Regular price
Sale price
£9.95
Unit price
per
Sale
Sold out
This luxurious chamomile cleanser is an ideal choice for those with sensitive skin. With no added fragrance it has a delicate creamy coconut scent.
Key Ingredients

Mango Butter is extracted by pressing the large flat seed inside the mango fruit. Mango butter is full of natural antioxidants. It has anti-fungal and anti-inflammatory properties to help heal irritated skin.  It is able to moisturise, repair and revitalise skin layers, rejuvenating and would healing.

Castor Oil has been used for over 4000 years because of its healing abilities.  Used in Ancient Greece, India, Persia, China and Africa to treat the skin. Castor oil is soothing and it can act as a humectant – drawing moisture to hydrate the skin.

Kaolin Clay is the most gentle of clays. It is effective at cleansing traces of dirt, pollution and grime without causing redness or irritation. Kaolin is a good choice for those with dry or sensitive skin. High in silica dioxide and with a neutral pH kaolin doesn't strip your skin of its natural oils. Which is exactly what we're aiming for with our Chamomile Cleanser!

Chamomile is an anti-inflammatory, antibacterial, anti-fungal and antiseptic herb. Known for its calming and soothing qualities, chamomile will soothe your senses as well as your skin.
Why You'll Love Chamomile Cleanser

Contains British Ingredients Our Chamomile Cleanser contains rapeseed oil, kaolin clay, chamomile and calendula – all that we source from Britain.

Vegan The formula contains no beeswax or animal products. It is therefore suitable for vegans, vegetarians and people trying to avoid animal products.

Cruelty Free All our products are cruelty free. We only ever test our products on ourselves (and other willing humans!) We are careful to check that the raw ingredients aren't tested on animals either.

Fragrance Free Chamomile Cleanser doesn't contain any essential oils as we wanted it to be suitable for the most sensitive skin types. It has a creamy scent that comes from the coconut oil, mango butter and chamomile. Free from any added fragrances.

Plastic free Hand poured into amber glass jars with aluminium lids. We provide a small wooden spatula. We chose glass jars as it can be returned (we can reuse them), reused or recycled at home.
Full Ingredients - English

Mango Butter, Castor Oil, Coconut Oil, Coconut derived thickener, Sunflower derived emulsifier, Rapeseed Oil, Kaolin Clay, Vitamin E in Wheatgerm Oil, Chamomile Extract, Calendula Extract
Full Ingredients - INCI

Mangifera Indica (Mango) Seed Butter, Ricinus Communis (Castor) Oil, Cocos Nucifera (Coconut) Oil, Cetyl Alcohol, Polyglyceryl-4 Oleate (Rapeseed derived emulsifier), Brassica Campestris (Rapeseed) Oil, Kaolin Clay, Triticum Vulgare (Wheat) Germ Oil & Tocopherol (Vitamin E), Chamomilla Recutita (Chamomile) Extract, Calendula Officinalis (Calendula) Extract
Share
View full details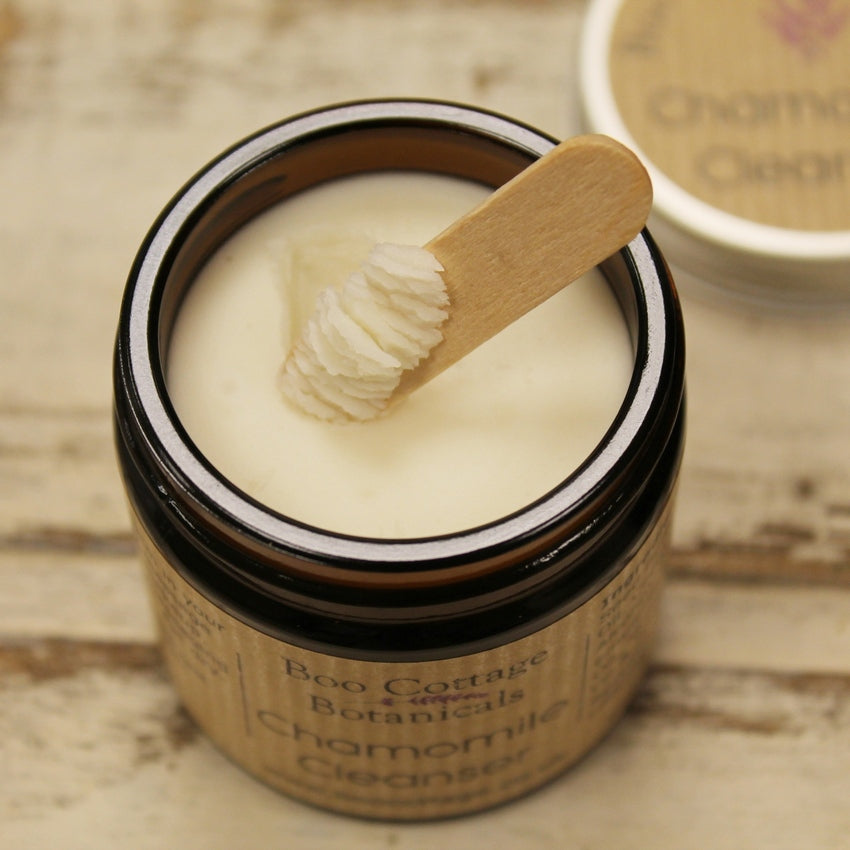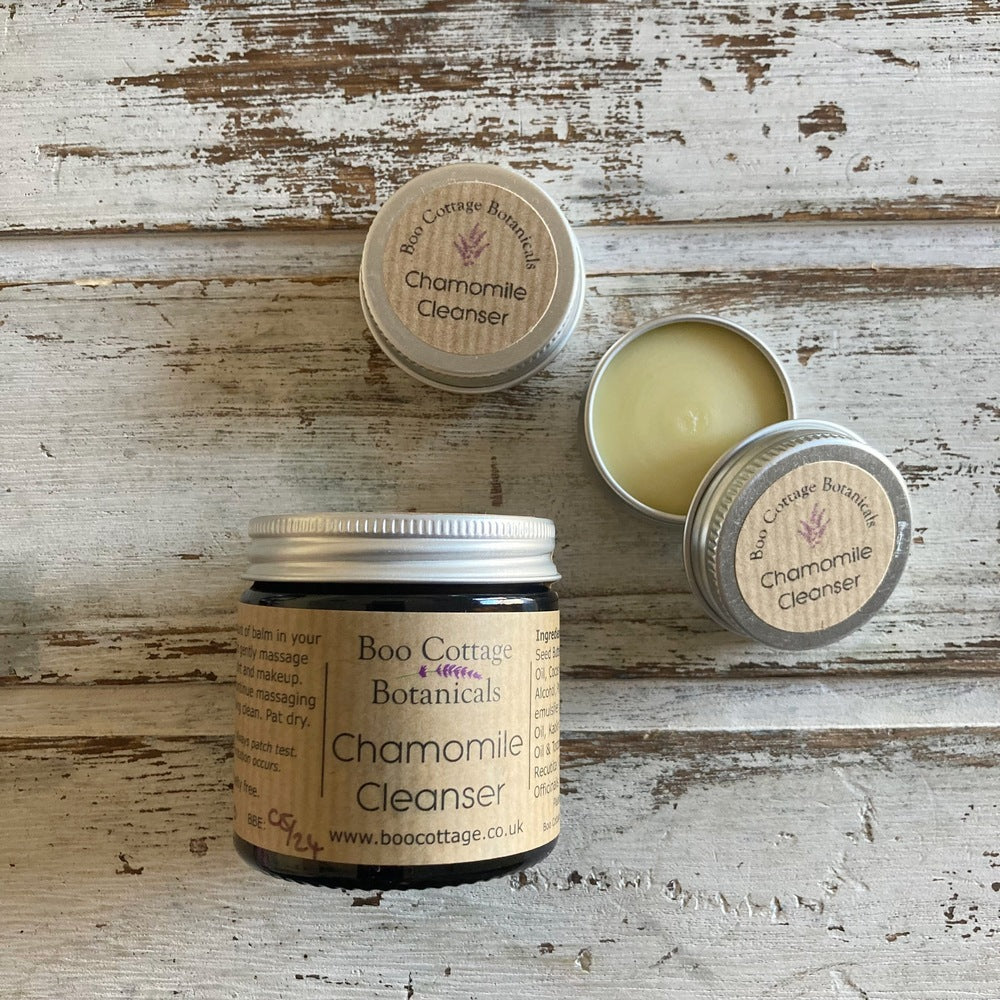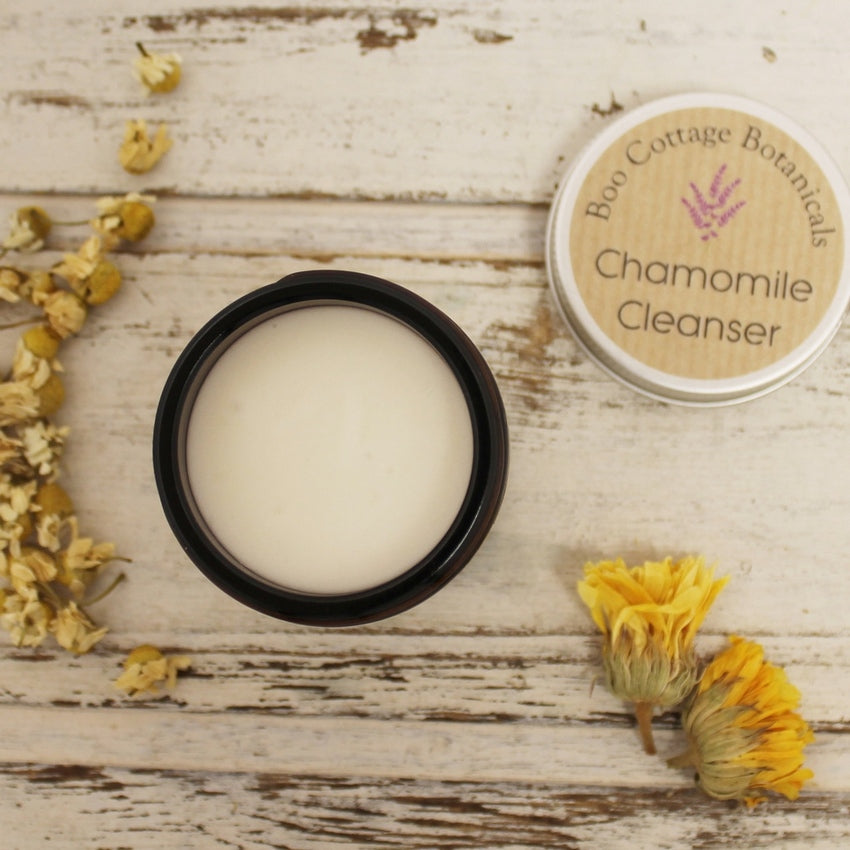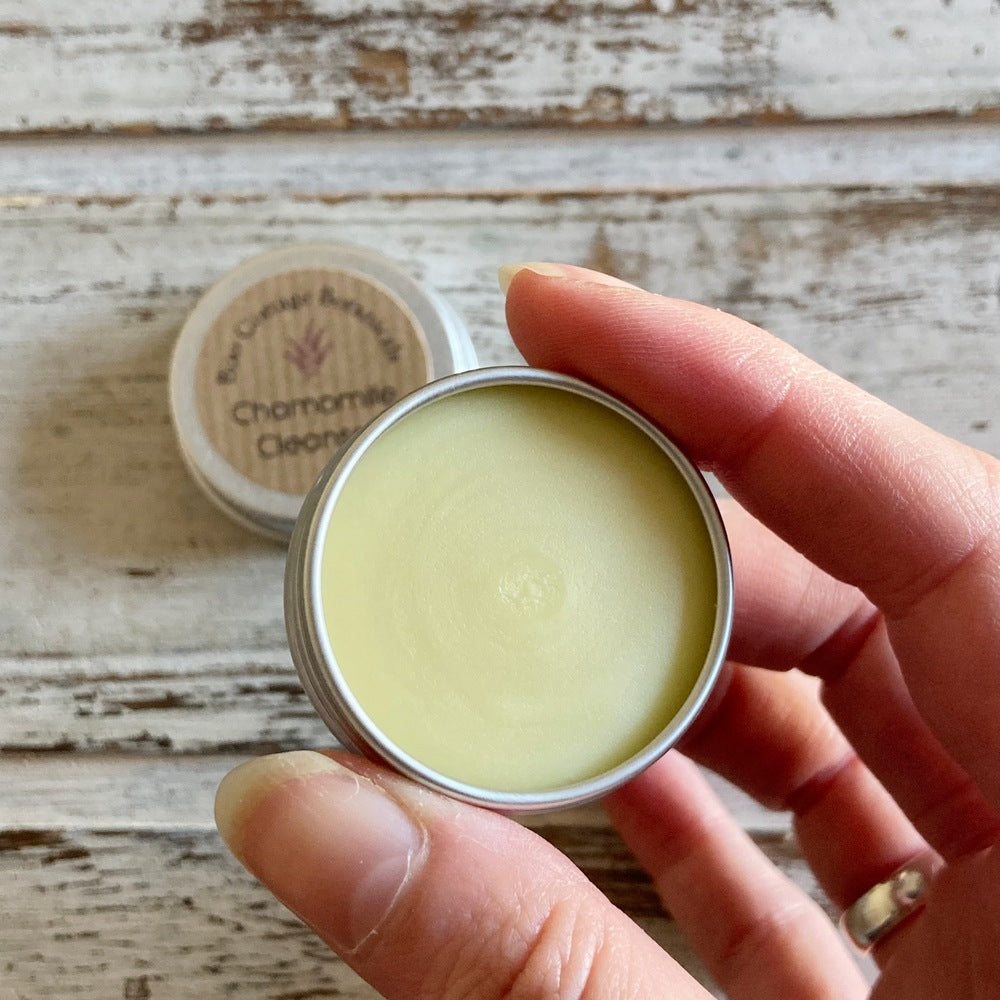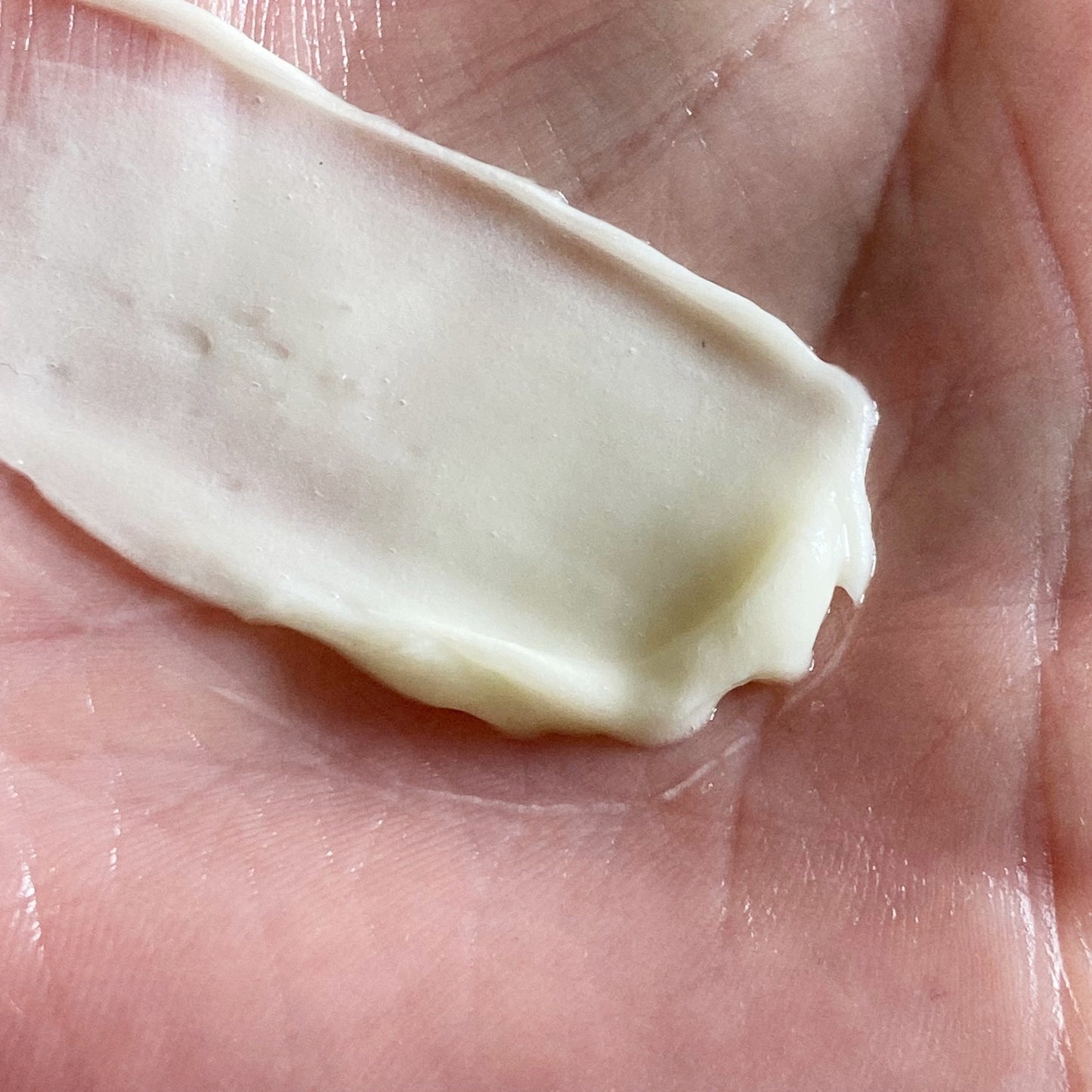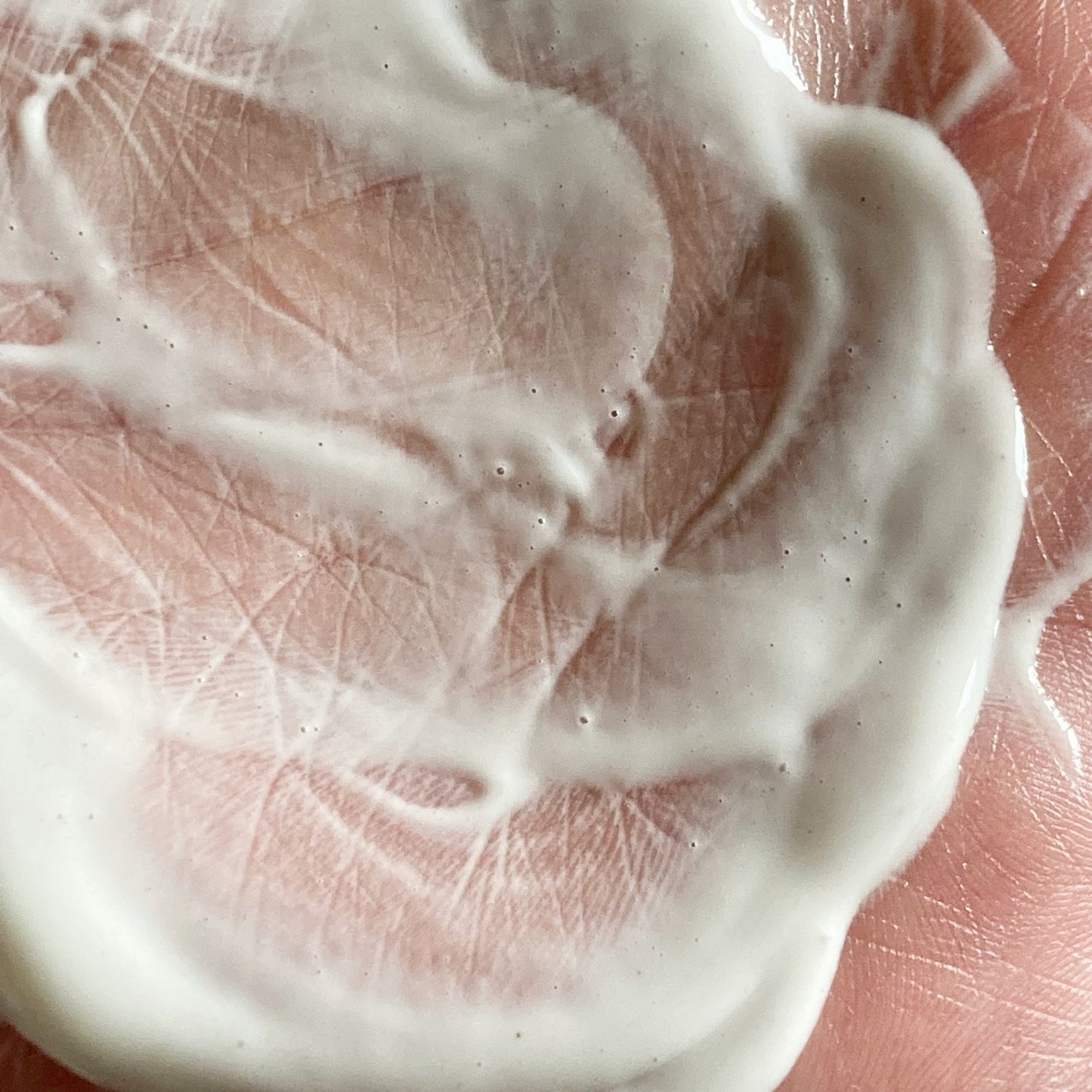 What can Chamomile Cleanser be used for?
Washing your face morning and evening
Removing makeup (including eye makeup)
Double cleansing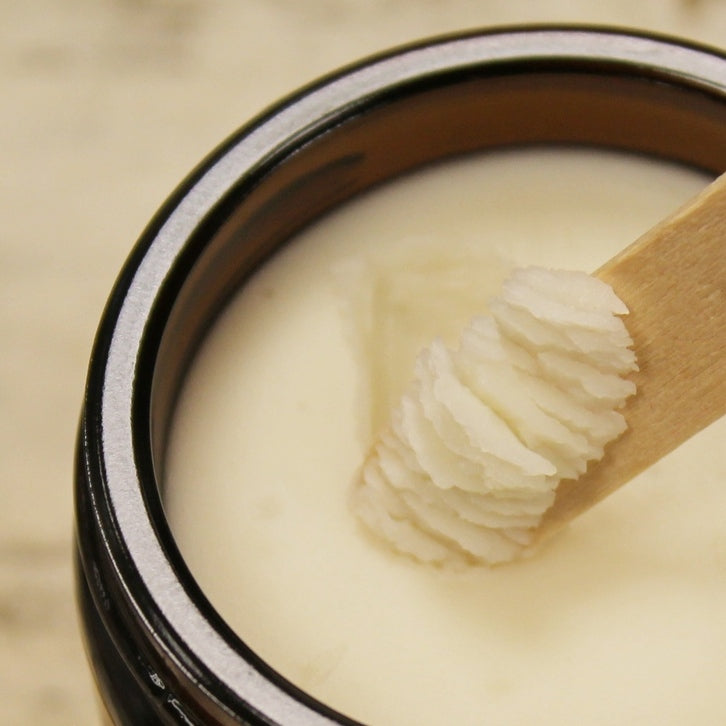 Who is Chamomile Cleanser suitable for?
Vegans
Eczema sufferers
Psoriasis sufferers
Sensitive skin
Fragrance Allergy sufferers
Dry skin
Normal skin

How do I apply Chamomile Cleanser?
The texture is soft and creamy and will melt on contact with the warmth of your skin.
Using the wooden scoop provided, take out a pea sized amount of cleanser and warm in your finger tips to melt.
Smooth onto your skin, massaging the balm in to lift dirt and grime.
Add a splash of warm water and continue massaging with your fingers to turn the balm to a milky lotion.
Rinse clean with warm water.
Pat dry to reveal soft, clean skin.
Our chamomile cleanser for sensitive skin will remove makeup.
Depending on how much makeup you are wearing, you may need to use a larger amount or double cleanse.
If you use the balm to remove your eye makeup, you may experience a feeling of having a filmy coating on your eye. This is normal when using a balm cleanser and will go away within a moment or two. To help prevent this: Remove the balm and eye makeup with a wash cloth or cotton pad before rinsing with water.