Are you struggling to find relief for sensitive or irritated skin? Discover the naturally soothing power of our Borage & Calendula Balm, made with 100% British ingredients and specifically formulated for sensitive skin. An infusion of calendula and chamomile extracts, borage and camelina oils will help leave your skin feeling calm and relaxed. Feel the difference with this soft and gentle, unfragranced balm.
Regular price
Sale price
£12.95
Unit price
per
Sale
Sold out
Soft smooth balm that won't irritate to apply. Naturally scented by the infused botanicals.
Key Ingredients

Borage Oil is one of our favourites here at Boo! It is a fantastic source of GLA (Gamma Linoleic Acid). GLA helps to regenerate, firm and rejuvenate the skin's barrier function and maintain skin elasticity. Ferulic acid, an antioxidant more effective than vitamin E, aids skin repair and soothes inflammation. Tannins create a dry feeling oil, whilst calming redness. Ellagic acid supports the production of collagen, preventing its breakdown and regenerating skin cells.

Camelina Oil is grown in North Yorkshire, where the seeds are gently pressed to release their oil.  It has traditionally been an important food source as a substitute for flax oil. High in vitamin E, omegas 3 and 6, camelina also makes a fabulous oil for skincare. It is quickly and easily absorbed, helping to keep your skin moisturised and elastic.

Beeswax, from right here in Somerset. It is extracted from the honeycombs once the honey has been removed. The colour of the wax varies depending on which flowers the bees have been visiting, so you may see slight colour variations in our balm due to this. The wax has a naturally sweet honey fragrance which comes through in the finished balm. Beeswax is naturally anti-inflammatory and anti-bacterial, making it a fabulous choice for a soothing, repairing balm. It can form an occlusive layer on the skin, helping to lock in moisture. This keeps your skin soft and supple.

Calendula has a long standing reputation as an anti-inflammatory, anti-bacterial and soothing herb. It can help heal wounds and calm itchy, dry, irritated skin. It can also help to alleviate a range of skin conditions, including eczema and psoriasis.
Why You'll Love Calendula Balm

100% Natural Borage & Calendula Balm contains no synthetic ingredients. It is 100% natural.

100% British Formula contains
100% ingredients that are grown and produced in Britain. We love
supporting our local growers. Less travel time for ingredients means we
can all reduce our carbon footprint.

Cruelty Free All of our products are cruelty free. We never test on animals. All testing is done on ourselves and other willing humans! We are careful to check that none of our ingredients are tested on animals either.

Fragrance Free Borage &
Calendula Balm doesn't contain any essential oils as we wanted it to be
truly multi-purpose. It does have a natural scent that comes from the
botanicals, beeswax and rapeseed oil.

Palm oil free That's an easy one – we don't grow palm oil in the UK so it won't be in our British Range… Not that we put it in any of our other products either!

Plastic free Proudly plastic free packaging. All our balms are packaged in amber glass jars with aluminium lids. We choose these as they're easily returnable (we can reuse the jars to package more balms), reusable at home or you can recycle them.
Full Ingredients - English

Borage Seed Oil, Rapeseed Oil, Camelina Seed Oil, Beeswax, Chamomile Flower Extract, Calendula Flower Extract.
Full Ingredients - INCI

Borago Officinalis (Borage) Seed Oil, Brassica Campestris (Rapeseed) Oil,
Camelina Sativa (Camelina) Seed Oil, Cera Alba (Beeswax), Chamomilla Recutita (Chamomile) Flower Extract, Calendula Officinalis (Calendula) Flower Extract.
Share
View full details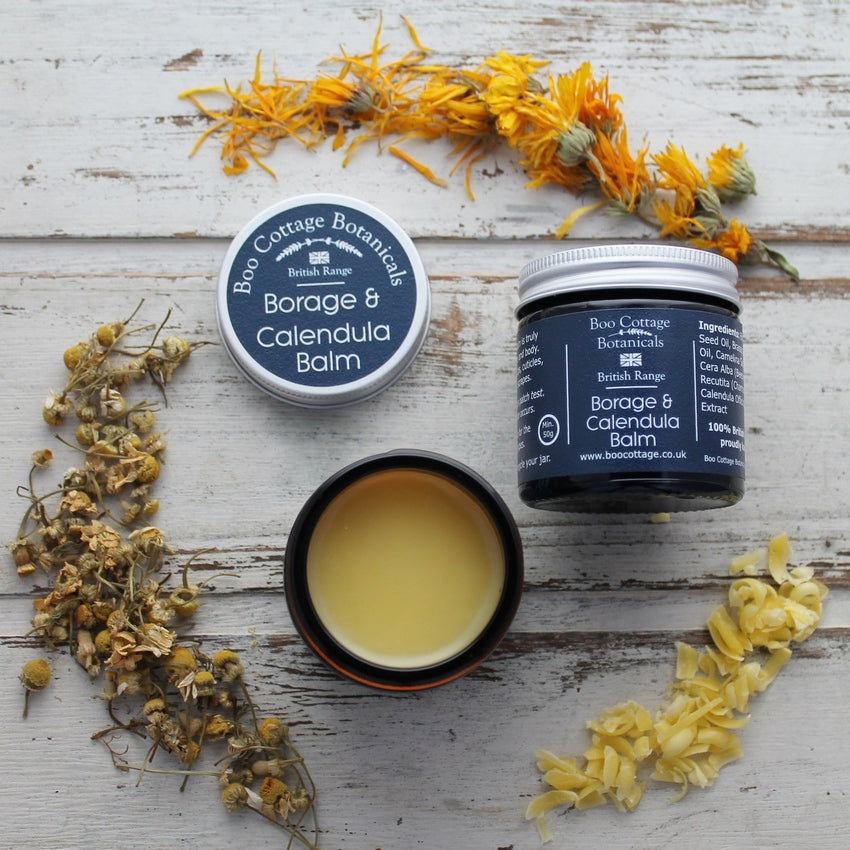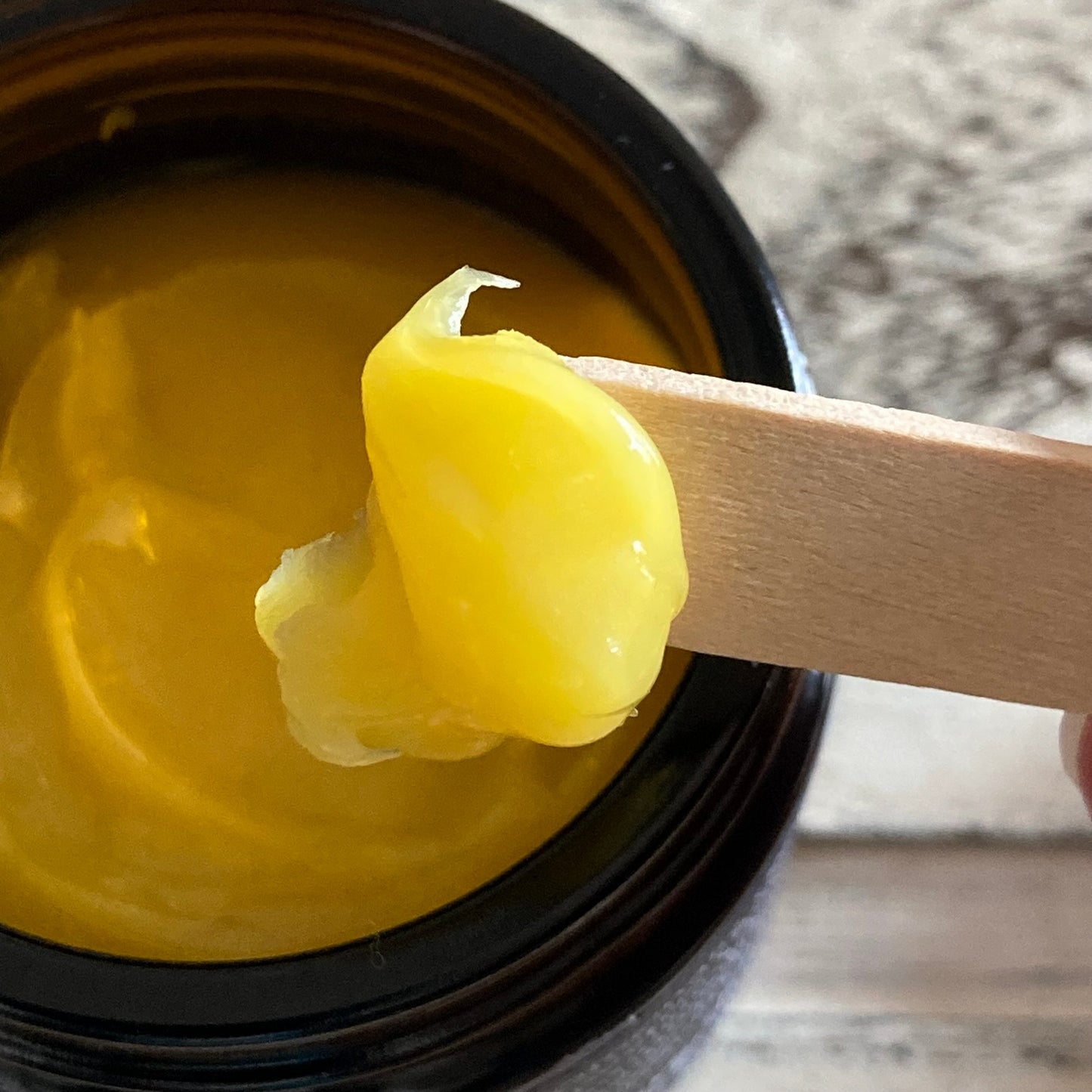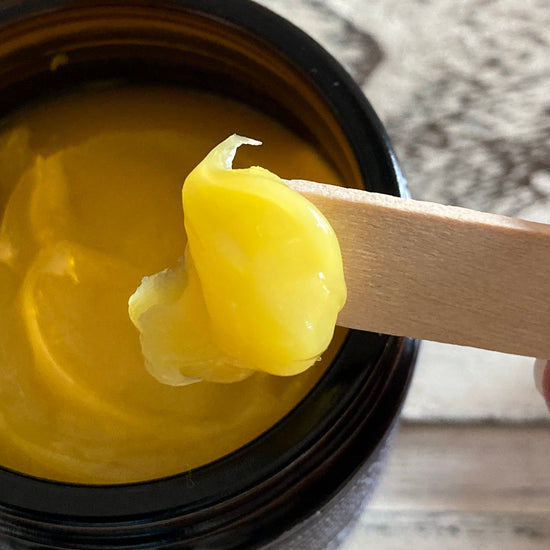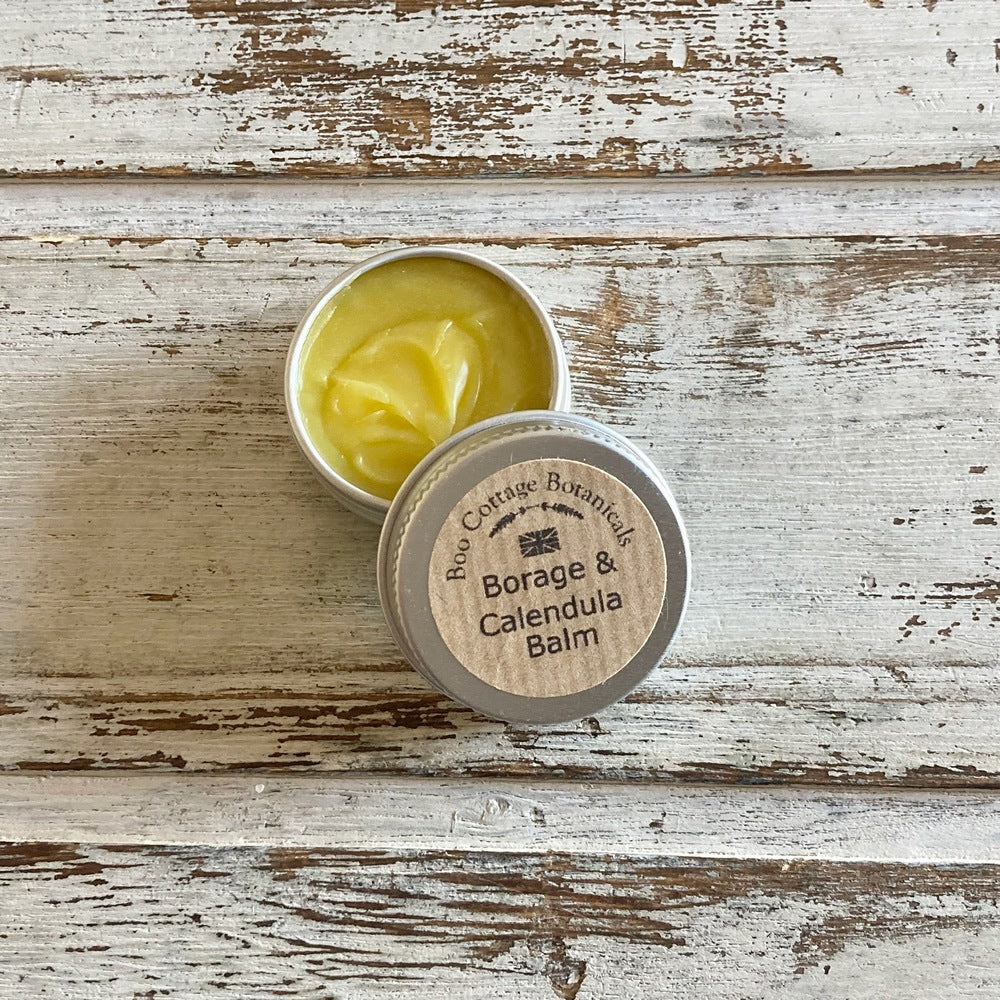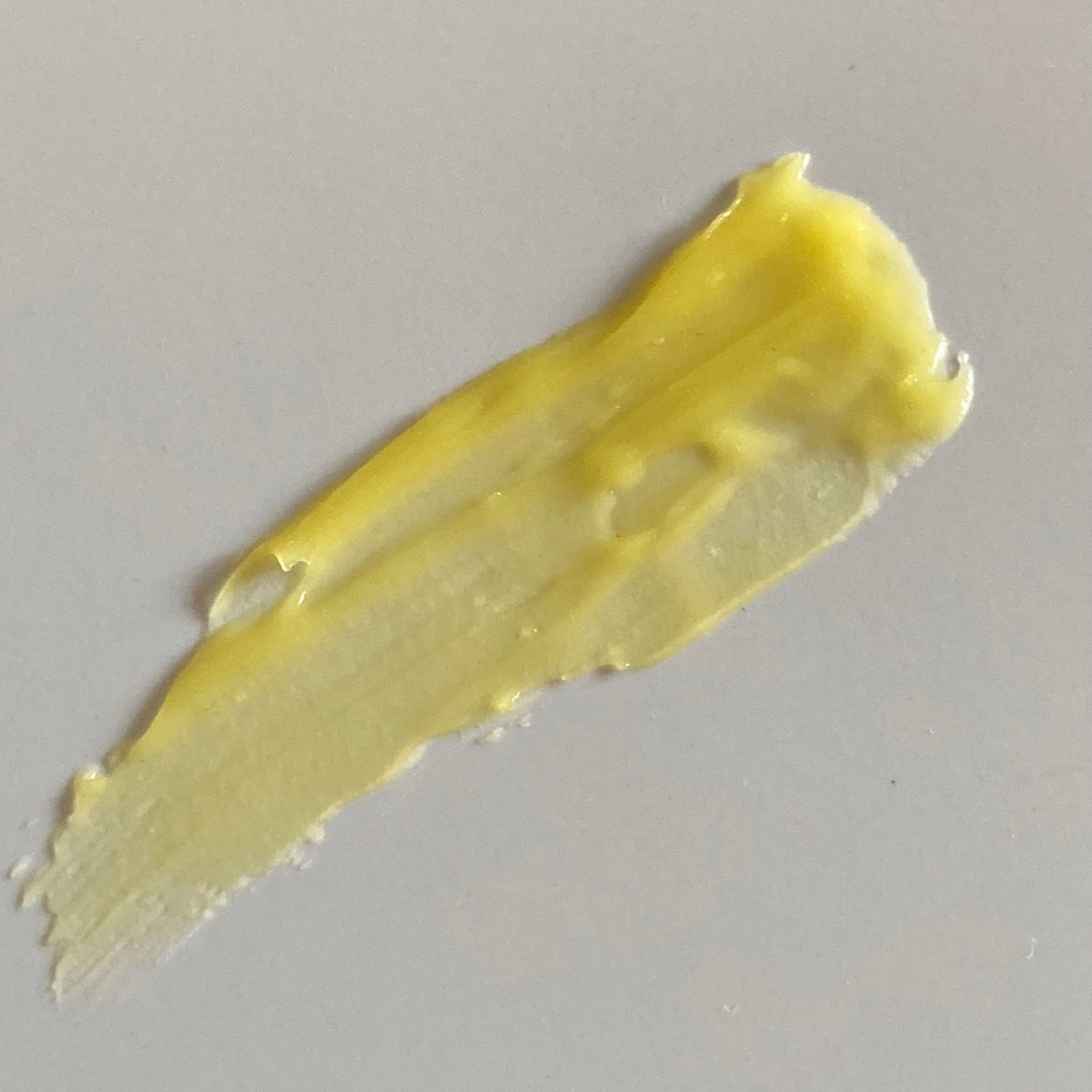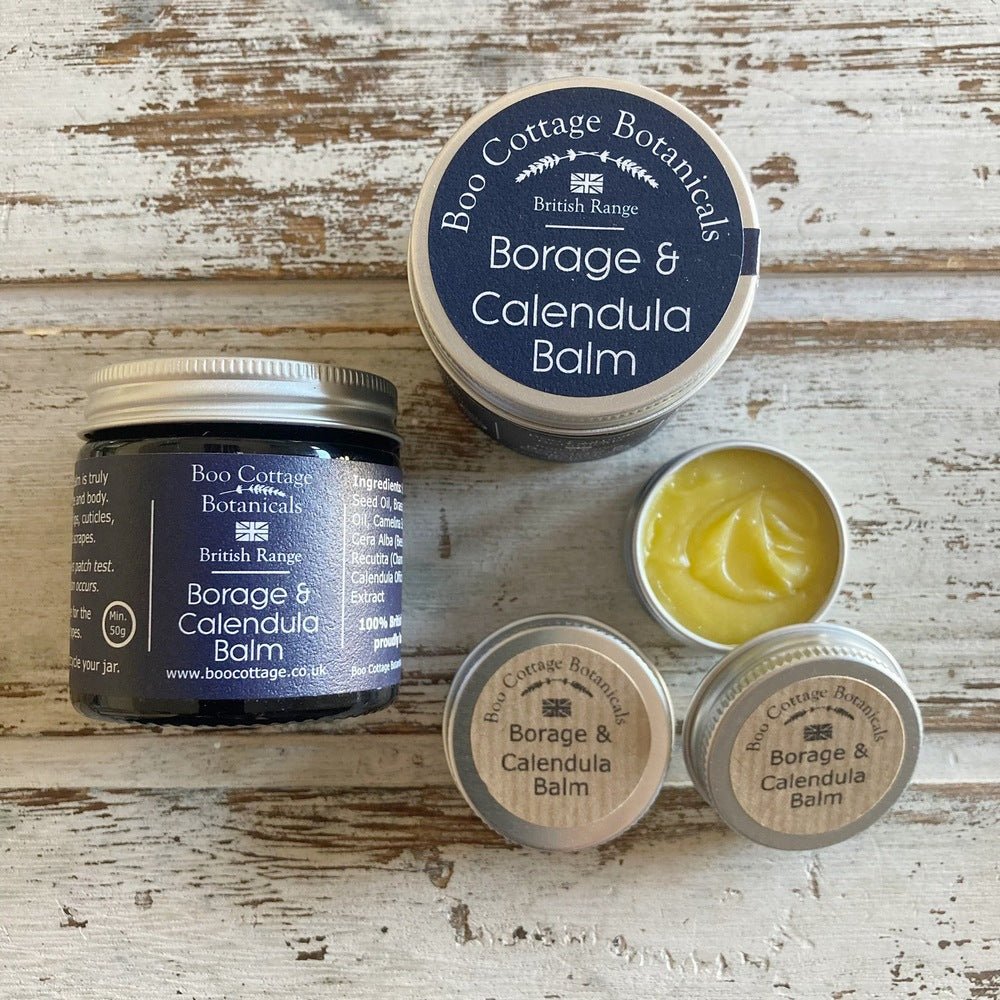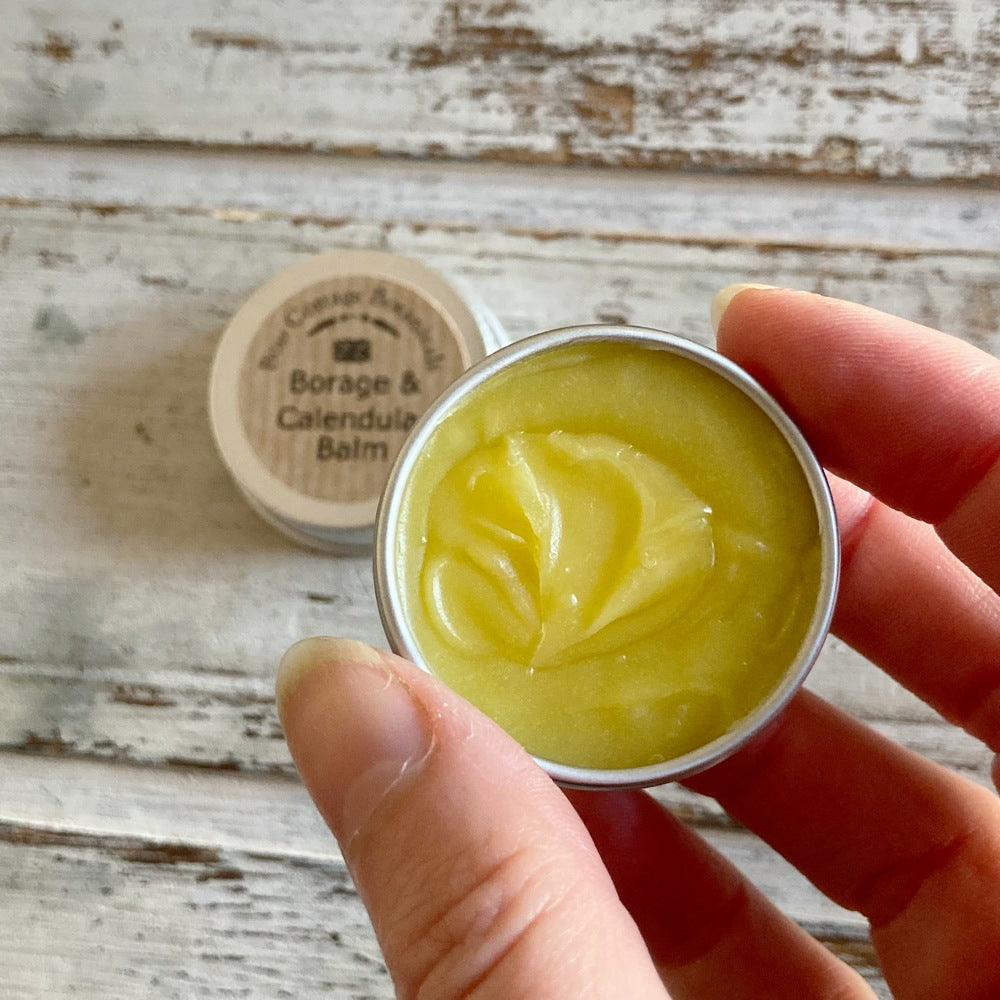 What can Borage & Calendula Balm be used for?
Borage & Calendula Balm is extremely versatile and can be used on your face, hands and body.
Use for targeted relief of the following:
Dry skin | Itchy skin | Rough skin | Cracked skin | Dry lips | Dry cheekbones | Scuffed, scraped, irritated skin | Dry cuticles and cracked fingers.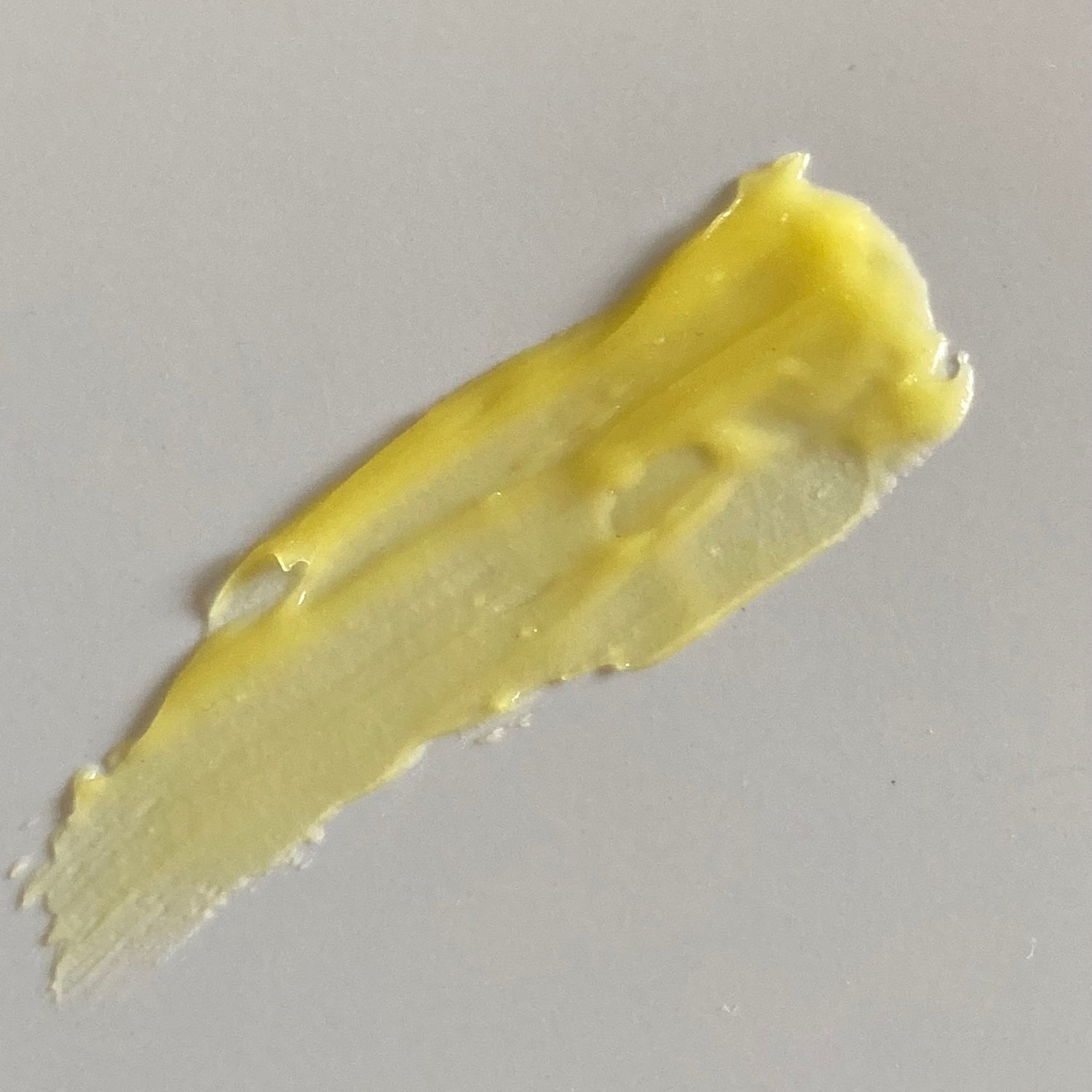 Who is Borage & Calendula Balm suitable for?
Environmentally conscious users looking for products with a reduced carbon footprint
Vegetarians
Eczema sufferers
Psoriasis sufferers
Fragrance Allergy sufferers
Sensitive skin
Dry skin
Damaged skin
Normal skin
Adults, children, infants and babies alike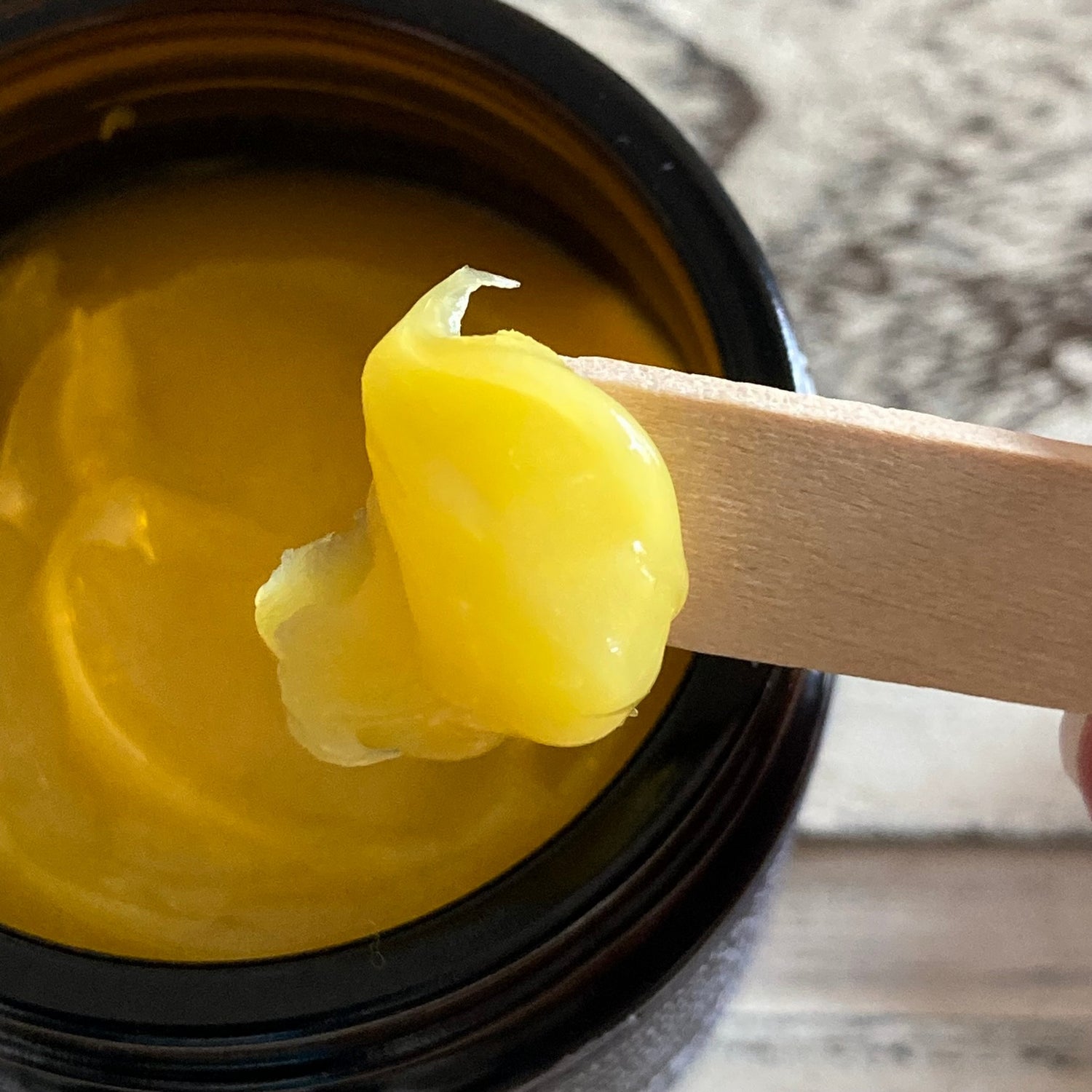 How do I apply Calendula Balm?
The texture is soft and smooth. Feel the immediate soothing and protective effects when you apply.
1. Scoop a small amount of Borage & Calendula Balm out of the jar with a finger or small spoon. A little goes a long way.
2. Smooth the soft balm onto affected patch of skin and massage in gently.
3. Reapply as and when needed.
If you'd like to use it as an overnight treatment for cracked heels or hands: Apply the balm liberally to the affected area before popping on socks or gloves. Allow the balm to sink in, soften and repair overnight.
I'm addicted to this balm
I have sensitive skin, prone to dryness, and have tried so many lotions, potions, balms and creams from all sorts of companies from local to Beauty Pie.
And this is the best by far; I absolutely love it and keep a jar by my bed and another in the kitchen.
Recommend for cracked skin ...
Amazing product. Tend to have dry skin around tops of my finger particularly my thumbs ( annoying when knitting as it catches on the wool!!!) Apply my balm as and when and it is certainly softening up the dry skin. Recommend. Very happy.