Experience the nourishing power of British plants with Berry & Bloom Face Oil! It features 100% natural British ingredients like strawberry, raspberry, and blackcurrant oils to provide a rich blend that's perfect for all skin types, especially dry skin. Perfect for thirsty skin, Berry & Bloom will leave you feeling softer and more radiant than ever before!
30ml in amber glass bottle
Regular price
Sale price
£16.95
Unit price
per
Sale
Sold out
Leave your dry skin feeling soft, plump and nourished. Naturally scented by the fruity oils, it is deeply fruity and green in equal measure.
Key Ingredients

Strawberry Seed Oil is full of goodness and is zero waste too! Seeds are collected from the juice industry and cold pressed to release their wonderfully light, yet nourishing oil. With essential fatty acids including omegas 6 and 9, and ellagic acid which helps preserve collagen and brighten skin. Vitamin E, a powerful anti-oxidant which helps to heal and soothe irritated skin. It has a deeply rich green berry scent.

Raspberry Seed Oil is also zero waste and packed with essential fatty acids. The seeds are a by-product of the juice and jam industry, which are pressed to release their light fruity oil. Raspberry seed oil is full of antioxidants, omegas 3 and 6, vitamins E and A. It contributes a green, lightly fruity scent to our face oil.

Blackcurrant Oil is gently pressed from the seeds of the blackcurrant fruit, renowned for their high vitamin C content. The oil has high levels of both gamma-linolenic acid (GLA) and alpha linolenic acid (ALA) which are essential fatty acids – our bodies cannot produce these, we have to get them from our diet or apply them topically – vital to healthy functioning of cells. GLA can improve skin elasticity by supporting collagen production and skin regeneration. The oil is also excellent for calming inflammation and sensitive skin conditions such as eczema, psoriasis and rosacea.

Apple Seed Oil is yet another zero waste product! Pressed from the seeds of apples as a by-product of the juicing industry. Full of antioxidants which will give skin nutrients and protection, helping to promoting cell regeneration. Also great for giving hair additional shine! Who knew there was a use for apple seeds?!

Oat Oil is a luxurious oil pressed from the humble oat grain. Full of nutrition including omegas, unsaturated fatty acids, oleic and linoleic acids, glycolipids and vitamin E. A non-greasy oil that absorbs easily, helping to soothe and calm itchy, sensitive skin and repair damage. 

Echium Oil has been pressed from the seeds of Echium plantagineum. This vibrant purple flowering plant also known as purple viper's-bugloss, is a favourite of butterflies and bees. The oil is rich in omegas 3, 6 and 9. It contains high quantities of ALA and GLA, helping to reduce inflammation and promoting healthy, smooth skin.
Why You'll Love Berry & Bloom

100% British ingredients Our unique formula contains 100% ingredients that are grown and produced in Britain. We love supporting our local growers. Less travel time for ingredients means we can all reduce our carbon footprint one product at a time.

100% Natural Berry & Bloom Face Oil contains no synthetic ingredients. It is 100% natural.

Vegan Our face oils are all completely free from animal products. They are therefore suitable for vegans, vegetarians and other people trying to reduce their use of animal products.

Cruelty Free All of our products are cruelty free. We could never even contemplate testing on animals. Testing happens on ourselves and other willing humans! We also check that our ingredients haven't been tested on animals either.

Palm oil free Berry & Bloom face oil is palm oil free. Even if we did want to use it (which we don't) it isn't grown in the UK!

No single use plastics Our oils are hand poured into glass bottles that are returnable, reusable or recyclable. The dropper pipettes do have a plastic screw collar to prevent leaks. Don't throw it away! Reuse your pipette for future bottles of face oil.

Refill option available If you already have a dropper pipette from a previous bottles, why not opt for a refill bottle. These come with an aluminium cap, saving both unnecessary packaging and money!
Full Ingredients - English

Strawberry Seed Oil, Blackcurrant Seed Oil, Raspberry Seed Oil, Echium Seed Oil, Oat Kernel Oil, Apple Seed Oil
Full Ingredients - INCI

Fragaria Ananassa (Strawberry) Seed Oil, Ribes Nigrum (Blackcurrant) Seed Oil, Rubus Idaeus (Raspberry) Seed Oil, Echium Plantagineum (Echium) Seed Oil, Avena Sativa (Oat) Kernel Oil, Pyrus Malus (Apple) Seed Oil
Share
View full details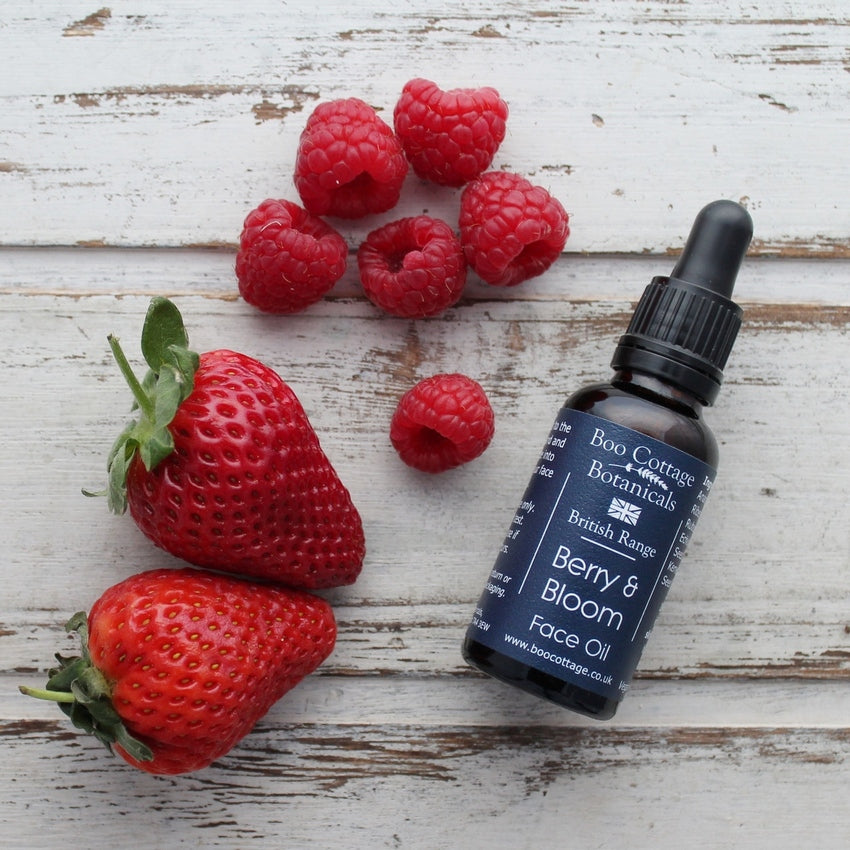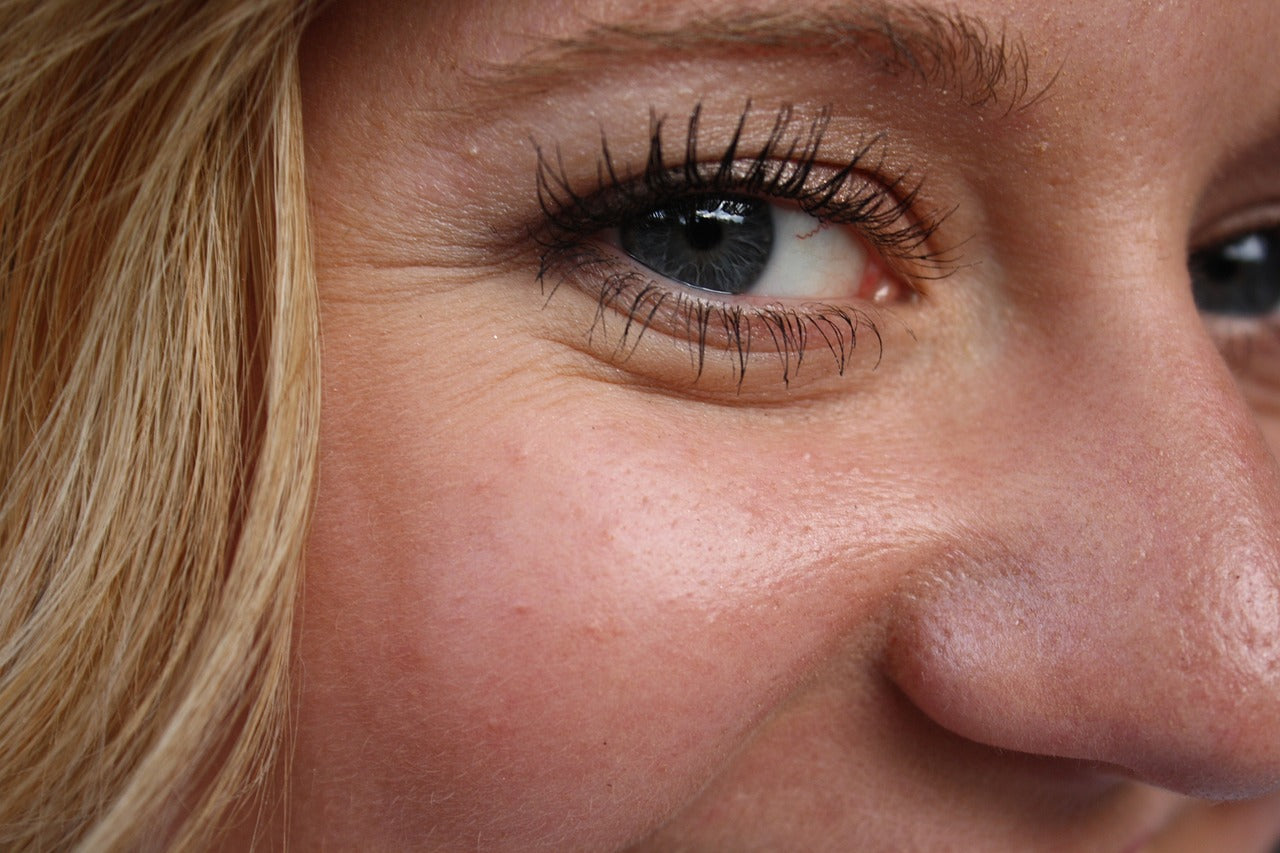 Who is Berry & Bloom Face Oil suitable for?
Environmentally conscious consumers looking for products with a reduced carbon footprint
Vegans
Dry Skin
Normal Skin
Sensitive Skin
Fragrance allergy sufferers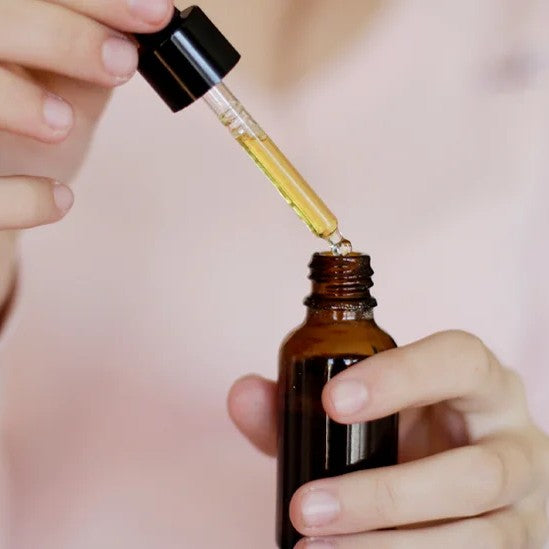 How do I apply Berry & Bloom Face Oil?
Apply instead of (or alongside) your usual moisturiser.
1. Apply 3-4 drops of Berry & Bloom to the palm of your hand.
2. Rub hands together and gently massage into clean skin on your face and neck.
Give your dry skin more of a nourishing boost by applying your oil onto your face when damp. Or you can mix a few drops with some water in your palm. The water will allow it to spread smoothly and the oil will lock in the extra moisture.
For best results, apply your moisturiser first and lock in the moisture with your face oil on top. You can also add a few drops to your favourite face mask to give your skin an added boost.
Nice texture, scent could be improved
On first smelling this oil I was a little disappointed with the scent, which I was expecting to be a bit more fruity, like the Berry Cleanser. But I like the texture and applying it after the Berry Cleanser my face feels lovely and pampered. The oil soaks in relatively quickly and leaves a nice nourished feel. Would buy again,
Thanks so much for your review. Regarding the scent, we deliberately didn't add a fragrance to this Face Oil. We wanted one without any essential oils so that it would be suitable for the most sensitive skin types. The fragrance comes from the fruity oils, however it is subtle!