Indulge in the luxurious aroma of chamomile and yarrow with our Meadow Lotion Bar. A nourishing blend of cocoa, mango, geranium and lavender essential oils, this lotion bar is sure to soothe your skin and invigorate your senses! Experience true relaxation with each and every application. What's not to love?
50g bar
Regular price
Sale price
£9.95
Unit price
per
Sale
Sold out
Made with luxurious cocoa butter that melts on contact with your skin. Enjoy an soothing scent of geranium, lavender and chamomile essential oils.
Key Ingredients

Borage Oil is a fantastic source of GLA (Gamma Linoleic Acid) which helps regenerate, firm and rejuvenate the skin's barrier function and maintain skin elasticity.  Borage oil also contains linoleic acid which helps to prevent wrinkles and premature aging, fights loss of skin elasticity and dryness. Ellagic acid supports the production of collagen, preventing its breakdown and regenerating skin cells. Ferulic acid, an antioxidant more effective than vitamin E, protects and soothes damage caused by sun and weather.

Shea Butter is rich in vitamins, plant sterols, minerals and other nourishing compounds for the skin.  The butter softens, protects against drying, and nourishes. High in vitamins E and A, shea butter locks in moisture, increases elasticity and evens out skin tone.

Chamomile has been used in skincare for years, it is anti-inflammatory, antibacterial, anti-fungal and antiseptic.

Yarrow has anti-inflammatory and anti-allergenic properties, with astringent properties, it is good for oily and acne-prone skin.

Lavender Essential Oil has been used for hundreds of years as it has a multitude of benefits. It is antibacterial, can help calm stress and anxiety and of course aids sleep.

Rose Geranium Essential Oil has a longstanding reputation as an essential oil particularly suited to women. It is supportive of the reproductive system and is also astringent, balancing the skin's production of sebum. Emotionally the oil is uplifting, as it can help with anxiety and depression.
Why You'll Love Meadow Lotion Bar

100% Natural Meadow Lotion Bar contains no synthetic ingredients. It is 100% natural.

Vegan Formula contains no animal products including beeswax. Suitable for vegans, vegetarians and people trying to avoid animal products.

Cruelty Free All our products are cruelty free. We only test products on ourselves and other willing humans! We are very careful to check that none of our ingredients are tested on animals either.

Natural Fragrance All of our fragrances are blended in house by our team from wonderfully aromatic essential oils.

Palm oil free Proudly free from palm oil.

Plastic free No plastic bottles here! Our lotion bars are packaged in an aluminium tin. We chose aluminium tins as they're lightweight to ship (or take on holiday), reusable at home or recyclable.

Refill option available If you already have a tin, save the extra packaging by opting for a refill which comes in a waxed paper bag.
Full Ingredients - English

Cocoa Butter, Shea Butter, Coconut Oil, Sunflower & Chamomile Extract & Yarrow Extract, Borage Oil, Vitamin E in Wheatgerm Oil, Clary Sage Oil, Lavender Oil, Geranium Oil
Full Ingredients - INCI

Theobroma Cacao (Cocoa) Seed Butter, Butyrospermum Parkii (Shea) Butter, Cocos Nucifera (Coconut) Oil, Helianthus Annus (Sunflower) Seed Oil & Matricaria Recutita (Chamomile) Flower Extract & Achillea Millefolium (Yarrow) Flower Extract, Borago Officinalis (Borage) Seed Oil, Triticum Vulgare (Wheatgerm) Germ Oil &Tocopherol (Vitamin E), Linalool*, Salvia Sclarea (Clary Sage) Flower Oil, Citronellol*, Lavandula Angustifolia (Lavender) Oil, Pelargonium Graveolens (Rose Geranium) Flower Oil, Geraniol*, Limonene*, Citral*

*Naturally occurring in our Meadow essential oil blend.
Share
View full details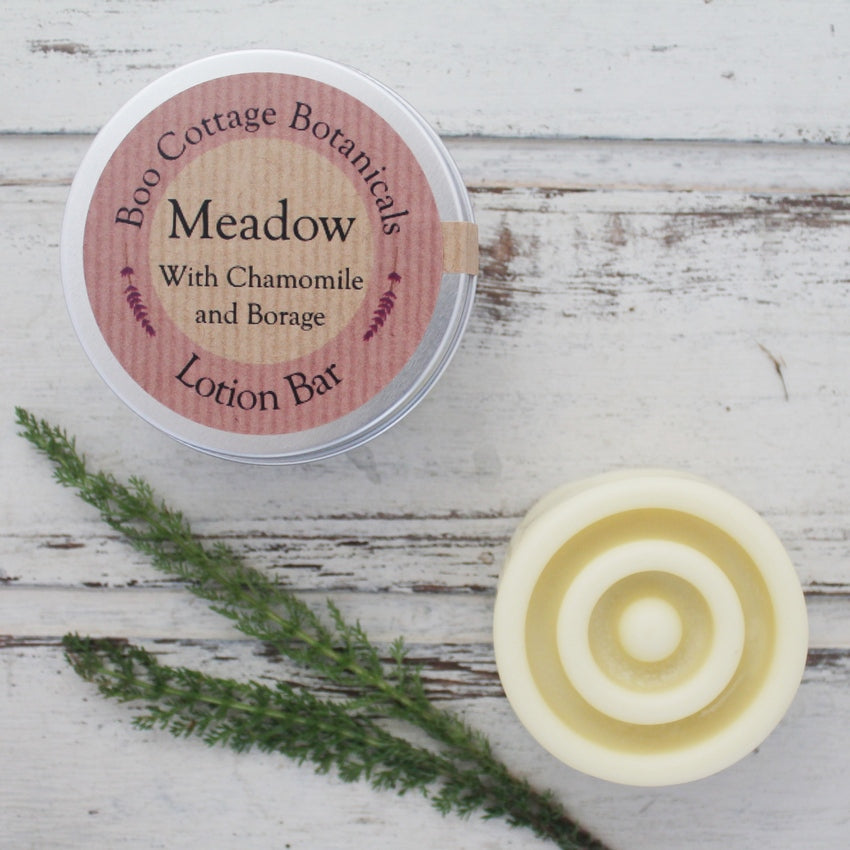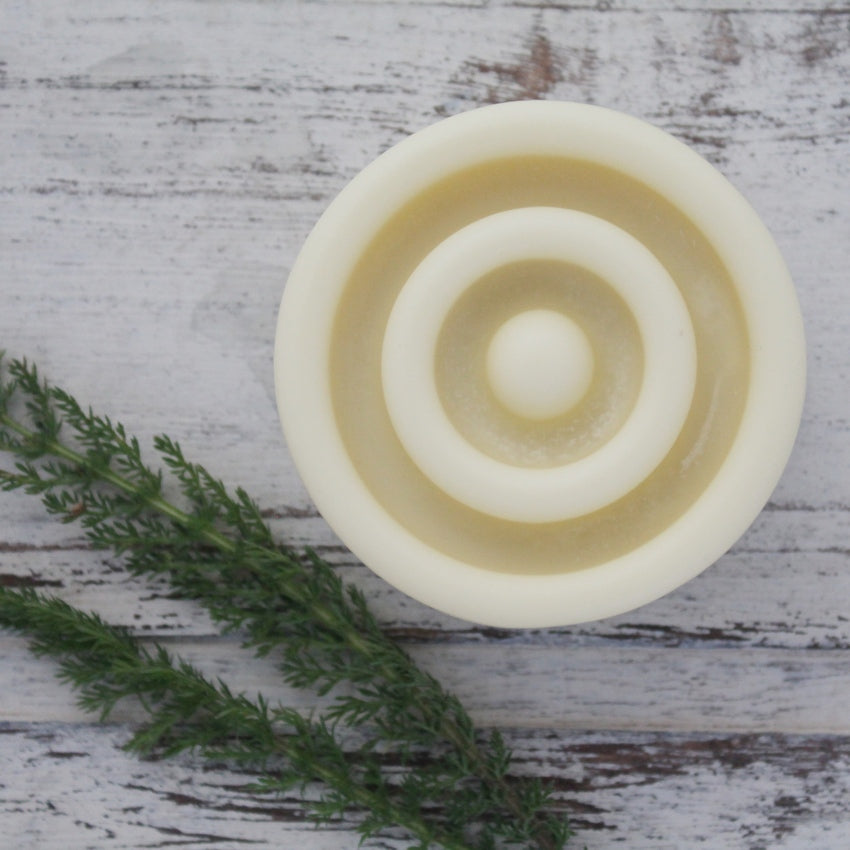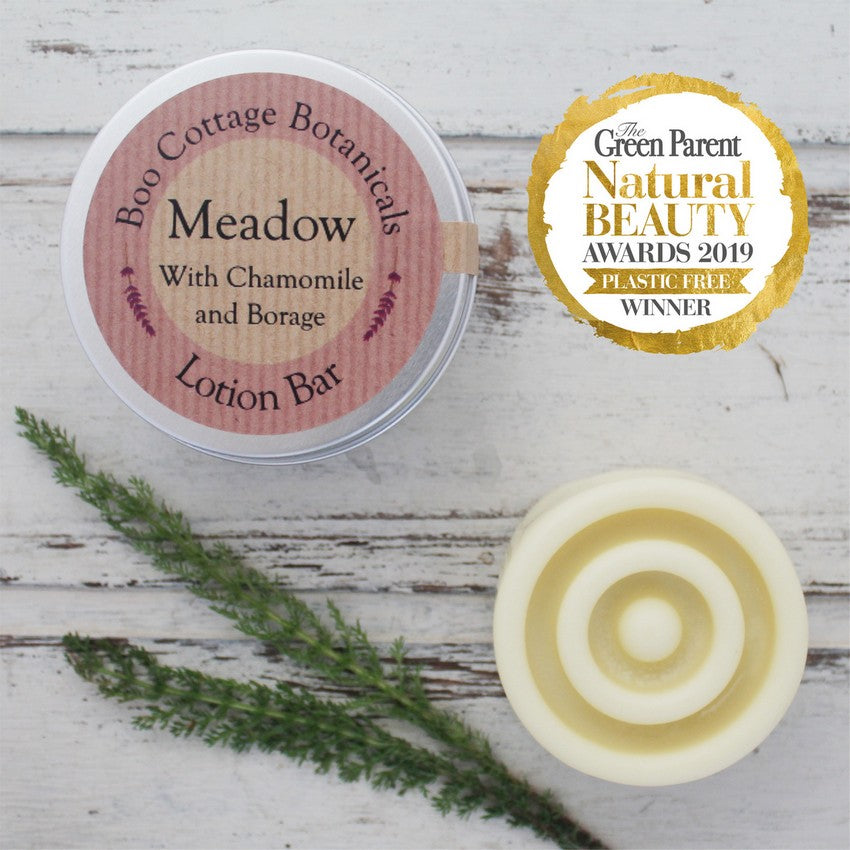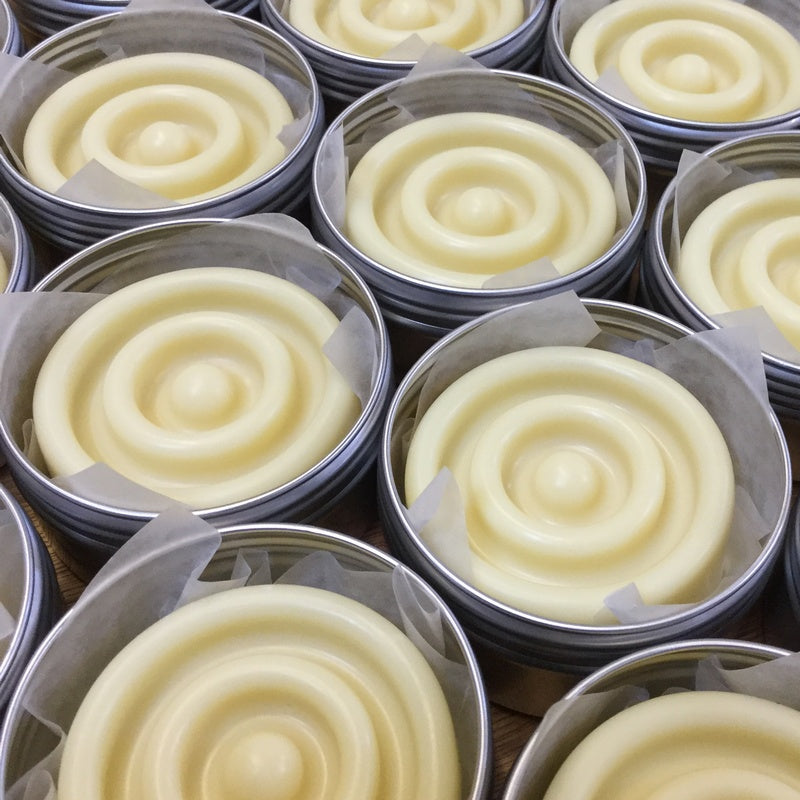 Who is Meadow Lotion Bar suitable for?
Vegans
Dry skin
Normal skin
Eco conscious consumers trying to reduce their carbon footprint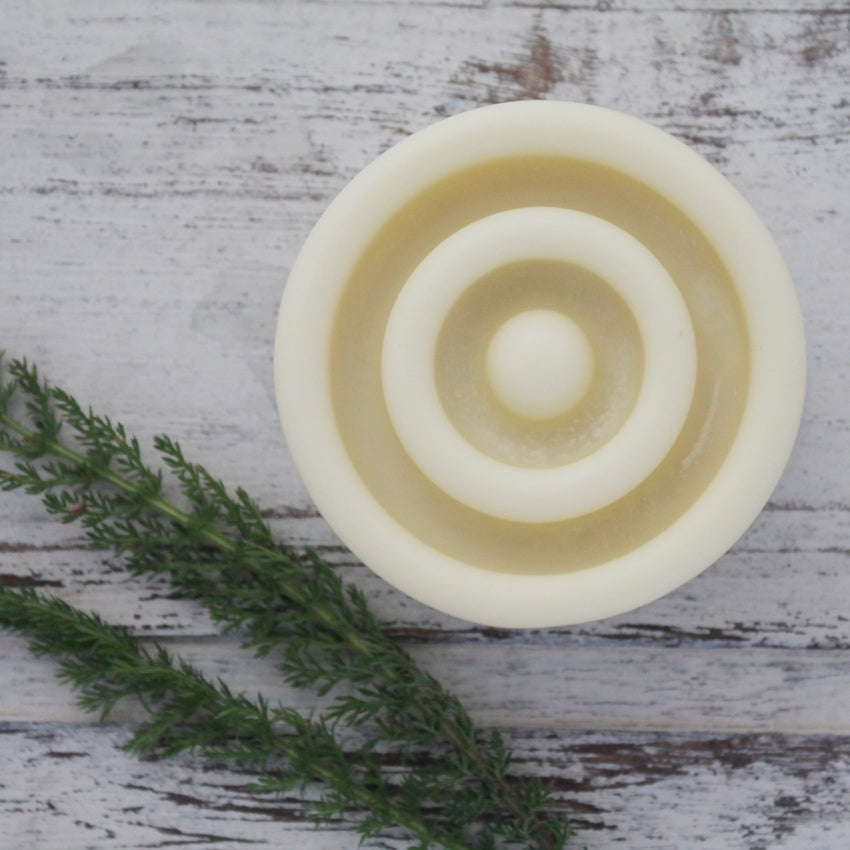 How do I use a Lotion Bar?
As these bars do not contain any water, they are wonderfully concentrated and a little goes a long way.
1. Rub between your clean, dry hands; the lotion will start to melt as it warms up on skin contact.
2. Rub this oil into anywhere that needs some extra attention, especially dry hands, knees, elbows, cracked heels, dry feet and rough skin.
To make sure your lotion bar lasts as long as possible, do not use with wet hands and store in its tin in a cool dry place.
Lovely richly moisturising butters, nice floral scent
Having previously tried the Coastal Lotion Bar, which I liked very much and reordered, I was curious about the scent of Meadow and it's just as lovely if very different as the name suggest. A nice subtle, floral scent. I love the lotion bars as I find them easier to use than traditional moisturisers. It's satisfying rubbing the dry bar between your hands or straight over dry areas like heels and feet and letting the rich butters melts into the skin without spillages or mess.