Experience the nourishing, soothing power of nature with Hedgerow Lotion Bar with Rosehip oil. This all-natural blend of cocoa butter, rosehip oil, elderflower extract, and herbal essential oils will leave your skin feeling moisturized, hydrated, and smooth. With its nourishing, earthy scent and luxurious feel, this lotion bar is the perfect way to treat yourself to some self-care.
50g bar
Regular price
Sale price
£9.95
Unit price
per
Sale
Sold out
Infused with rosehip oil, this all-natural lotion bar nourishes the skin with essential fatty acids, vitamins, and antioxidants, leaving you feeling pampered, smooth, and refreshed.
Key Ingredients

Rosehip Oil is regenerative and nourishing. With high levels of alpha linolenic and linoleic acids, vitamin A increases skin elastin and promotes collagen formation. Vitamin E helps delay the onset of skin aging, protecting the cells against oxidation. Its tannin content adds to the astringent nature of the oil, creating a nourishing, yet dry non greasy feel. Rosehip oil has been known to help with wrinkles, age spots, UV damage, scar tissue, blemishes and difficult skin conditions. An absolute powerhouse!

Elderflower has been used since Egyptian times for reducing wrinkles and age spots. It is diuretic, anti-inflammatory and anti-bacterial.

Rosemary Essential Oil is invigorating, refreshing, stimulating, improves circulation, and is a good decongestant.

Grapefruit Essential Oil is a wonderfully uplifting, energizing oil. It has a pleasant sweet, tangy aroma that is not overpowering.
Why You'll Love Hedgerow Lotion Bar

Natural Ingredients Hedgerow Lotion Bar contains no synthetic ingredients. It is 100% natural.

Vegan Formula contains no animal products including beeswax. Suitable for vegans, vegetarians and people trying to avoid animal products.

Cruelty Free All our products are cruelty free. We only test products on ourselves and other willing humans! We are very careful to check that none of our ingredients are tested on animals either.

Natural Fragrance All of our fragrances are blended in house by our team from wonderfully aromatic essential oils.

Palm oil free Proudly free from palm oil.

Plastic free No plastic bottles here! Our lotion bars are packaged in an aluminium tin. We chose aluminium tins as they're lightweight to ship (or take on holiday), reusable at home or recyclable.

Refill option available If you already have a tin, save the extra packaging by opting for a refill which comes in a waxed paper bag.
Full Ingredients - English

Cocoa Butter, Mango Butter, Coconut Oil, Sunflower Oil & Elderflower Extract, Rosehip Oil, Vitamin E in Wheatgerm, Grapefruit Oil, Rosemary Oil, Basil Oil
Full Ingredients - INCI

Theobroma Cacao (Cocoa) Seed Butter, Mangifera Indica (Mango) Seed Butter, Cocos Nucifera (Coconut) Oil, Helianthus Annuus (Sunflower) Seed Oil & Sambucus Nigra (Elder) Flower Extract, Rosa Canina (Rosehip) Fruit Oil, Triticum Vulgare (Wheatgerm) Germ Oil & Tocopherol (Vitamin E), Limonene*, Citrus Grandis (Grapefruit) Peel Oil, Rosmarinus Officinalis (Rosemary) Leaf Oil, Ocimum Basilicum (Basil) Herb Oil, Linalool*, Eugenol*, Citronellol*, Geraniol*, Citral*

*Naturally occurring in our Hedgerow essential oil blend.
Share
View full details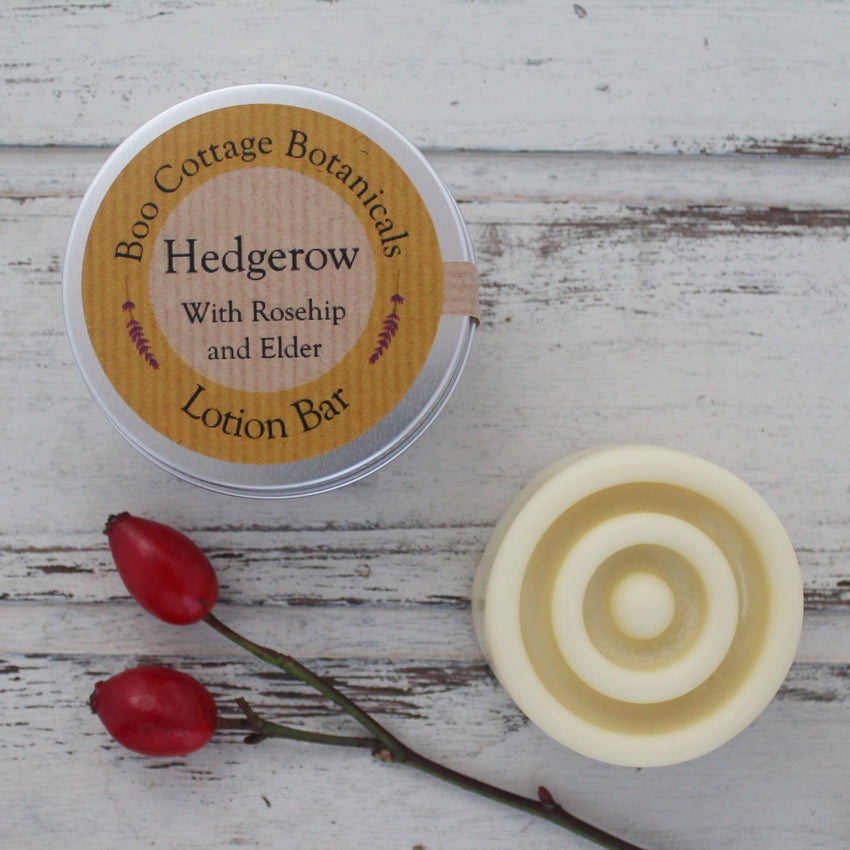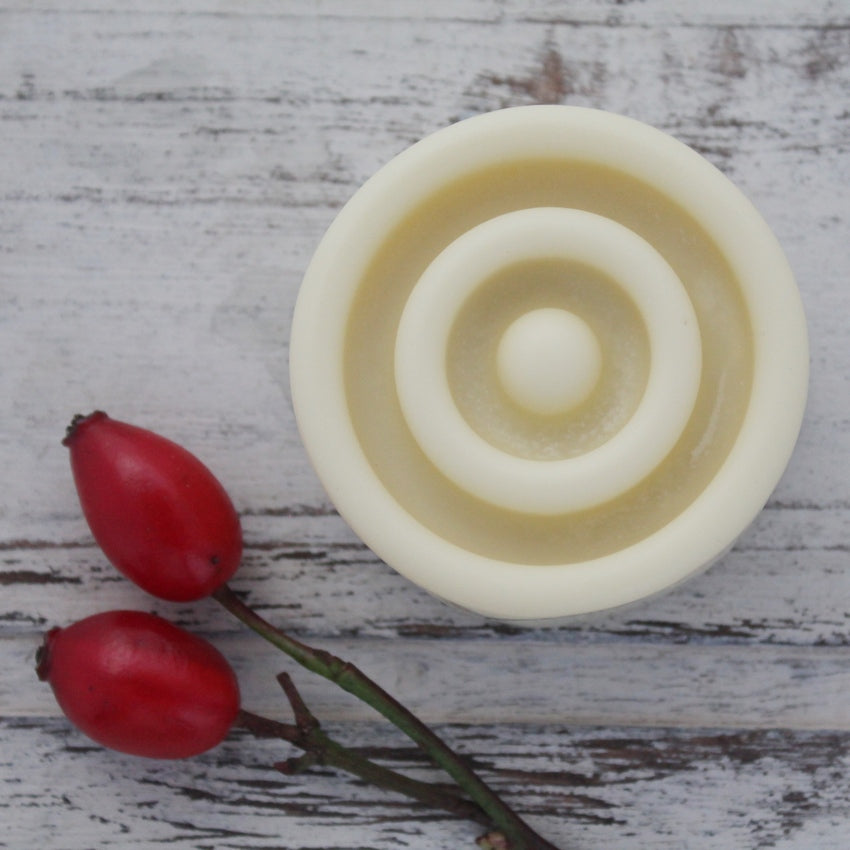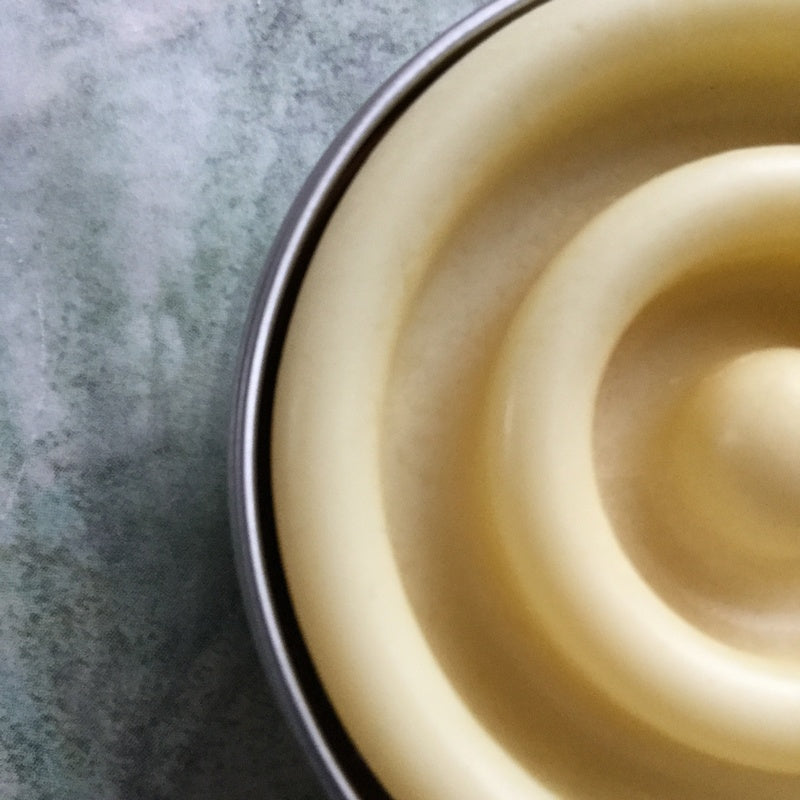 Who is Hedgerow Lotion Bar suitable for?
Vegans
Dry skin
Normal skin
Eco conscious consumers trying to reduce their carbon footprint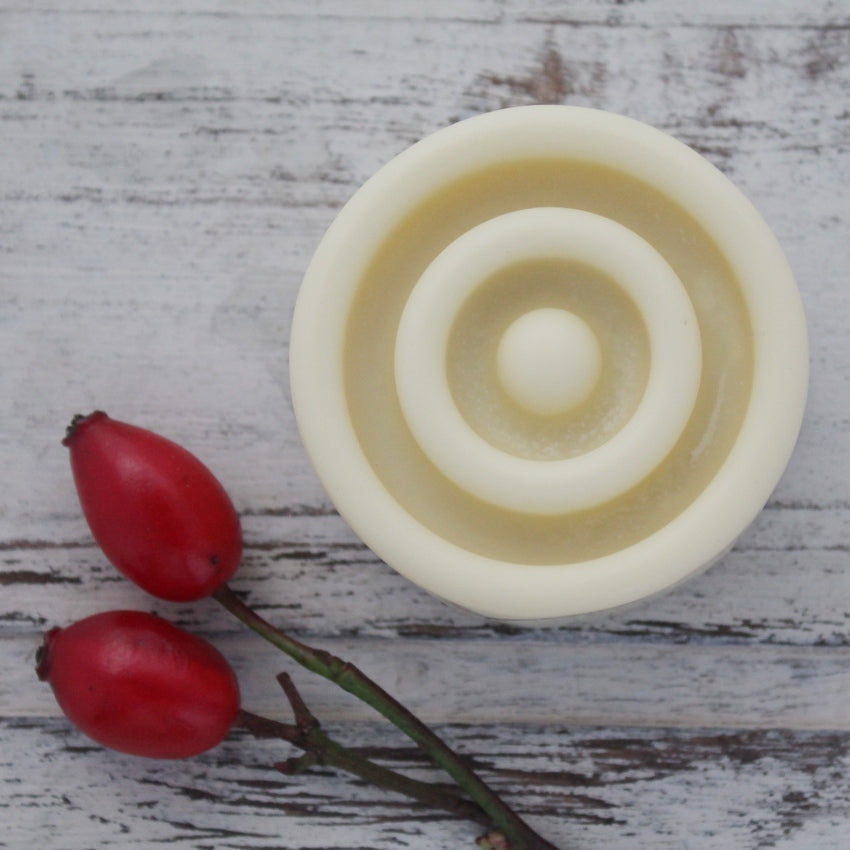 How do I use a Lotion Bar?
As these bars do not contain any water, they are wonderfully concentrated and a little goes a long way.
1. Rub between your clean, dry hands; the lotion will start to melt as it warms up on skin contact.
2. Rub this oil into anywhere that needs some extra attention, especially dry hands, knees, elbows, cracked heels, dry feet and rough skin.
To make sure your lotion bar lasts as long as possible, do not use with wet hands and store in its tin in a cool dry place.