Experience the power of nature with Blossom Botanical Face Oil. Our nourishing blend of natural ingredients, including geranium and ylang ylang essential oils, sea buckthorn oil, rosehip oil, and elderflower, helps your skin blossom with brighter skin and a dewy glow. Feel confident in your beautiful, radiant skin.
30ml in amber glass bottle
Regular price
Sale price
£15.95
Unit price
per
Sale
Sold out
Our Blossom Botanical Face Oil for mature skin is a beautifully rich, pampering, golden coloured face oil. Aimed at dry, aging skin types it's perfect for everyday use. Made with a beautiful blend of rosehip, borage and seabuckthorn oils. All have been chosen for their powerful, nourishing properties alongside their lightweight, dry feeling finish.
Key Ingredients

Rosehip Oil is one of our favourites here at Boo! It is regenerative and nourishing. Vitamin E helps delay the onset of skin aging, protecting the cells against oxidation. With high levels of alpha-Linolenic and linoleic acids, vitamin A increases skin elastin and promotes collagen formation. Its tannin content adds to the astringent nature of the oil, creating a nourishing, yet dry non greasy feel. Rosehip oil has been known to help with wrinkles, age spots, UV damage, scar tissue, blemishes and difficult skin conditions. Perfect for our Botanical Face Oil!

Borage Oil is a fantastic source of GLA (Gamma Linoleic Acid) which helps regenerate, firm and rejuvenate the skin's barrier function and maintain skin elasticity.  Borage oil also contains ferulic acid, an antioxidant more effective than vitamin E that protects and soothes damage caused by sun and weather. It contains linoleic acid which helps to prevent wrinkles and premature aging, fights loss of skin elasticity and dryness. And also Ellagic acid which supports the production of collagen, preventing its breakdown and regenerating skin cells.

Seabuckthorn Oil gives the blend its wonderful golden colour.  In its raw form seabuckthorn oil is an intense orange colour due to its high content of provitamin A carotenes and carotenoids.  It is an exceptional ingredient due to its high content of omega-3 and omega-6 essential fatty acids and vitamins E, B1, B2 and K.

Elderflower has been used since Egyptian times for reducing wrinkles and age spots. It is diuretic, anti inflammatory and anti-bacterial.

Rose Geranium Essential oil has a longstanding reputation as an essential oil particularly suited to women. It is supportive of the reproductive system and is also astringent, balancing the skin's production of sebum. Emotionally the oil is uplifting, as it can help with anxiety and depression.

Ylang Ylang Essential oil is a floral, sweet oil known for being helpful with stress and anxiety.
Why You'll Love Blossom Face Oil

100% Natural Blossom Face Oil contains no synthetic ingredients. It is 100% natural.

Vegan All of our face oils are suitable for vegans, vegetarians and people trying to avoid animal products.

Cruelty Free We only ever test products on ourselves and other willing humans! We carefully check that our ingredients haven't been tested on animals either.

Palm free Blossom face oil is palm oil free.

No single use plastics Our face oils are packaged in returnable, reusable or recyclable glass bottles. The dropper pipette does have a plastic screw collar to prevent leaks. Please retained your pipette to use for future bottles of face oil.

Refill option available Refill options save both packaging and money! If you already have a dropper pipette, our refill bottles come with an aluminium cap. Take off the lid and pop in your pipette to keep reusing it.
Full Ingredients - English

Rosehip Fruit Oil, Borage Seed Oil, Sunflower Seed Oil & Elder Flower Extract, Squalane, Sea Buckthorn Fruit Oil, Wheat Germ Oil & Vitamin E, Rose Geranium Flower Oil, Ylang Ylang Flower Oil
Full Ingredients - INCI

Rosa Canina (Rosehip) Fruit Oil, Borago Officinalis (Borage) Seed Oil, Helianthus Annuus (Sunflower) Seed Oil & Sambucus Nigra (Elder) Flower Extract, Squalane, Hippophae Rhamnoides (Sea Buckthorn) Fruit Oil, Triticum Vulgare (Wheat) Germ Oil & Tocopherol (Vitamin E), Pelargonium Graveolens (Rose Geranium) Flower Oil, Cananga Odorata (Ylang Ylang) Flower Oil, Limonene*, Linalool*, Citral*, Geraniol*, Citronellol*, Benzyl Alcohol*, Eugenol*, Isoeugenol*, Benzyl Benzoate*, Farnesol*, Benzyl Salicylate*   

*Naturally occurring in our Blossom essential oil blend
Share
View full details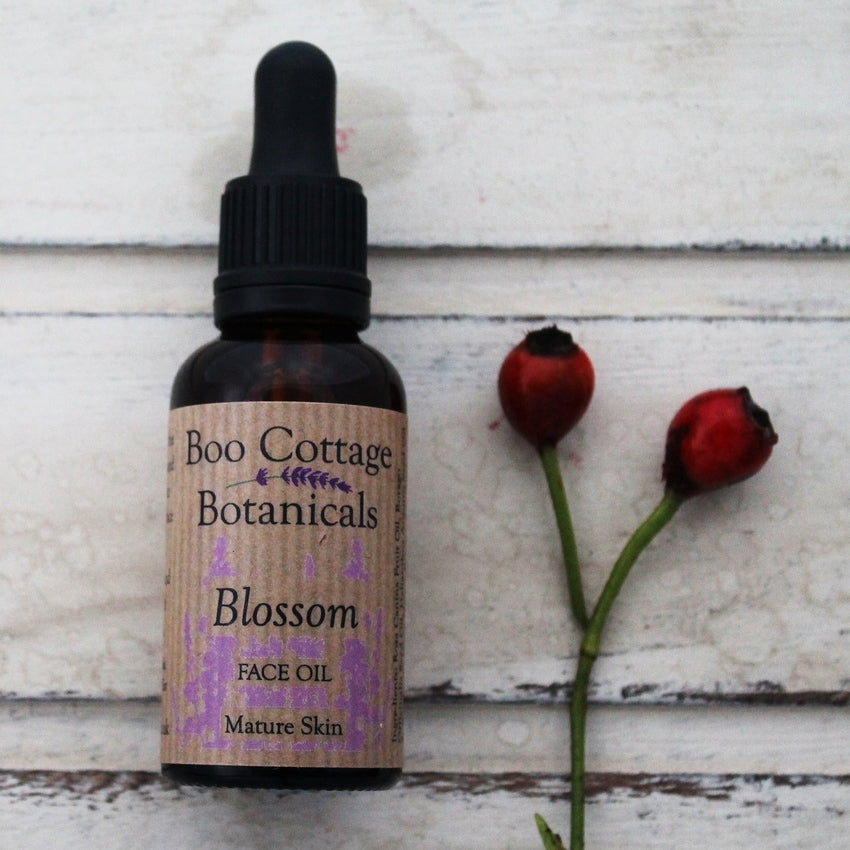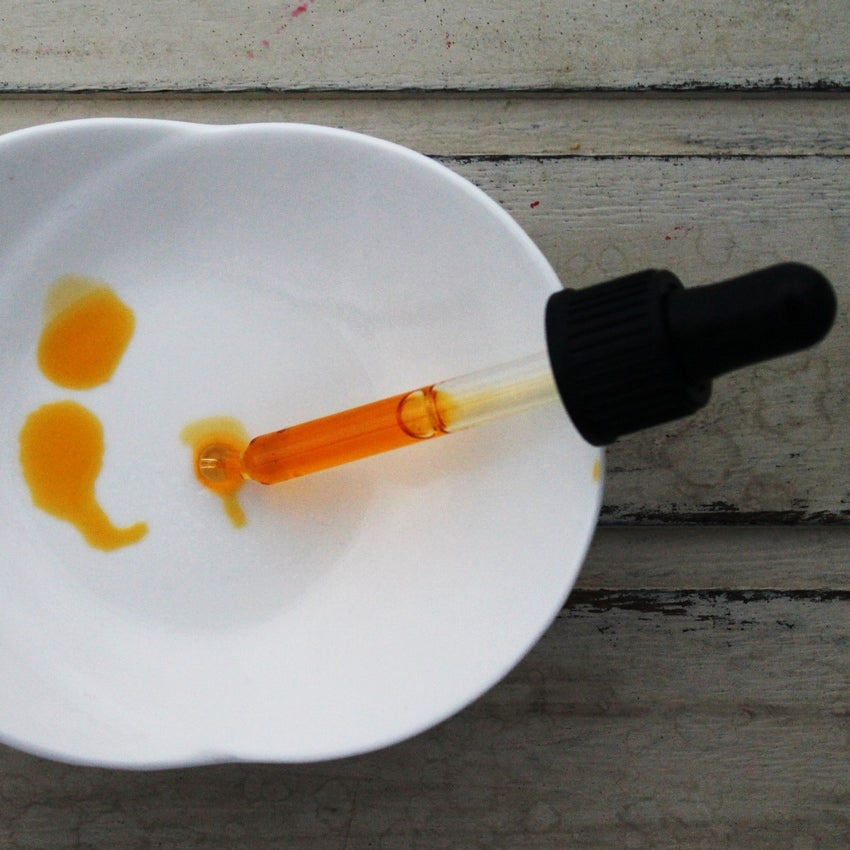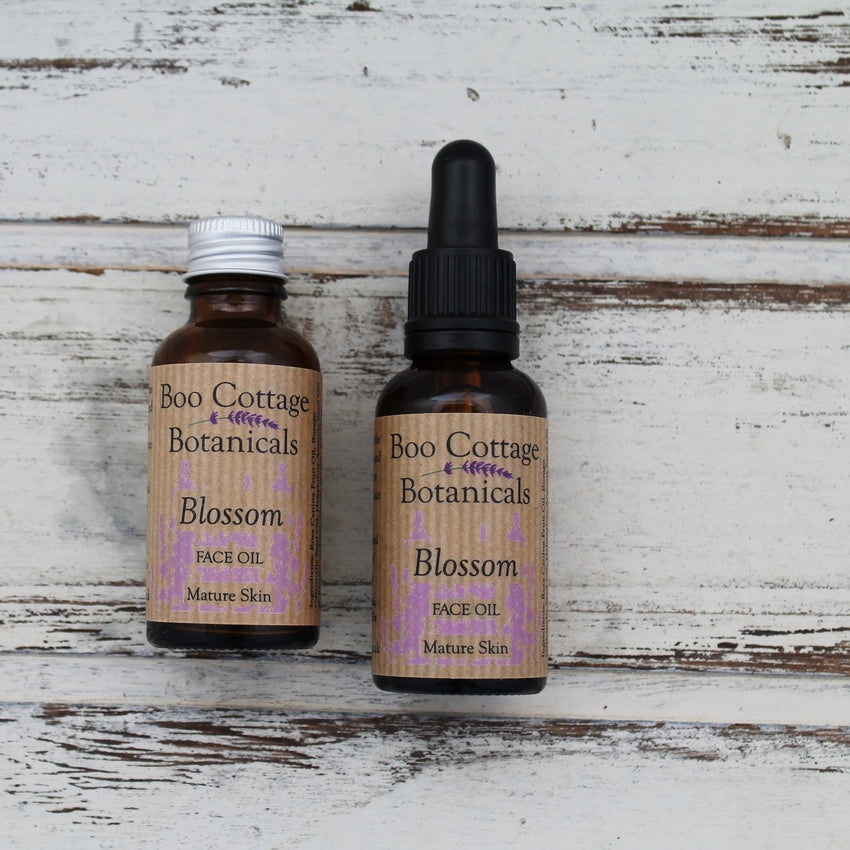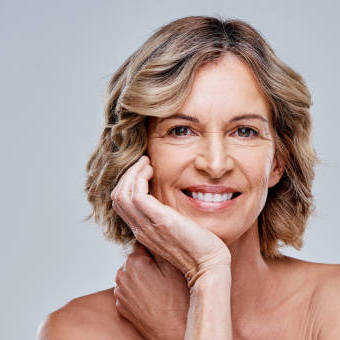 Who is Blossom Face Oil suitable for?
Vegans
Dry skin
Dull skin
Skin showing signs of ageing
How do I apply Blossom Face Oil?
Apply instead of (or alongside) your usual moisturiser.
1. Apply 3-4 drops of Blossom Face oil to the palm of your hand.
2. Rub hands together and gently massage into clean skin on your face and neck, inhaling the aromatic scent to relax your mind and lift your mood.
Lock in extra moisture by mixing a few drops of oil with a dribble of water in your hand. Or use the oil on your damp face after washing. Use the face oil to give yourself a relaxing face massage.
If you would like to use both a face oil and a traditional moisturiser: We'd recommend applying the moisturiser first and locking in the water it contains with your face oil on top.
Alternatively, you can add give your skin an added nourishing boost by adding a few drops to your favourite face mask or moisturiser.
Blossom face oil
I have used Blossom face oil after a shower each night and massage it into my damp skin. It feels good that the product is so pure. I have also applied it to a surgery scar and find it gentle and softening.
Blossom Botanical Face Oil
An excellent product using natural materials which I value. I always enjoy opening the parcel when it arrives as it is all so beautifully done.
Delightful!
If, like me, you are of a certain age your mum may have given you rosehip syrup as a child. I remember it with great joy so was delighted to receive this amazing face oil for my birthday as it contains rosehips, meaning it is great for my emotional well-being (bringing back all sorts of memories of being nurtured) as well as my skin! Neither oily nor greasy, it is easily absorbed and smells amazing! I may not look like a child again, but I certainly feel more youthful!
Wonderful and nourishing.
I have loved using this product as I feel it nourishes my skin. On holiday my daughter's face was peeling and it was the only thing that helped. She hated anything else like after sun or aloe Vera as she said it hurt so thank goodness for this face oil which moisturised her skin beautifully,