Indulge in an all-natural soak with BLOOM Himalayan Bath Salts. Soak in the warmth of our delicious and uplifting geranium and frankincense scent and let your worries drift away. Experience the pampering and well-being that comes from taking a few minutes for yourself and helping to de-stress.
230g in glass bottle

Regular price
Sale price
£9.95
Unit price
per
Sale
Sold out
Handcrafted botanical bath soak with Himalayan pink salt, Epsom salt, borage oil and naturally fragranced with geranium and frankincense essential oils.
Key Ingredients

Himalayan Salts contain over 80 trace elements including potassium, iron, calcium and magnesium. Buried under the ground for millions of years means Himalayan salt is free from many of our modern-day pollutants.

Epsom Salts naturally contain magnesium, which helps muscles contract and relax, regulate the nervous system and convert food into energy. In short, every system in your body needs magnesium to function properly.  

Borage Oil is one of our favourites here at Boo! It has high levels of gamma-Linolenic acid (GLA) which helps to regenerate and rejuvenate the skin's barrier function, maintain skin elasticity and decrease water loss. The tannin content makes this a dry feeling oil, fabulously nourishing with a light touch.

Frankincense is steam distilled from the resin of the tree, it has a deep spicy, sweet, resinous scent that can help calm and soothe frayed nerves. The anti-inflammatory properties can help ease aches and pains.

Geranium can ease anxiety, balancing and uplifting your emotions. It can cool inflamed skin and revive tired uneven skin tones.
Why You'll Love BLOOM salts

100% Natural BLOOM Botanical Bath Soak contains no synthetic ingredients. It is 100% natural.


Vegan Formula contains no animal products. Suitable for vegans, vegetarians and people trying to avoid animal products.

Cruelty Free All our products are cruelty free. We only test products on ourselves and other willing humans! We are very careful to check that none of our ingredients are tested on animals either.

Natural Fragrance All of our fragrances are blended in house by our team from wonderfully aromatic essential oils.

Palm oil free Proudly free from palm oil.

Plastic free Packaged in a glass bottle with an aluminium lid. We chose glass bottles as it's easily returnable (we can reuse them to package more bath salts), reusable at home or you can recycle them.
Full Ingredients - English

Himalayan Pink Salt, Epsom Salt, Coconut Milk, Borage Oil, French Pink Clay, Kaolin Clay, Geranium Leaf Oil, Frankincense Oil
Full Ingredients - INCI

Sodium Chloride (Himalayan Pink Salt), Magnesium Sulfate (Epsom Salt), Cocos Nucifera (Coconut) Fruit Powder, Borago Officinalis (Borage) Seed Oil, Montmorillonite, Illite (French Pink Clay), Kaolin, Pelargonium Graveolens (Geranium) Leaf Oil, Boswellia Serrata (Frankincense) Oil, Maltodextrin, Hydrolysed Corn Starch, Geraniol*, Linalool*, Citral*, Citronellol*, Limonene*

*Naturally occurring in our BLOOM essential oil blend
Share
View full details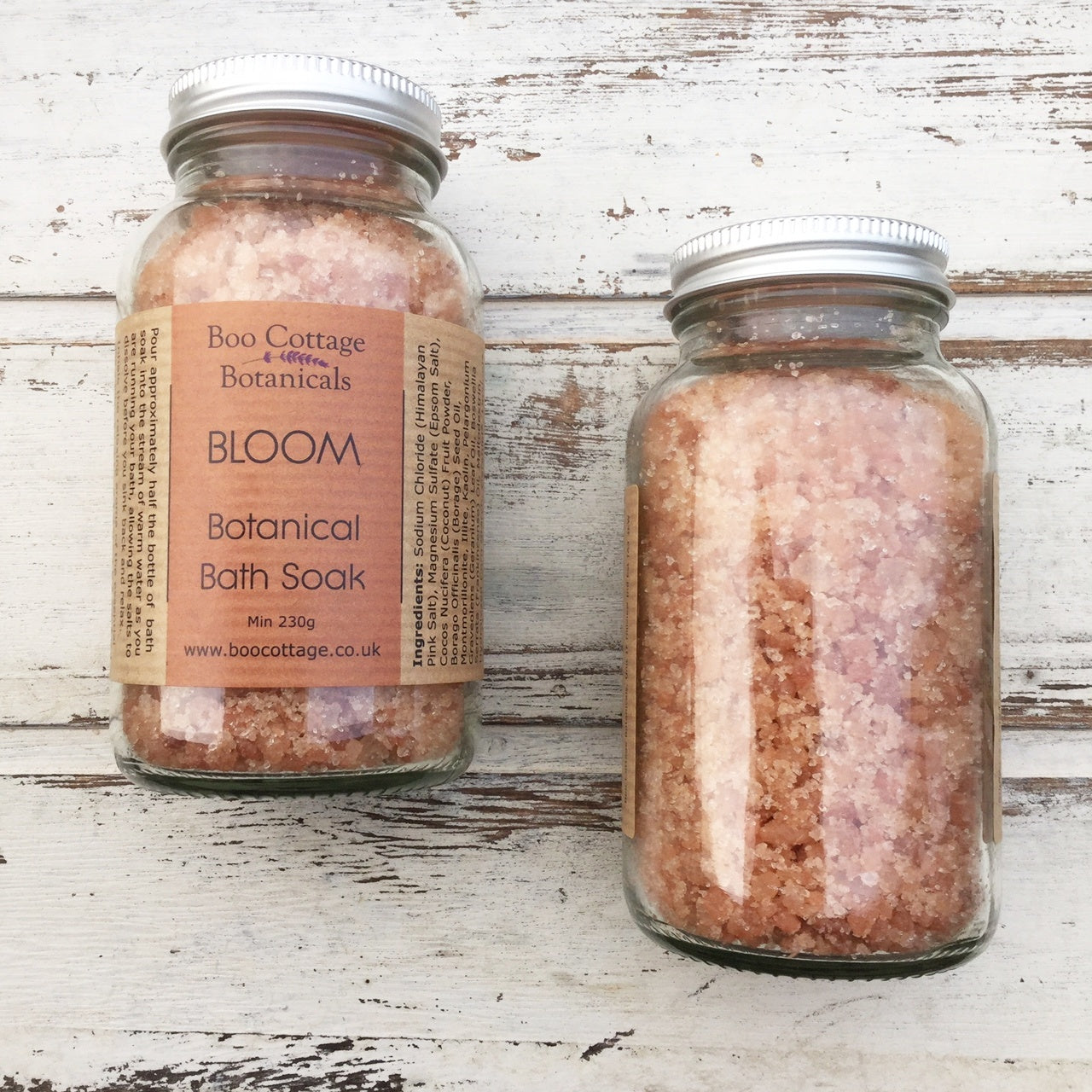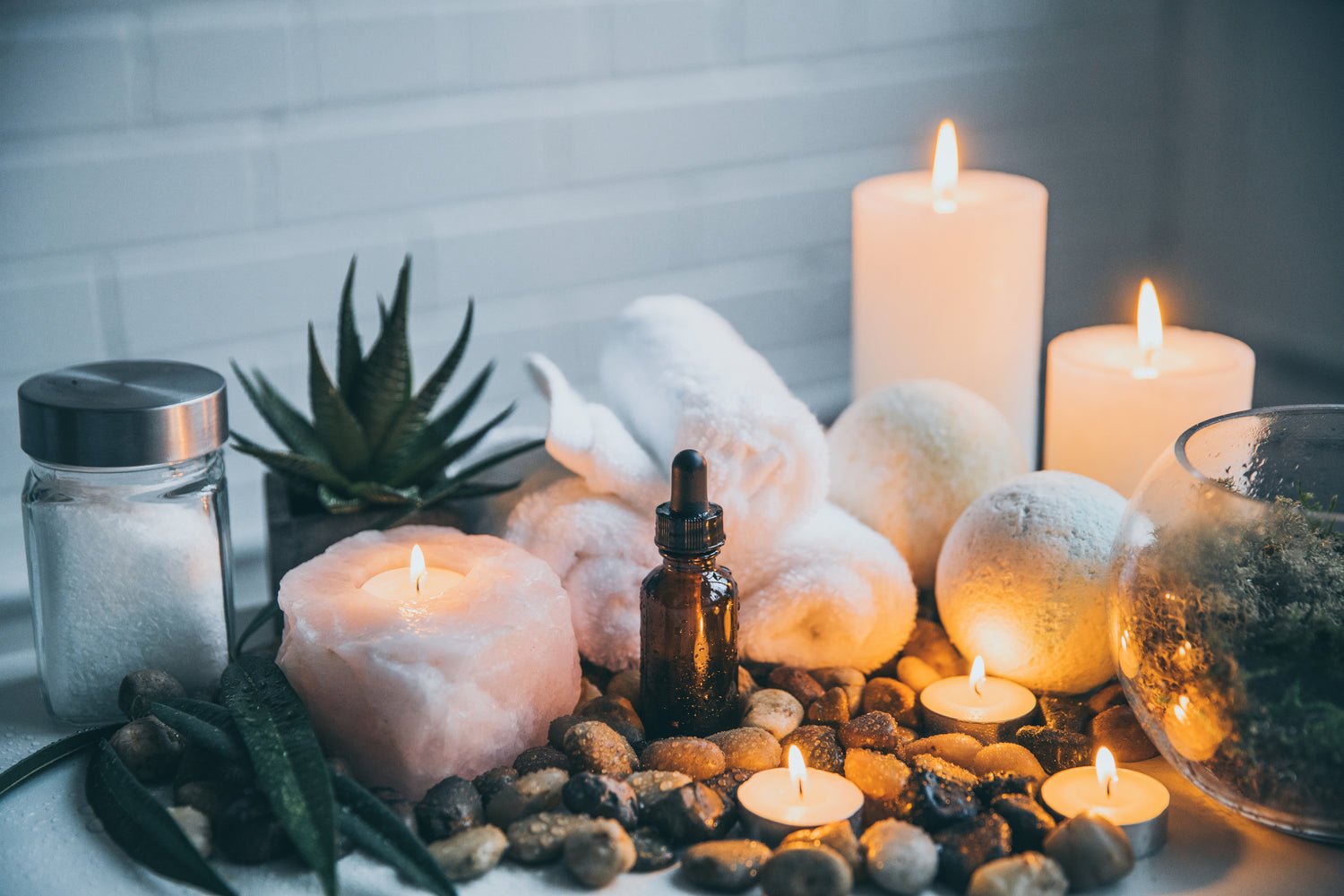 Who is BLOOM Bath Soak suitable for?
Vegans
Dry skin
Normal skin
Aching muscles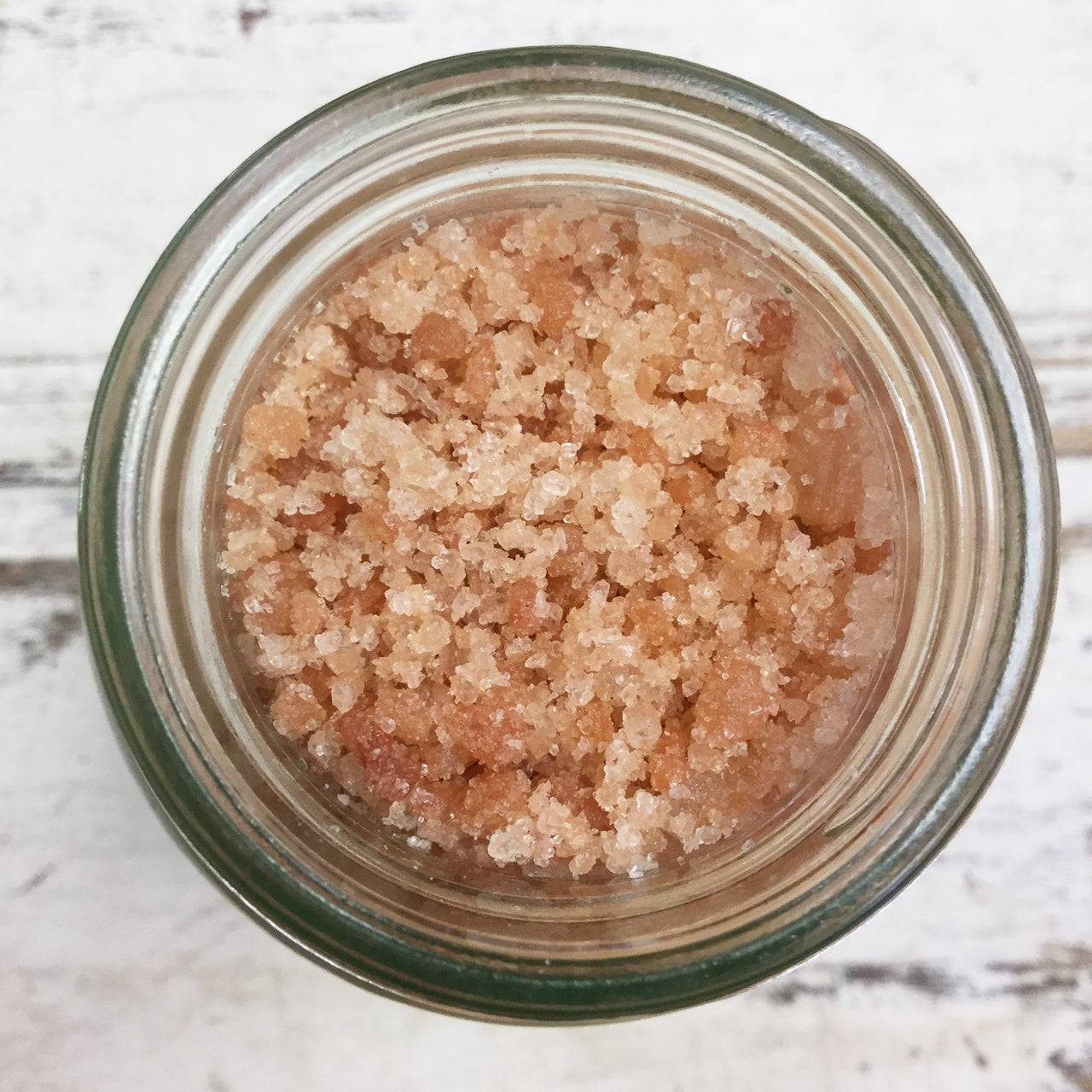 How do I use Bath Salts?
1. As you are running your bath, pour approximately one third to half the bottle into the stream of water.
2. Stir the warm water with your hands to help dissolve the salts.
3. Relax into your bath, breathing in the decadent scent, washing the water over you to get the full benefits before patting skin gently dry when you can bring yourself to finally get out.
Please take care when getting out as the bath surface may become slippery.
As bath salts are designed to dissolve in water, always recap the bottle straight away and store away from humidity.