Unwind in a luxurious bath with BLISS Magnesium Bath Salts. Our blend of Himalayan pink salt, magnesium rich Epsom salt, and coconut milk will help restore your muscles and aid a restful sleep. Infused with calming lavender and geranium fragrances, add our bath salts to your nightly routine for the perfect relaxation.
230g in glass bottle

Regular price
Sale price
£9.95
Unit price
per
Sale
Sold out
Handcrafted magnesium bath soak with Himalayan pink salt, Epsom salt, sweet almond oil and naturally fragranced with lavender and geranium essential oils.
Key Ingredients

Himalayan Salts amazingly contain over 80 minerals and elements including magnesium, potassium and iron. People believe that Himalayan salt is the purest salt on Earth having been buried under ground away from our modern day pollutants.

Epsom Salts got their name from Epsom, a town in Surrey that was a spa town. They are one of the original spa ingredients, due to being naturally high in magnesium. Magnesium helps repair muscles, regulate the nervous system and aids restful sleep.  

Sweet Almond Oil is a very mild, soothing oil that is suitable for all skin types. With Vitamins A, B1, B2, B6 and E, it is very protective and helps to alleviate dryness.

Lavender has been used for thousands of years. In ancient Europe it was used to scent bathing water, in fact the name comes from the Latin word 'lavare' meaning to wash. Today it is widely recognised as a plant that encourages relaxation and aids sleep. It is also a powerful anti-septic, skin healer and pain reliever.

Geranium is distilled from the fragrant leaves of the plant, it has a distinctively rosy, floral fragrance. Often used for easing anxiety, balancing emotions and restoring both body and mind.
Why You'll Love BLISS Magnesium Salts

100% Natural Exactly like all our bath soaks, BLISS Magnesium Bath Salts contain no synthetic ingredients. They are 100% natural.

Vegan All our bath salt formulas are suitable for vegans as none of them contain any animal products.

Cruelty Free We test all our products on ourselves first and then they go to other willing humans, not animals! We carefully check that none of our ingredients are tested on animals either.

Natural Fragrance Our BLISS bath salt fragrance blend has been created in house using wonderfully aromatic and beneficial essential oils.

Palm oil free We're proud to make products that are free from palm oil.

Plastic free Our bath salts are packaged in a glass bottle with an aluminium lid. We chose glass bottles as it's easily reusable at home. You can also return them to us (we can reuse them to package more bath salts), or you can recycle them.
Full Ingredients - English

Himalayan Pink Salt, Epsom Salt, Sweet Almond Oil, Kaolin Clay, Coconut Milk, Lavender Oil, Geranium Leaf Oil
Full Ingredients - INCI

Sodium Chloride (Himalayan Pink Salt), Magnesium Sulfate (Epsom Salt), Prunus Amygdalus Dulcis (Sweet Almond) Oil, Kaolin, Cocos Nucifera (Coconut) Fruit Powder, Lavandula Angustifolia (Lavender) Oil, Hydrolyzed Corn Starch, Maltodextrin, Citronellol*,
Geraniol*, Limonene*, Linalool*, Pelargonium Graveolens (Geranium) Leaf Oil

*Naturally occurring in our BLISS essential oil blend
Share
View full details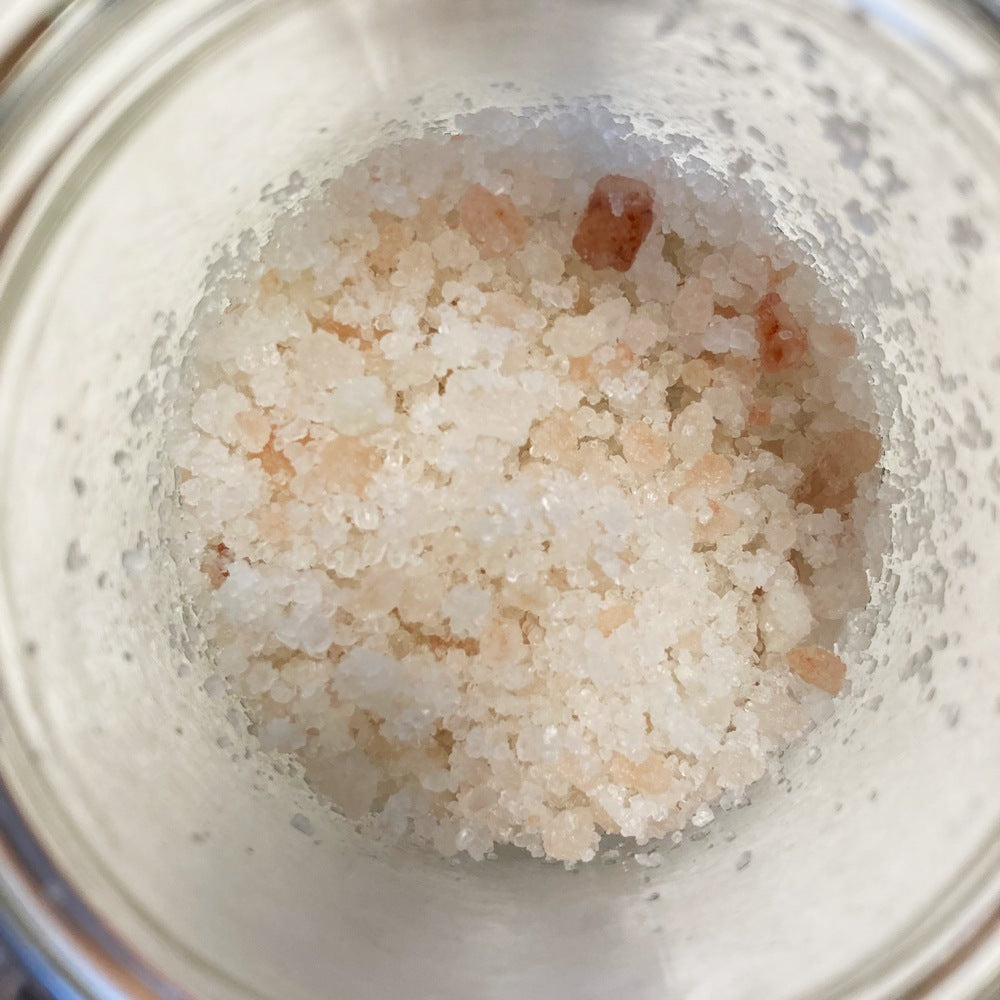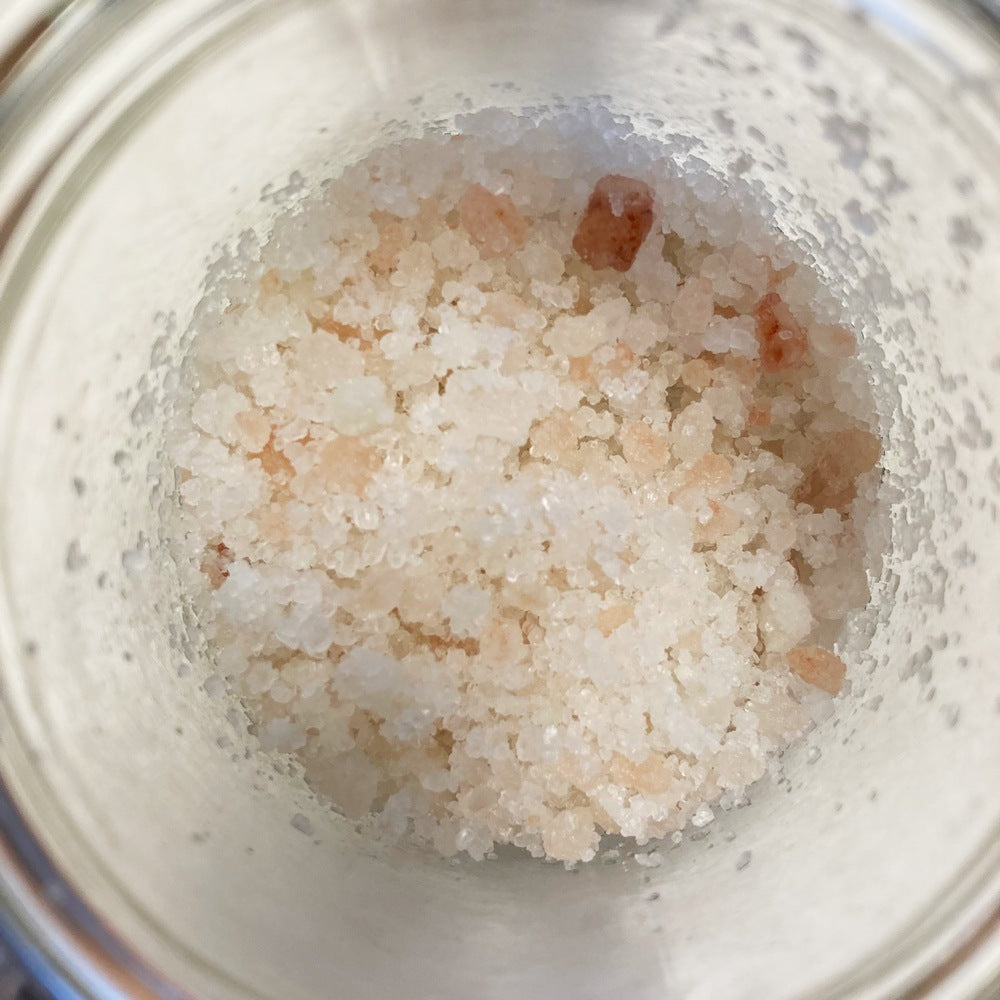 Who is BLISS Bath Soak suitable for?
Vegans and vegetarians
Normal - Dry skin
Aching muscles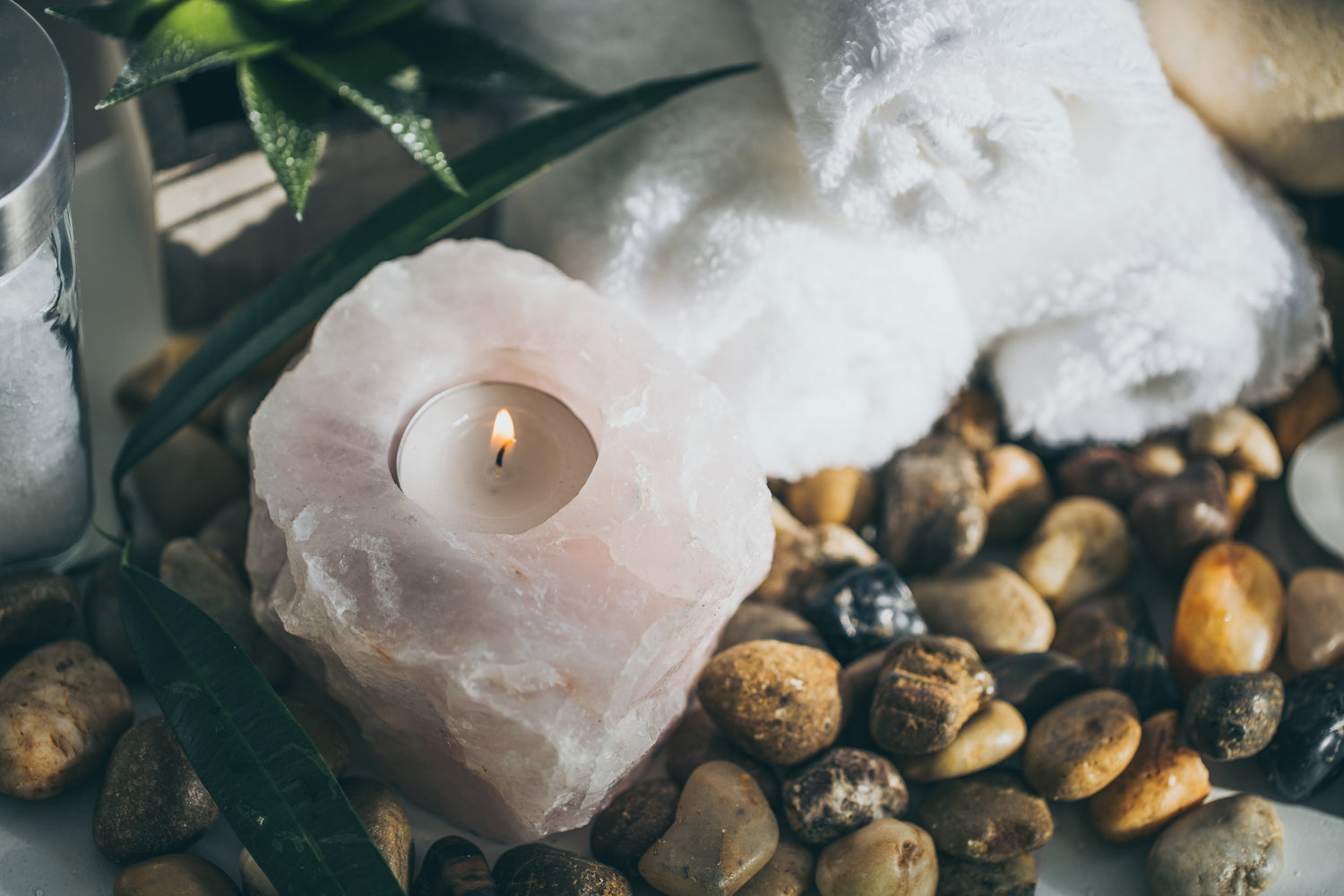 How do I use my Bath Salts?
1. As you are running your bath, pour approximately one or two handfuls of the salts into the stream of water.
2. Stir the warm water around with your hands to help dissolve the salts before you get into the water.
3. Relax into your bath, breathing in the relaxing scent.
4. Use your hands or a cloth to wash the water over you to get the full benefits before you gently pat your skin dry when you can bring yourself to finally get out.
Please take care when getting out as the bath surface may become slippery. We recommend getting out before the water has completely drained away.
Bath soaks are designed to dissolve in water. Always recap the bottle straight away and store away from humidity.