Looking for an effective yet gentle cleanser for your normal or combination skin? Our Berry Cleanser is exactly what you need. Its unique gel-to-milk formula melts onto your skin then transforms with water, providing soothing softness to your skin. The luxurious pink hue adds a touch of glamour as it melts makeup away and rinses clean for a beautiful complexion. Pamper yourself and discover glowing, healthy skin today.
60g in amber glass jar
Regular price
Sale price
£9.95
Unit price
per
Sale
Sold out
Palmarosa essential oil and raspberries adds a wonderfully fruity fragrance and leaves your skin feeling soft and looking refreshed.
Key Ingredients

Raspberry Oil is extracted from the seeds that are a by-product of raspberry juice production.  It has high levels of omegas 3 and 6, vitamin E and provitamin A, making it a light weight oil that sinks into the skin beautifully, creating a dry, yet moisturised feeling.

Castor Oil has been used for over 4000 years because of its healing abilities. Ancient Greece, Persia, India, Africa and China used castor oil to treat the body via skin applications. Castor oil is soothing and lubricating and it can act as a humectant – drawing moisture to hydrate the skin.

Palmarosa Essential Oil has a fresh floral, fruity scent. It can be helpful for balancing oily and combination skin types.
Why You'll Love Berry Cleanser

Contains Zero Waste Ingredients Our Berry Cleanser contains raspberry oil, pressed from seeds left over from the juice and jam industry.

Vegan The formula contains no beeswax or animal products. It is therefore suitable for vegans, vegetarians and people trying to avoid animal products.

Cruelty Free All our products are cruelty free. We only ever test our products on ourselves (and other willing humans!) We are careful to check that the raw ingredients aren't tested on animals either.

Easy to wash off Our gel-milk formula makes it easy to remove makeup and wash away dirt and grime in one easy step. Without harsh foaming agents.

Plastic free Hand poured into amber glass jars with aluminium lids. We provide a small wooden spatula. We chose glass jars as it can be returned (we can reuse them), reused or recycled at home.
Full Ingredients - English

Glycerin, Coconut Oil, Castor Oil, Raspberry Fruit, Raspberry Seed Oil, Sugar derived emulsifier, Palmarosa Oil, Vitamin E in Wheatgerm Oil
Full Ingredients - INCI

Glycerin, Cocos Nucifera (Coconut) Oil, Ricinus Communis (Castor) Oil, Rubus Idaeus (Raspberry) Fruit & Maltodextrin & Citric Acid, Rubus Idaeus (Raspberry) Seed Oil, Sucrose Stearate (Sugar derived emulsifier), Cymbopogon Martini (Palmarosa) Herb Oil, Triticum Vulgare (Wheat) Germ Oil & Tocopherol (Vitamin E), Geraniol*, Citral*, Limonene*, Linalool*, Farnesol

*Naturally occurring in Palmarosa essential oil
Share
View full details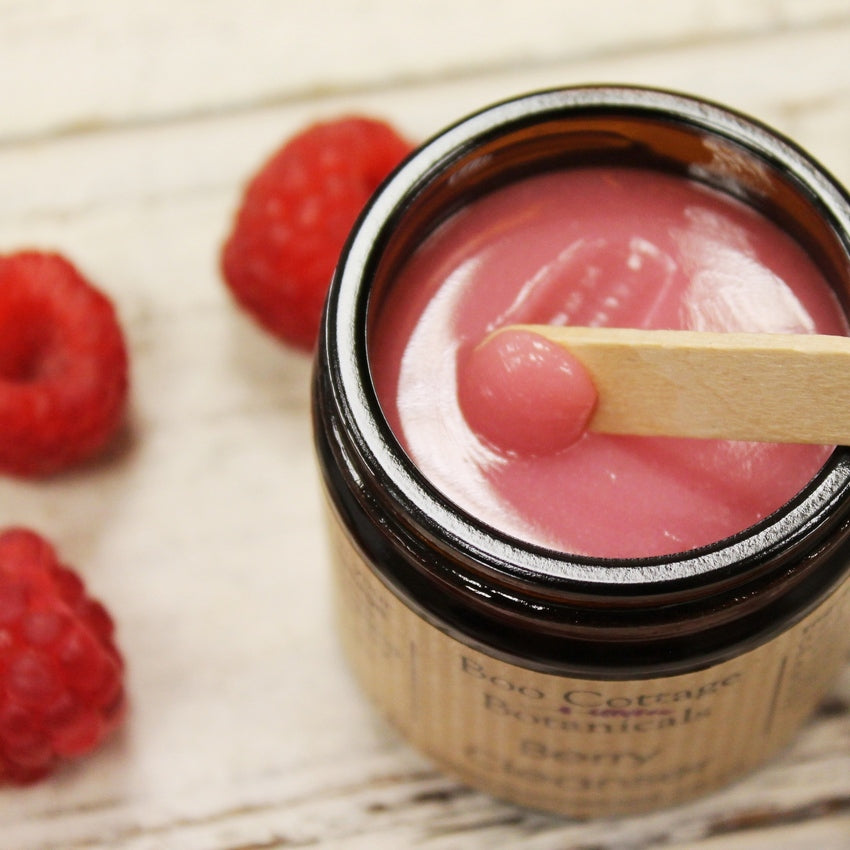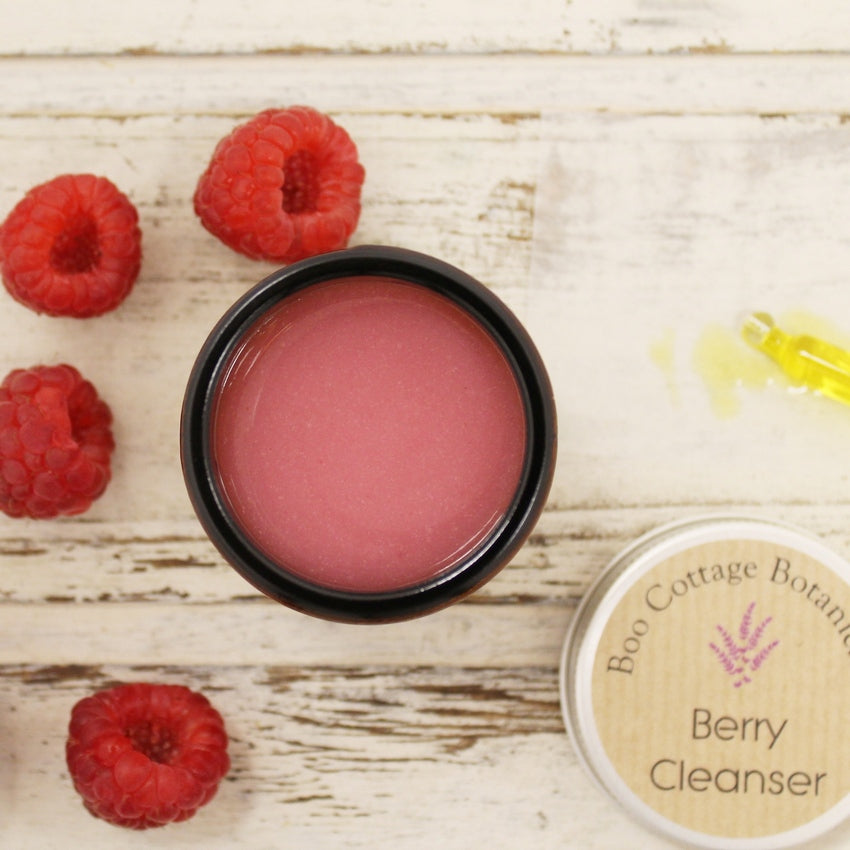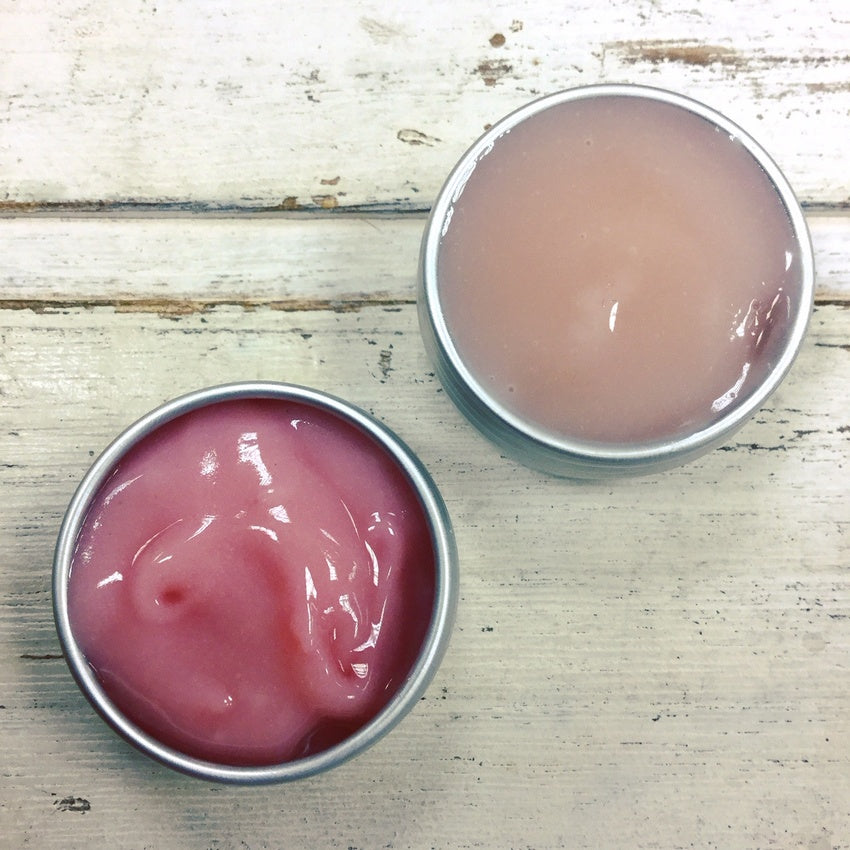 What can Berry Cleanser be used for?
Washing your face morning and evening
Removing makeup (including eye makeup)
Double cleansing
Who is Berry Cleanser suitable for?
Vegans
Dry skin
Normal skin
Oily skin

How do I apply Berry Cleanser?
The texture is soft and will melt on contact with the warmth of your skin.
Using the wooden scoop provided, take out a pea sized amount of cleanser and warm in your finger tips to melt.
Smooth onto your skin, massaging the balm in to lift dirt and grime.
Add a splash of warm water and continue massaging with your fingers to turn the oil to a milky lotion.
Rinse clean with warm water.
Pat dry to reveal soft, clean skin.
Our berry cleanser will remove makeup.
Depending on how much makeup you are wearing, you may need to use a larger amount or double cleanse.
If you use the balm to remove your eye makeup, you may experience a feeling of having a filmy coating on your eye. This is normal when using a balm cleanser and will go away within a moment or two. To help prevent this: Remove the balm and eye makeup with a wash cloth or cotton pad before rinsing with water.